The best rooftop bars in Bangkok
Take your next sundowner experience to new heights at the city's best rooftop bars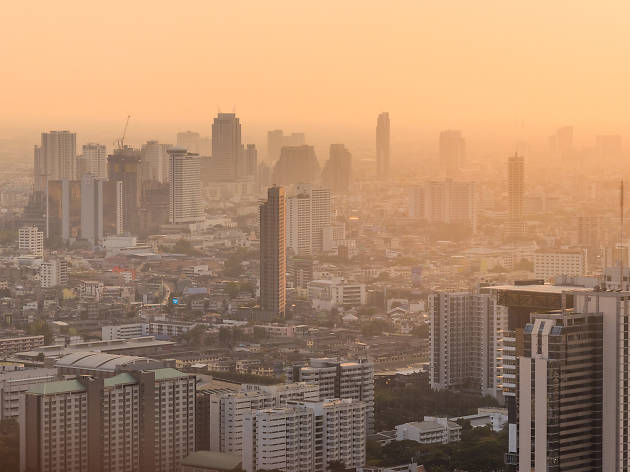 See how Bangkok actually looks beneath your feet at the city's best rooftop bars.
Best rooftop bars in Bangkok
Floor: 59th

Crowning the iconic Centara Grand at CentralWorld, four levels higher than the famous Red Sky restaurant and bar, CRU offers mind-blowing views of the Bangkok horizon alongside drinks made in partnership with G.H. Mumm Champagne.
Read more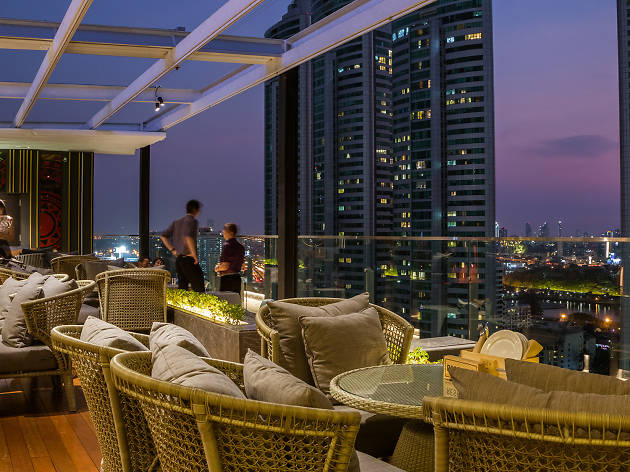 Floor: 26th

Hidden in quiet Soi Sukhumvit 20, no one would expect the Novotel Hotel to have this lovely rooftop bar. The compact venue combines a laid-back ambiance and nice views with affordable drinks, and offers a cool spot to unwind on weeknights.
Read more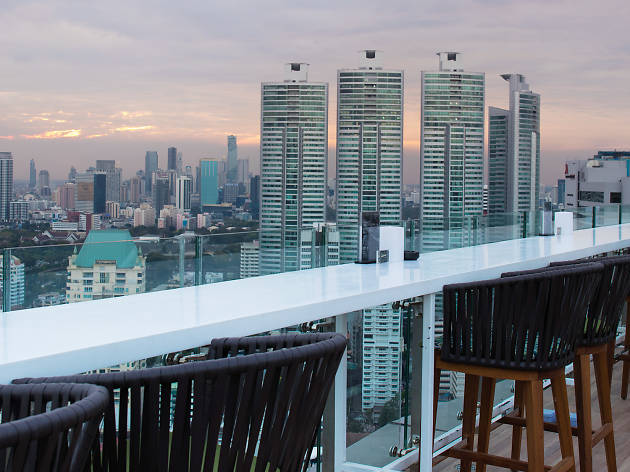 Floor: 35th

Named after the mellow hue the sky took on when its owner first arrived at the location, Vanilla Sky is nestled on the 35th floor of Compass SkyView, offering stunning views of Sukhumvit from every angle.
Read more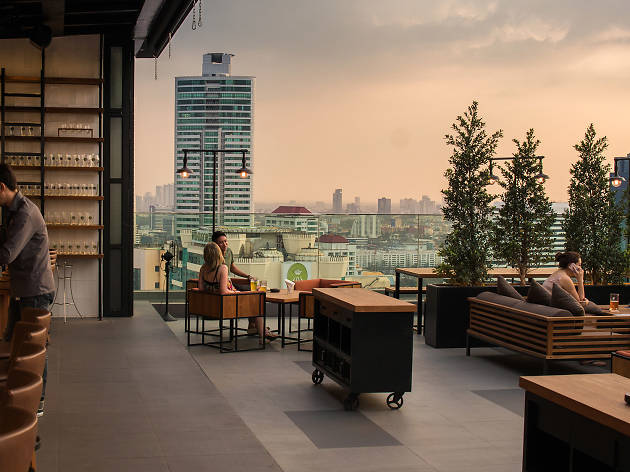 Floor: 30th

The rooftop offering of the Radisson Blu Hotel is currently the highest beer bar in Bangkok, offering guests an opportunity to sip a variety of malted brews while enjoying stunning skyline views.
Read more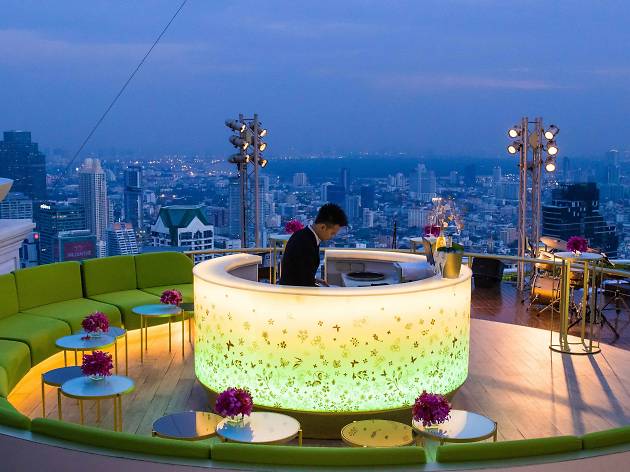 Floor: 64th

Set on the 64th floor of the State Tower Buiding, the sophisticated Flûte A Perrier-Jouët Bar is currently the world's highest Champagne bar. From the lit-up bar adorned with elegant butterfly patterns, lush green cushions, and exclusive Champagne glasses decorated with golden butterflies, it's not too difficult to guess that the space was designed to cater more to ladies who look for the finer things in life.
Read more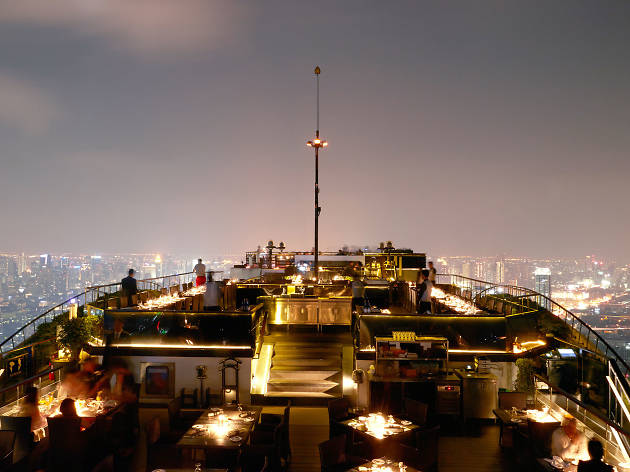 Floor: 61st

Breezy rooftop restaurant Vertigo and Moon Bar sits on top of Banyan Tree Hotel offering a dining courtyard on one side and the alfresco bar on the other. Soak up nocturnal views of downtown Bangkok and the Chao Phraya River while enjoying the signature dishes like spiced ahi tuna ceviche (avocado, coriander, lime, chili, shallots topped with salmon roes, B900), and boneless lambloin served with a dollop of mashed potato, sautée mushroom, a cashew and pistachio nut crust topped with mastard rosemary lamb jus (B2,100).
Read more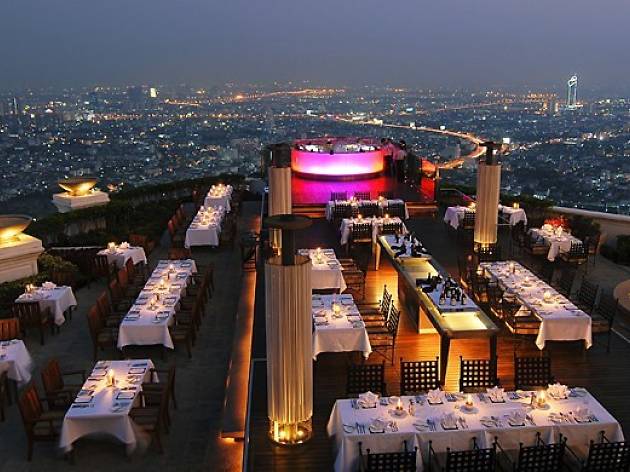 Floor: 63rd

Located on the 63rd floor of the State Tower, Sirocco & Sky Bar is a must-visit for both locals and foreigners visiting Bangkok. Its golden spot on Silom Road gives the best city and river views of the city. Kick off your night in alfresco settings with an authentic Mediterranean meal at Sirocco before heading up to the Sky bar for an after-dinner drink. Whiskey fans will find more to love about this venue; the bar stocks up on many heritage bottles that are rarely found in Bangkok.
Read more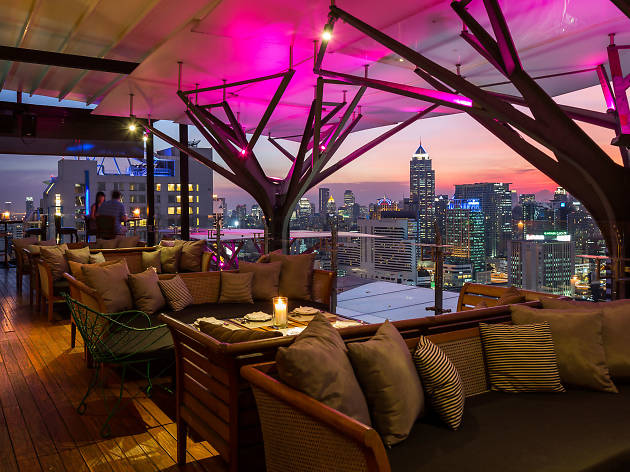 Floor: 33rd

Above Eleven dares you to go through a maze-like entrance to dine with the Bangkok cityline at your feet. The place offers bite-size grub and hearty dinners to suit different degrees of hunger.
Read more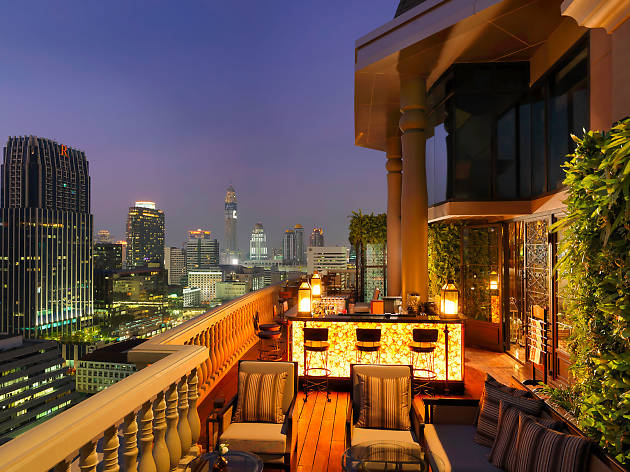 Floors: 24th-25th

While the decor takes you almost a century back, the music, in contrast, at this double level Speakeasy is modern all the way; DJs play house on the rooftop (25th floor) and pop tunes on the 24th floor. Grab a table by the edge of the terrace to enjoy the best views of Bangkok's city lights.
Read more
Show more