The best mooncakes in Bangkok 2017
...and the Time Out Bangkok Mooncake Award goes to...
2017 Time Out Mooncake Award winners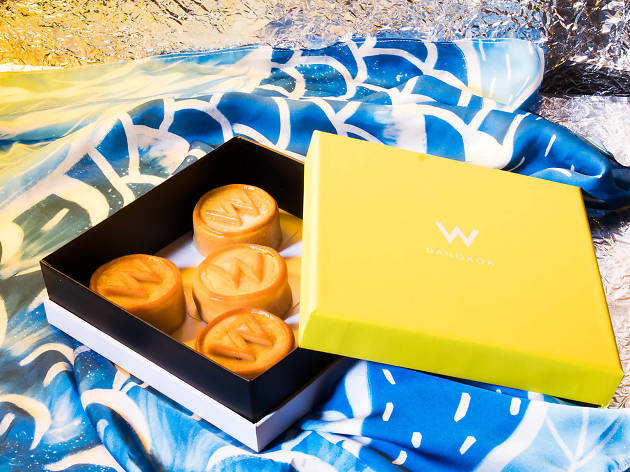 Sereechai Puttes/Time Out Bangkok
Time Out Favorite: W Hotel
The funky and eclectic hotel once again thinks beyond the classic and comes up with four ground-breaking fillings that are guaranteed to make you drool—chocolate and banana, peanut butter, Japanese cheesecake, and raspberry. You can also choose between two types of crust—crunchy oven-baked or smooth snow-skin. The treats are packaged in a signature bright yellow box wrapped in a brightly colored furoshiki-inspired cloth.
Price: B188 for one piece/B788 for four pieces
Sereechai Puttes/Time Out Bangkok
Best Egg Custard: The Peninsula Bangkok
When it comes to mooncakes, The Peninsula Hotel and the purveyor of the custard-filled mooncake doesn't disappoint with the creamy indulgence. Unmatched by other alternatives in the market, the petit The Peninsula original, created by The Peninsula Hong Kong in 1986, has a crunchy crust filled with a sumptuous orange cream and salted egg yolk.
Price: B890 for 8 pieces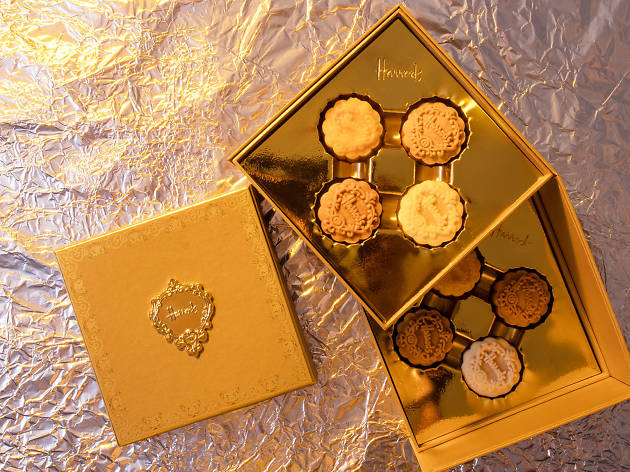 Sereechai Puttes/Time Out Bangkok
Best Unconventional Flavor: Harrods Rose Buds Royal Milk Tea
The posh London-hailing tea salon joins the seasonal mooncake fray, churning out festival delights injected with the teahouse's signature Rose Buds Royal Milk Tea. Harrod's tea mooncake wins our heart for its mellow flavors and milky filling. It's also the perfect pairing to your favorite tea!
Price: B788 for 8 pieces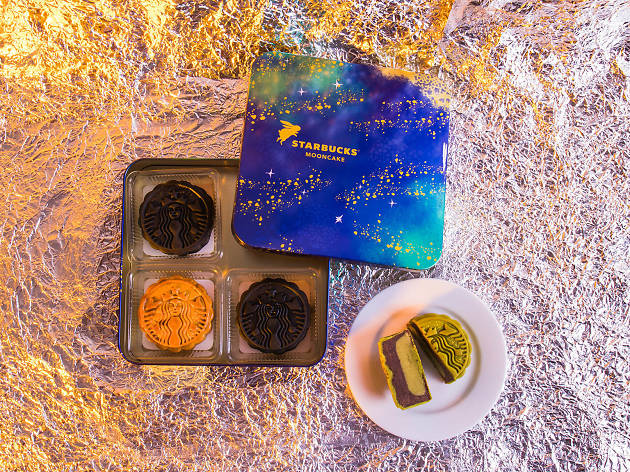 Sereechai Puttes/Time Out Bangkok
Though the green tea and chocolate mint variants seem to be the bestsellers at this global coffee franchise, we can't stop raving about Starbucks' take on the durian mooncake. Chewy and not too sweet, this version comes with an indulgent stuffing that is not too pungent thanks to the addition of coffee.
Price: B155/piece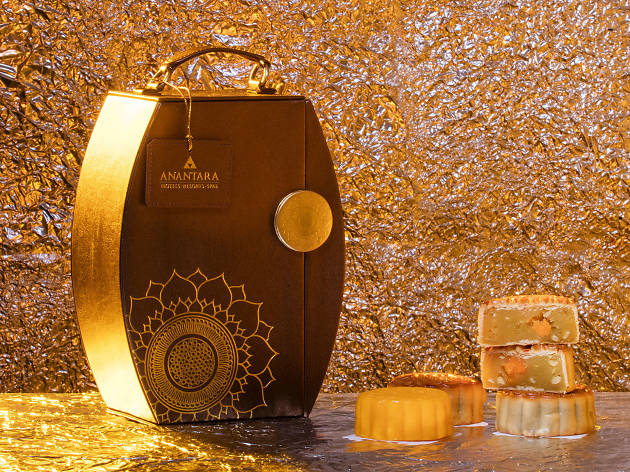 Sereechai Puttes/Time Out Bangkok
Best Box: Anantara Siam Bangkok Hotel
Anatara's mooncakes are ahead of the game with the classic and sophisticated light brown leather package that may make it worth forking out B1,600 for it. The inside looks like a neat jewelry drawer organizers that can store 4 mooncake pieces.
Price: B1,600/box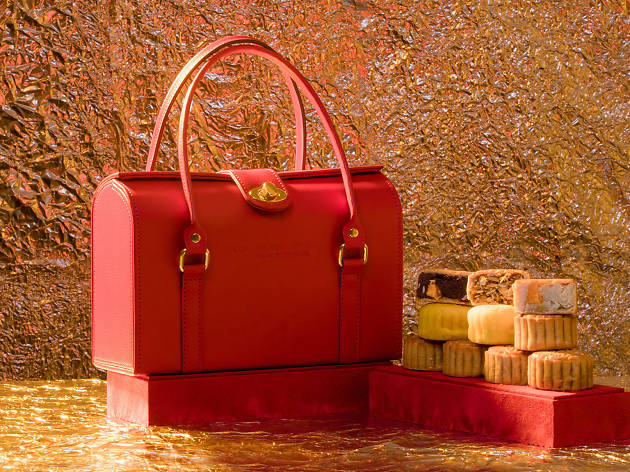 Sereechai Puttes/Time Out Bangkok
Packaging: This red gift box will make your granny happy as red is a lucky color for Chinese and this gift box seems to be able to be used as a handbag although it is pretty heavy to carry around.
Flavors: 9 pieces in the gift box are two custards, one mini lotus seed with egg yolk, one green bean paste with egg yolk, two durian with egg yolk, one lotus seed with egg yolk and two mixed fruits with nuts.
Price: B1,188/gift box and B888/4 mookcakes in a small box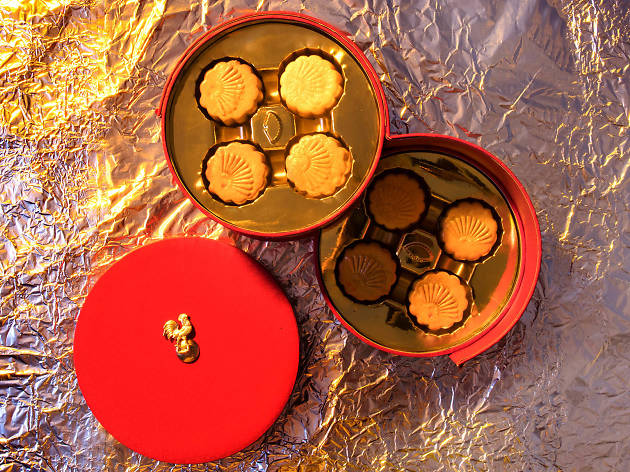 Sereechai Puttes/Time Out Bangkok
Mandarin Oriental Bangkok
Packaging: a red circular box with 8 mooncakes
Flavors: there are custard, lotus seed with egg yolk, durian with egg yolk and jujube
Price: B798/box, and a special offer B2,588 with La Grande Dame Tea from Mariage Frères (only 1,000 boxes are available)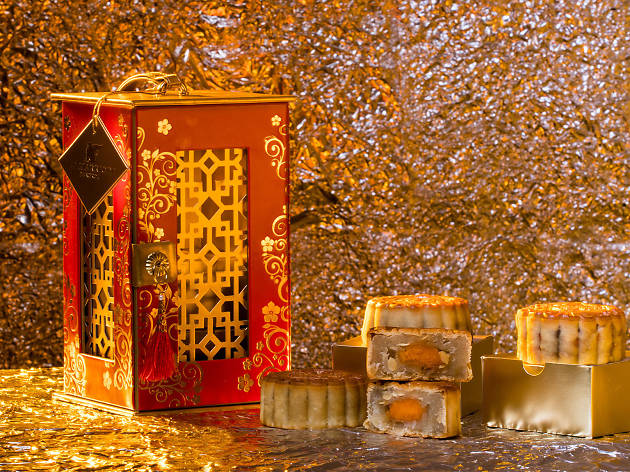 Sereechai Puttes/Time Out Bangkok
JW Marriott Hotel Bangkok
Packaging: a red and gold paper Chinese lantern
Flavors: four flavors by Man Ho: durian with egg yolk, lotus seed with egg yolk, mixed nuts with egg yolk and Chinese jujube with egg yolk
Price: B1,188/box and B158/piece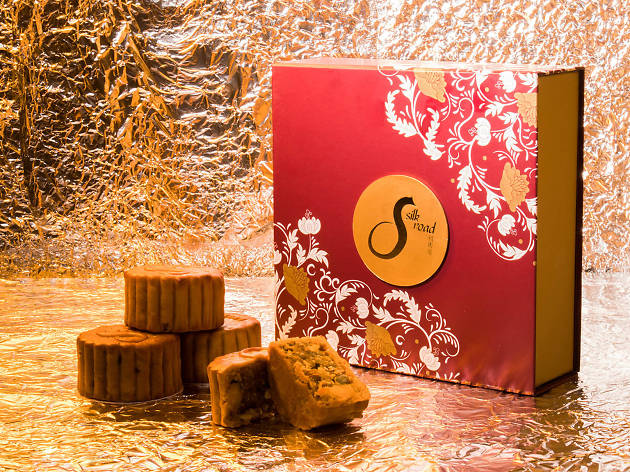 Sereechai Puttes/Time Out Bangkok
Silk Road (Plaza Athénée Bangkok)
Packaging: a red box decorated by gold and white printing with a magnet in the middle of the box
Flavors: Monthong durian with egg yolk, lotus seed with egg yolk, mixed fruits and nuts with egg yolk and mixed eight nuts
Price: B888/box and B180/piece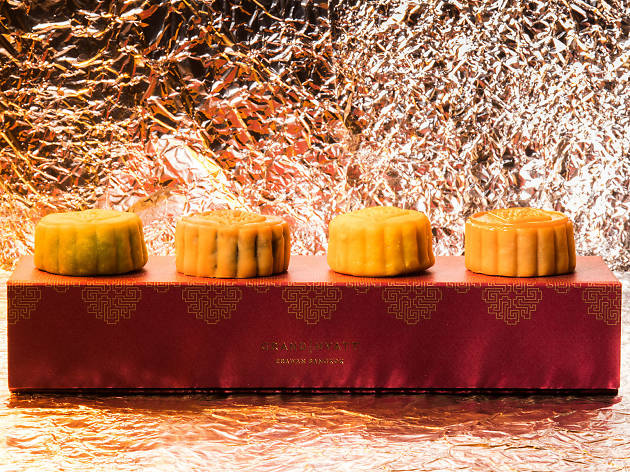 Sereechai Puttes/Time Out Bangkok
Grand Hyatt Erawan Bangkok
Packaging: a small red box with Chinese printing pattern in gold
Flavors: custard, pandan and coconut, eight nuts and durian with egg yolk
Price: B599/box and B189/piece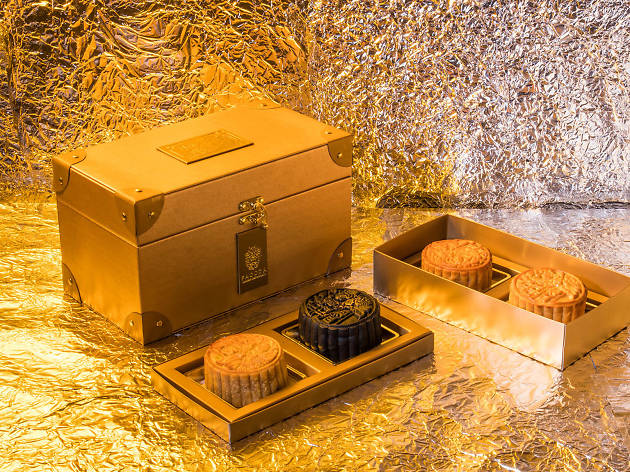 Sereechai Puttes/Time Out Bangkok
Pagoda (Bangkok Marriott Marquis Queen's Park)
Packaging: a gold treasure box
Flavors: black Truffle, lotus seed with chestnut, Chanthaburi durian and mixed nuts with grains
Price: B788/box of four pieces and B738/box of 6 mini mooncakes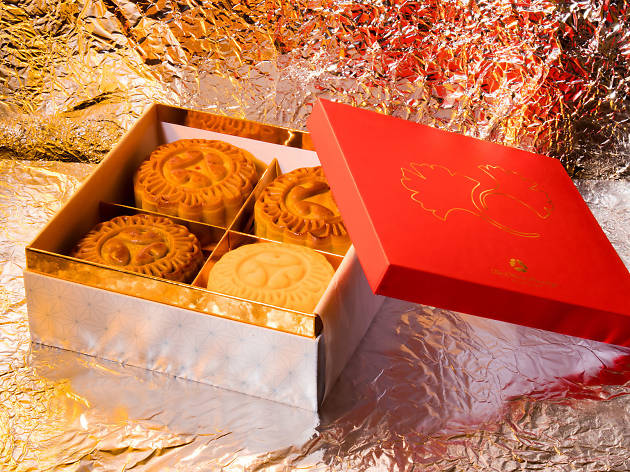 Sereechai Puttes/Time Out Bangkok
The Okura Prestige Bangkok
Packaging: a blue graphic box with a red lid and The Okura Prestige Bangkok logo
Flavors: green tea, jujube with egg yolk, Monthong durian with egg yolk and custard
Price: B988 for 4 pieces, B1,888 for 8 pieces and B2,888 for 12 pieces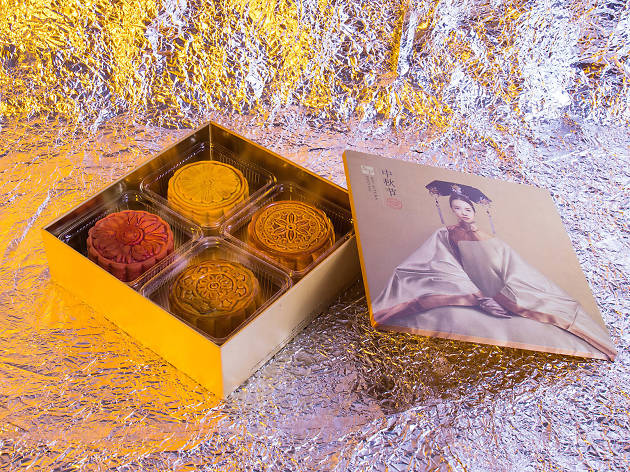 Sereechai Puttes/Time Out Bangkok
Packaging: a tin box
Flavors: Monthong durian with egg yolk, vegan Monthong durian, cranberry earl gray and Oolong and Pu-erh tea
Price: B110-122/piece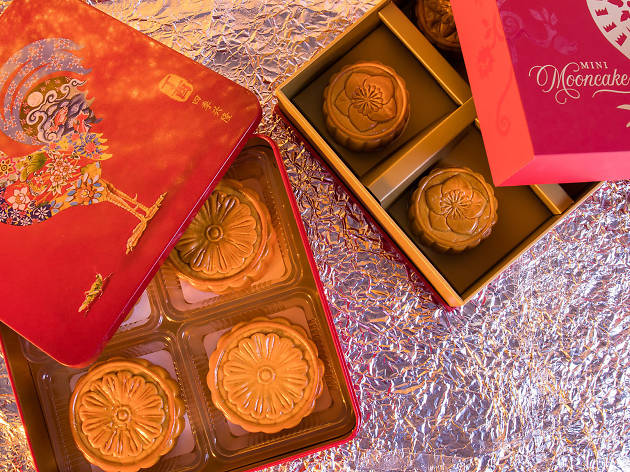 Sereechai Puttes/Time Out Bangkok
Packaging: a red tin box comes with mini mooncakes and regular sized mooncakes
Flavors: there are all mango filling for regular mooncakes and two mango and two durian for mini ones
Price: B120/regular mooncake and B380/box of 4 mini mooncakes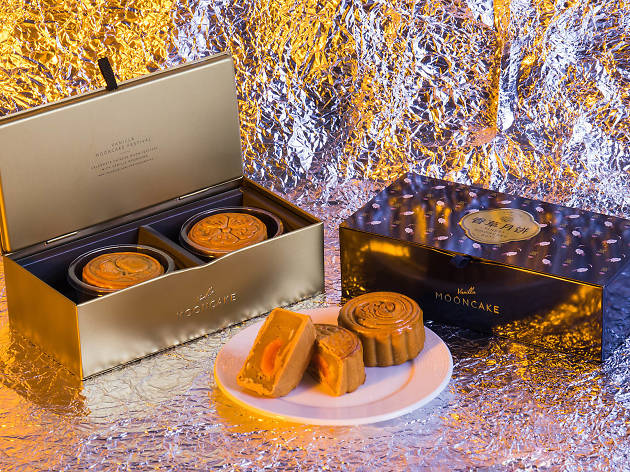 Sereechai Puttes/Time Out Bangkok
Packaging: printed gold and blue tin boxes
Flavors: caramel with salted egg, lotus seed, durian with saled egg and durian
Price: B360/box of two mooncakes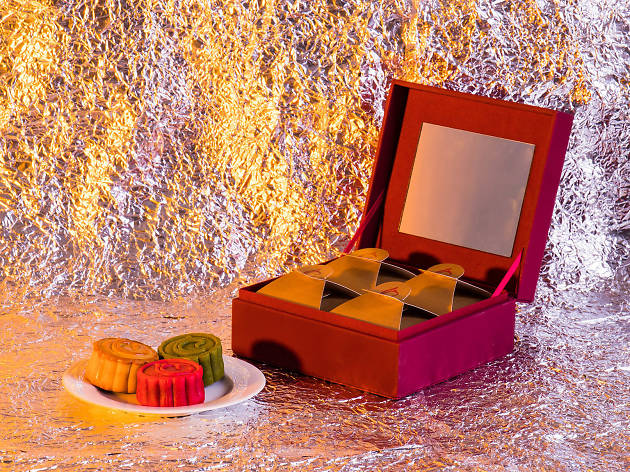 Sereechai Puttes/Time Out Bangkok
Packaging: a red box comes with a mirror inside and four mooncakes
Flavors: Monthong durian with egg yolk, lotus seed with egg yolk, red bean with egg yolk, and green tea
Price: B788/box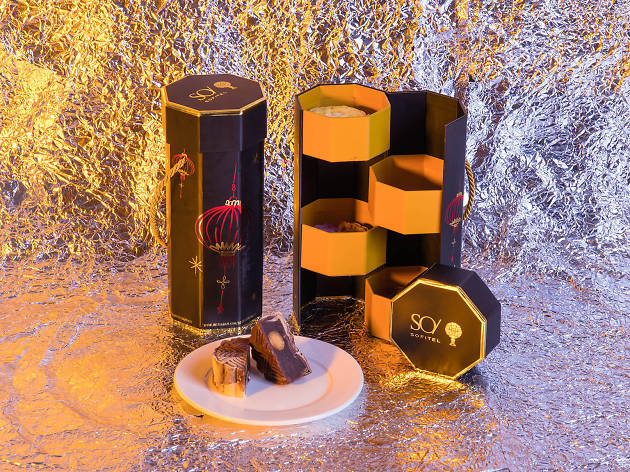 Sereechai Puttes/Time Out Bangkok
Packaging: a tall, black octagon-shaped box with gold print
Flavors: you can choose from choco mooncakes set of lemon cherry, five nuts, macadamia brownie, mango passionor or traditional mooncakes set of 8 sesame, chestnut macadamia, custard, and green tea with red bean
Price: B780/box of 4 mooncakes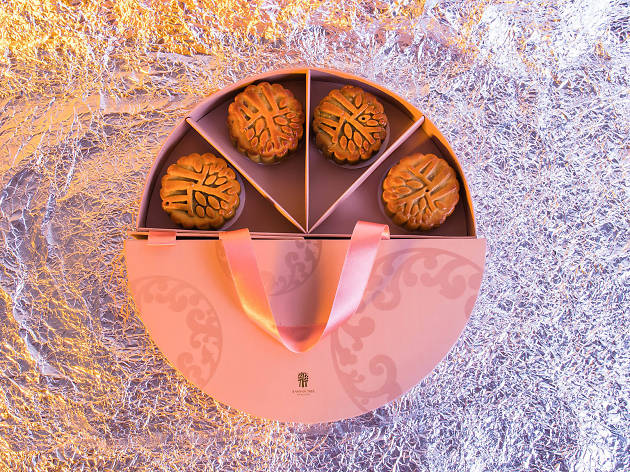 Sereechai Puttes/Time Out Bangkok
Packaging: a pastel pink box reminding us of a hand fan
Flavors: durian, green tea, mixed nuts and jujube
Price: B800/4 pieces, B488/2 pieces and B199/1 piece
More to explore