The 50 best restaurants in Barcelona: Basque cuisine
Our pick of the five best restaurants in Barcelona to sample seafood, pintxos, and meats done in Basque Country style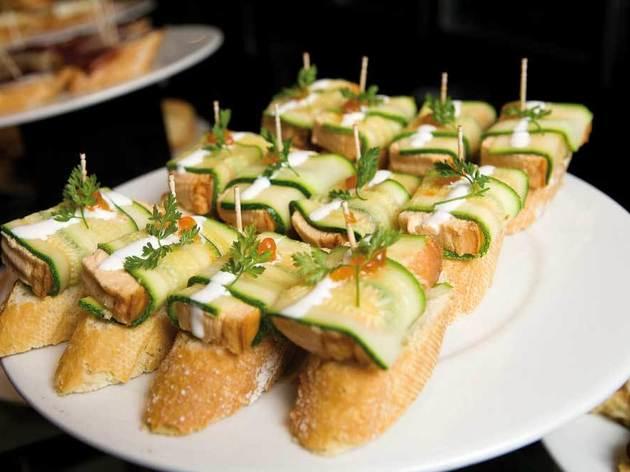 Get a taste of the Basque Country without leaving Barcelona with one of five picks for the top restaurants for Basque cuisine.
The best restaurants in Barcelona for Basque cuisine
This is the oldest Basque restaurant in Barcelona: it opened in 1942 and Agustín Elorza Jr carries on the tradition. When it started it was literally a trucker restaurant, as the whole neighbourhood was full of northern transport agencies. In more than 75 years the biggest change on the menu has been that now you can order dishes in half portions, which is good news for those who want to try a bit of everything. Elorza is the son of a Basque father and mother from Rioja, and you can tell his origins in dishes such as fresh 'pochas' beans and an excellent oxtail stew, with bone-in meat cooked over a slow flame – forget about futuristic ovens here. You get impressive value for money, as seen in the 600g Galician 'mediana' steak for just €20.
Read more
Big fans of good food already consider Igueldo to be a model for traditional cuisine with a modern flair, and they're pleased to find that it's not too over-the-top or pretentious. Owners Ana and Gonzalo, with backgrounds in big restaurants, live up to the high expectations they created for this one. Even better, their presence has raised the quality of other places in the area, whether their excellence spread out to their neighbours or they simply forced competition, and we are definitely thankful for that. They don't offer a set lunch menu, but regardless, superlative cuisine and reasonable prices draw in not only gourmets from this area of the Eixample, but also faithful patrons who come specifically to enjoy the delicious, no-frills fare.
Read more
If you ask fans of Basque restaurants, many will tell you that Taktika Berri is possibly the best in Barcelona, and their pintxos have a lot to do with their reputation. The cooks hail from San Sebastián and serve up some 25 different pintxos, hot and cold. They're classic and simple: cod omelette, sausage, battered hake, an unsurpassed cod with pepper... And since you have to elbow your way to the bar to get the much-coveted hot pintxos, we recommend a cold speciality: the scrambled egg with red peppers and garlic.
Read more
When people talk about where the best pintxos are, the phrase 'haute cuisine in miniature' often comes up. And after 15 years in the business, Irati most definitely tops the rankings in this field. Restaurant manager Alex Monjas says that each of their pintxos has at least four ingredients, and that they have carefully studied the best ways to combine all of them. The elongated bar, free of stools, is topped by some 50 varieties of tapas, both hot and cold. On a good night they can dish up 600. A marvel among them is a hot tapa made of scorpionfish cake on a base of sour cream and egg. And definitely try the slice of bread that becomes a tiny empire of 'sobrassada' sausage, with honey, apple and crispy Idiazabal cheese.
Read more