Shopping
Your guide to the best Berlin shops and markets, style and fashion
Berlin's best boutiques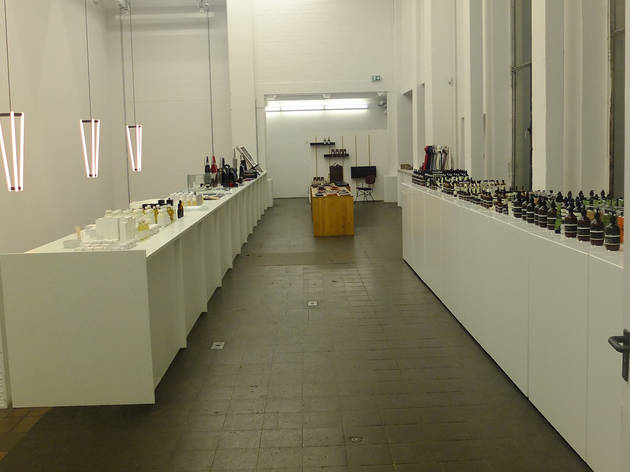 Andreas Murkudis
The Murkudis brothers are a design duo with the Midas touch. When Andreas Murkudis opened his cavernous new concept store in a quiet Schöneberg courtyard during Berlin Fashion Week in July 2011, there were whispers in the fashion crowd that his decision to set up shop here could help transform the sleepy neighbourhood into a shopping hotspot. This hasn't exactly happened, instead he joins the cluster of art galleries that have begun sprouting up in the area, the Berlin-branch of Blain Southern situated in the same ex-Tagesspiegel complex as his shop. The interior is white, stark and immense, with neon strip lighting. Clothes (by brother Kostas Murkudis, Dries van Noten and Maison Martin Margiela to name but a few) are immaculately displayed amongst items of contemporary furniture, porcelain and homeware by brands such as Nymphenburg.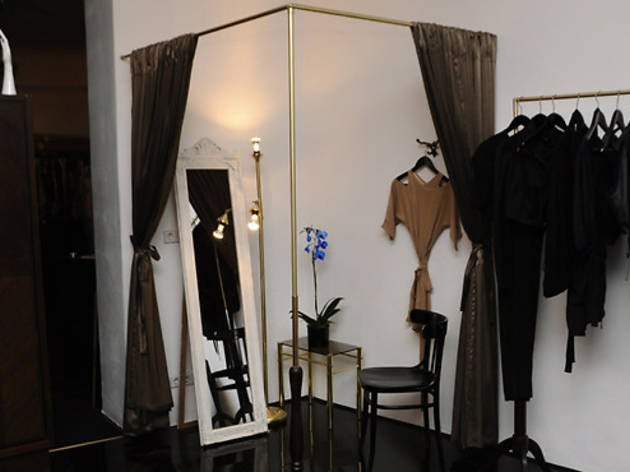 DSTM
There are plenty of young Berlin designers cutting their chops at boutiques around the city, but Canadian-born Jen Gilpin's label Don't Shoot The Messengers is easily the definitive city look. Local influences can be read from all over: shades of Marlene Dietrich's austere raunchiness and even the complex fastenings of fetish-ware are apparent in the billowy clothing, made mostly in fine black silks and leather. Angular cutouts offer up glimpses of flesh, and sleek shapes are conjured up by inventive draping that proves Gilpin's skilled technique. Their handsome Mitte boutique is definitely worth a visit, and their line runs from elegant leggings to layered wool overcoats, with surprisingly affordable prices to boot. They even have the Lady Gaga seal of approval: she was spotted wearing little else than DSTM lingerie and a fur coat for her album release party in Berlin.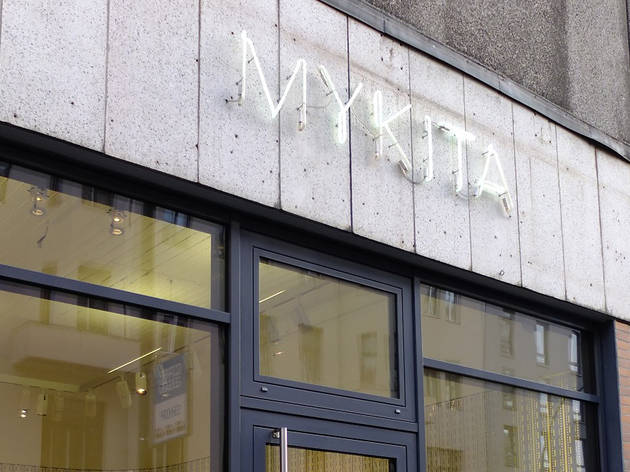 Mykita
The Berlin-based glasses label has long been a mainstay for all fashion conscious locals since 2004, but the brand has hit the big time in recent years and some of their more experimental frames have been picked up by the likes of Lady Gaga and the Black Eyed Peas. The slick Hackescher Markt store recently underwent a revamp, and now perfectly showcases their extensive range of eyewear. Creators Philipp Haffmans and Harald Gottschling present their hand-made prescription frames and sunglasses on stark, industrial shelving units in this beautifully lit, ultra-minimalist store. There are a various different style ranges, dainty rimless specs, chunkier vintage numbers and their many collaborative models, like the 50s-inspired Beth Ditto shades or the over-sized sun visors from Bernhard Willhelm.
SEE MORE FASHION SHOPS in Berlin
Recommended independent stores in Berlin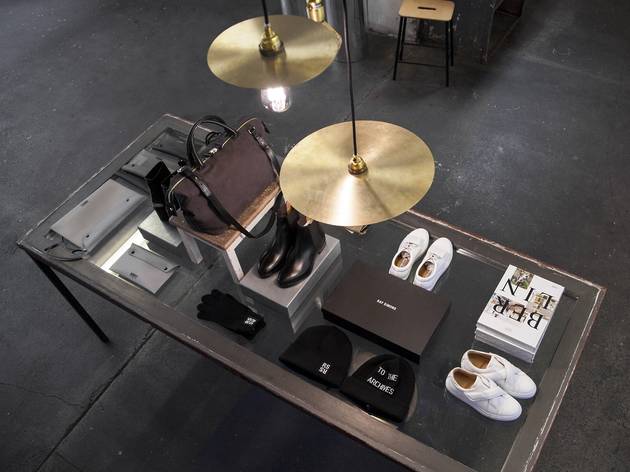 Voo
The Voo concept store brings sleek fashions to an area usually associated with punkier looks. The expansive space, discreetly hidden in a courtyard off Kreuzberg's busy Oranienstraße, is all untreated concrete walls and bold lighting, something typical of Berlin's beloved industrial aesthetic, while the eclectic designers stocked also maintain a uniform identity of rigid lines and quality materials. They carry well-crafted outerwear from minimal Swedish favourites Acne, classic New Balance sneakers, colourful Kenzo print sweaters and a selection of accessories like Raf Simons' collaboration with backpack brand Eastpak. There's also an in-store third-wave coffee bar, Companion Coffee, where you can get a fine macchiato while perusing luxury magazines like The Travel Almanac.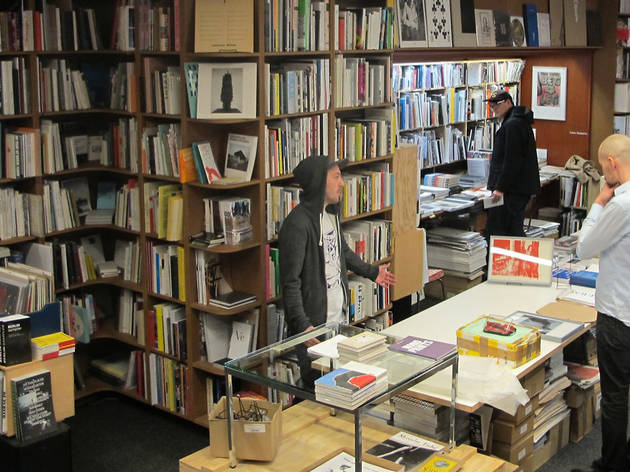 Motto
You have to know what you're looking for with this one, tucked away as it is in a disused frame factory in a courtyard just off Schlesisches Tor. Motto is Swiss by origin and Swiss in its super design consciousness. Besides pop-ups all over European art hot spots like Venice and Basel, as well as an outpost in Melbourne, this Kreuzberg branch was the first permanent one, opened in 2008, and remains the most inviting. A softly lit array of fanzines, back-issues, artist's books, posters, rare print-runs and cult classics are spread in a come-hither way across a long central table; altogether some 3,000 changing titles are carried by the store. Look out for book launches and evening events.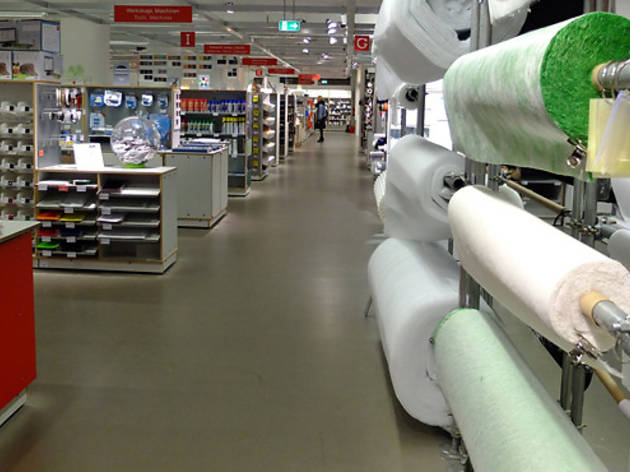 Modulor
The innocuous Moritzplatz roundabout was always a no man's land, but there have been a fair few high-profile shops opening around there, including a high-end kitchen appliance shop, a banh-mi café and the Prince Charles nightclub. One of the first, though, was Modulor, a paradise for the crafty, with absolutely anything and everything an artist or designer might need. Over a number of floors, everything is logically laid out – rolls of bizarre synthetic materials stacked up for use by product designers or experimental fashion students, but also more traditional art supplies: row after row of coloured pencils, markers, chalks, charcoals, oils and acrylics. They also offer services like cutting, laser etching and rental of tools. It's also a great place to come for decorative ideas for the more DIY-minded, as they sell shaped objects, metallic papers, printed wallpapers and plastic models which can be used around the house.
SEE MORE BERLIN SHOPS