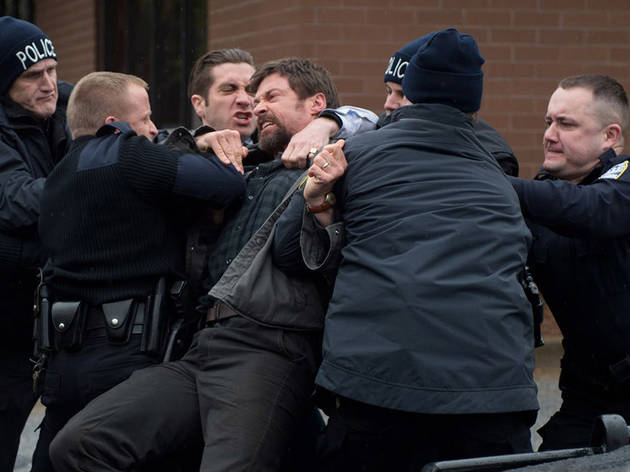 Something's in the air: a spine-tingling chill, a foreboding aura, some gloomy sense that bad things are on the horizon. Actually, it's just the severely solemn voice of Hugh Jackman, glumly reciting a Christian prayer over the austere opening shot of this frequently engrossing yet ultimately ludicrous kidnapping thriller directed by Incendies's Denis Villeneuve.
The man who shall forever be Wolverine plays Keller Dover (a screenwriting-software moniker if ever there was one), somber patriarch of a suburban Pennsylvania family, whose peaceful Thanksgiving is shattered by tragedy. While he and his wife, Grace (Maria Bello), are visiting their neighbors, Franklin and Nancy Birch (Terrence Howard and Viola Davis), the youngest child of each clan goes missing. There's a sizable clue (a mysterious RV was cruising the neighborhood just before the disappearances) and a detective, Loki (Jake Gyllenhaal)—no relation to the God of Thunder's treacherous brother—is quickly assigned to the case. But Keller is less than satisfied with how the first days of the investigation go, especially after Loki is forced to release low-IQ prime suspect Alex Jones (Paul Dano) for lack of evidence.
From here things get really biblical, and we're not just talking about the Virgin Mary statue that's used for a semi-cheeky jump scare (one of the film's few genuine laughs). Villeneuve and the great cinematographer Roger Deakins—once again proving he can lend a prestigious sheen to the silliest material—ensnare their ensemble in a funereal winter purgatory where driving rain, blinding snow and mocking gray skies are a constant. The weather seems like a projection of these characters' damaged souls as well as a divine taunt; if God is in the details, he's one cold-blooded mofo to allow this much unchecked pain and suffering.
All of the characters respond in kind: Keller orchestrates a kidnapping of his own that sorely tests his moral barometer, even as he committedly engages in torture tactics—beatings, scaldings and the use of a bloodied Abu Ghraibian blackout hood—that invite explicit parallels to the War on Terror. Elsewhere, Grace besmirches her pure name by self-medicating into near-catatonia, while both Franklin and Nancy become semi-willing accomplices to Keller's self-righteous fury. (Davis gets another chance to indulge in one of those trembling, tears-flowing snot-takes that she's been baiting Oscar voters with since 2008's Doubt.) Even Melissa Leo shows up as a kind of backwoods Shelley Winters—something that turns out to be much more fun in theory than it is in execution.
What of Loki, you might ask? As played by Gyllenhaal, he's slightly more haggard kin to the actor's green investigator in Zodiac (2007), and much more ineffectually realized. The character is clearly supposed to have gone through the ringer long before this noirish adventure, what with his blinking-eye tic, some semi-visible tattoos and a cursorily acknowledged backstory about time spent in foster care. But Loki's obsession with cracking the kidnapping case seems pro forma rather than impassioned; when he trashes his desk after hitting yet another dead end, it's hardly a bellow at the void—more an actorly hissy fit.
The uniformly showy performances (Acting with a capital 'A') are what do in Prisoners more than anything. The film has several adeptly directed suspense scenes, such as a nighttime foot chase that makes you gasp at every motion-triggered backyard light, but for all the expertly realized atmosphere, you never sense that any of the players is inhabiting a character. Instead they seem to be dispiritedly reading lines off of an internal teleprompter, lending a mock-sense of gravity to a story whose increasingly risible signs and portents (from snakes in a box to a Lazarus-like cave that figures in a head-slappingly "ambiguous" finale) play like bloated insta-metaphors bolstering a dour, mostly tension-free enterprise.
Follow Keith Uhlich on Twitter: @keithuhlich
Release details
| | |
| --- | --- |
| Rated: | R |
| Release date: | Friday September 20 2013 |
| Duration: | 153 mins |
Cast and crew
Director:
Denis Villeneuve
Screenwriter:
Aaron Guzikowski
Cast:
Hugh Jackman
Jake Gyllenhaal
Viola Davis
Terrence Howard
Paul Dano