"Dianna Frid: Evidence of the Material World" at devening projects and editions
Chicago artist Frid transforms so-called trigger texts into beautifully crafted art objects.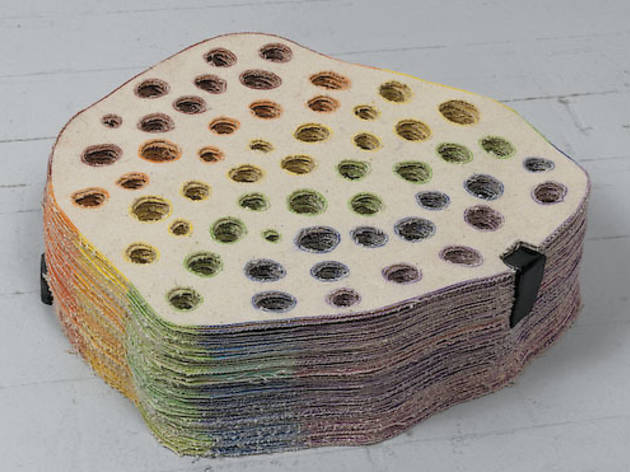 Dianna Frid's new works recall a game of Telephone. Her sculptures, mixed-media works and artist's books riff on snippets of language from sources such as dictionaries, obituaries and The Odyssey. The Chicago artist modifies and mangles these "trigger texts," translating them into highly textured, at times whimsical, pieces.
Sometimes the source text is detectable: The handsewn artist's book Against the Dying of the Light clearly references a Dylan Thomas poem. But often, it's garbled or completely concealed, as in a color-edged stack of fabric pocked with holes (pictured). This sculpture, which loosely resembles the moon's surface, is mysteriously titled The Refulgents.
At an October 22 gallery talk with Museum of Contemporary Art associate curator Julie Rodrigues Widholm, the artist described her works as "unconscious events of translation." They seem less concerned with distorting language than with how language plucked out of context can trigger the visual imagination. Frid says she doesn't know where a particular bit of text will take her or even, sometimes, when to stop working on a piece.
The artist's book The Waves was inspired by Virginia Woolf's eponymous experimental novel, which Woolf said she wrote "to a rhythm, not a plot." Frid repeats the word wave over and over in her appealingly tactile book, embroidering it once on a page, then twice, cresting at six repetitions per page, then retreating.
Words from Obituary (#1) is based on text misremembered from a New York Times obit. Frid embroiders the fourth word spoken on the moon in pink and purple thread on a black surface composed of canvas, paper, graphite and adhesives. Framed, the cryptic piece recalls a needlework sampler in the way it isolates a phrase. Viewers don't have to know its context to appreciate Frid's imaginative language of texture and form.