Joint Disassembly at Robert Bills Contemporary
David Hartwell and Steven Frost present photographs and installations.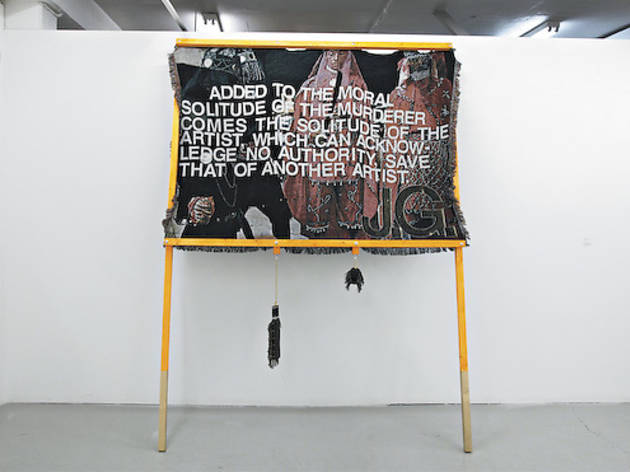 Largely created during one night of revelry—New Year's Eve, 2008—David Hartwell's altered snapshots work like a striptease as the artist's decisions about what to leave in or take out yield a sense of mystery. In 1818 Kalorama: New Years 2008, a layer of bright lavender engulfs guests at a house party, so that only the outlines of high heels, loafers and pant legs remain.
Unlike John Baldessari, who blocked out parts of his photos using colors to drive ambiguity in his work, Hartwell employs this technique to make photographs that are both abstract and figurative. His sheets of loud color generate unusual forms that are as striking as the images' semi-obscured narratives.
Photos by the recent California College of the Arts M.F.A. appear with mixed-media sculptures by Steven Frost, a 2011 graduate of SAIC's Fiber and Material Studies program. The title of Eight Devices for Achieving Harmony in Bad Taste acknowledges the tackiness of its eight baubles hanging from a wooden rack, the kind of cheap items one might find at a third-grade arts-and-crafts table. Frost's preoccupations with valueless objects' potential balance and harmony, and with the meaning of materials, have been rich sources of inspiration for other artists, but his works come off as too insular. The loaded origins of his materials, which range from backyard wrestling to leather contests, would be unguessable without the gallery's exhibition statement.
Hartwell's and Frost's works hang well together thanks to their strong diagonals and eye-grabbing colors, but "Joint Disassembly" offers only shaky connections between their very different practices. Curator Hannah Klemm tries to make the case that both artists explore identity. While that's true for Frost, Hartwell's work is primarily concerned with formal issues and memory.