The best rooftop bars in Chicago
Summer demands time spent on rooftop bars. Chicago offers many hotel bars and sky-high lounges, and these are the best.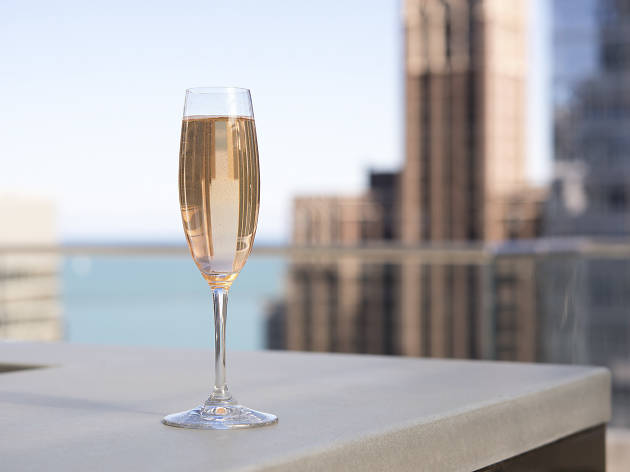 Chicago has no shortage of awesome things to do in the summer—by which we mean drinking on rooftops with a great view of the city. But even if all you can see is surrounding buildings, these spots are worth a visit. From a cocktail bar to beer bars, here are our picks for the best rooftop bars in Chicago.
To drink with locals and travelers in Chicago, click here!
RECOMMENDED: Beer gardens, rooftop bars and outdoor dining spots in Chicago
Best rooftop bars in Chicago
This restaurant and bar from the group that brought Dead Rabbit Grocery and Grog to New York has a terrace that seats 90, situated on the 18th floor of a Northwestern Medical Center building. With lunch service in addition to dinner service, you can while away the afternoon with delicious cocktails.
Book now
Read more
The beer and whiskey-focused North Center bar has a rooftop bar that opens in the summer with tables and bar seating. There's a more streamlined food list, along with lots of beers on draft and in cans.
Read more
The rooftop restaurant and bar at the Chicago Athletic Association Hotel offers some of the best views of the city, with an expansive look at Millennium Park and the Lake. The drinks, from Nandini Khaund, are mostly balanced, and very pretty, while the American food is also mostly well-executed and comes in massive portions designed for sharing.
Read more
In the summer, Gene's opens its glorious rooftop and serves canned beer, grilled sausages, potato pancakes and pretzels. The beer is icy cold, the sausages are showstoppers, and the only concern is managing to finagle a table big enough for all your friends.
Read more
The gorgeous 18th-floor bar of the Raffaello Hotel boasts three prime sections: a handsome, dim interior full of tufted leather banquettes; a chic exterior deck lounge with open fire pits; and a narrow indoor-outdoor corridor where the marble floor and arched windows play against contemporary green stools. You'll be happy drinking the expertly made cocktails in any space, but in summer, the outdoor lounge is the place to be.
Read more
The rooftop of Streeterville's Loews Hotel is a fun summer spot to sip cocktails and play games like pétanque and oversized jenga while taking in city views. The roof has two bars and two lounge areas, so there's plenty of space to spread out and relax over cocktails. The catch? The rooftop is only open in the summer.
Read more
On the one hand, the BOKA Restaurant Group's year-round rooftop bar is unlike any other in the city: It boasts destination-themed cocktails, seasonal small plates from chef Paul Virant and sweeping, mesmerizing, breathtaking views of Lincoln Park from the 13th-floor roof of the Hotel Lincoln. On the other hand, it's still a rooftop bar, which means on a gorgeous day, you might need to sacrifice your first-born just to get a seat.
Read more
When a bar boasts a rooftop deck, over 90 beers and a menu of sandwiches, it's safe to assume it'll also boast an obnoxious River North crowd. There's nothing of the sort at the Garage, a pretense-free neighborhood hangout on the Northwest Side. Darts and shuffleboard provide entertainment on the industrial-ish first floor, while the mellow second-floor roof deck has plenty of tables and (so far) no need to fight for one.
Read more
At seven stories, the garden at NoMI isn't as high as some of the newer hotel bars in town. And yet this is still the premier place to get a drink above ground. Chalk it up to the Park Hyatt's unparalleled service, or the snacks (if you can call pristine dishes like prosciutto beignets and fried kale "snacks"). The fact that the view isn't all that exciting just speaks to the garden's appeal—even on ground level, this place would shine.
Book now
Read more
This sporty brewpub offers a dozen house-brewed beers to sip while watching your team on more than two-dozen TVs and snacking on signatures like ale-brushed ballpark-style pretzels and fish and chips. If it's nice out, head to the rooftop beer garden and sample through the taps.
Book now
Read more