18 Thanksgiving movies and TV episodes available on demand
Liven up your post-feast food coma with these Thanksgiving movies and classic television episodes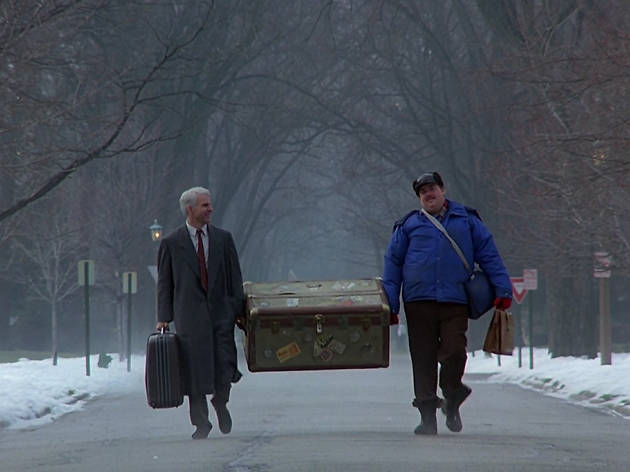 When it comes to holiday entertainment, Thanksgiving frequently loses out to its late December counterpart. There are oodles of Christmas movies but far fewer titles devoted to the gluttony and family drama of Turkey Day. But if you're looking to get in a festive mood or just searching for something to zone out to in the midst of your tryptophan-addled food coma, feast on these Thanksgiving movies and episodes that are available on demand right now, either via subscription services or streaming rental.
RECOMMENDED: Thanksgiving events in Chicago
Thanksgiving movies available to stream
This quirky, bitingly funny family portrait from director Jodie Foster stars Holly Hunter as a single mom dreading the Thanksgiving trip back to her own childhood home. The top-notch cast includes the likes of Claire Danes, Robert Downey Jr., Charles Durning and Anne Bancroft.

Available for rent ($2.99): Vudu, iTunes, YouTube, Google Play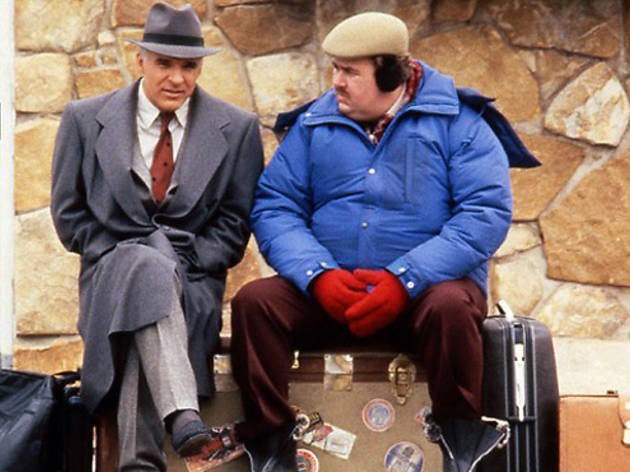 Thanksgiving movies aren't nearly so plentiful as Christmas movies, but this John Hughes road comedy about a snobby executive (Steve Martin) and a schlubby salesman (John Candy) thrown together on a bad-luck-beset trek home for the holiday is surely one of the best.

Available for rent ($2.99): Vudu, iTunes, Amazon, YouTube, Google Play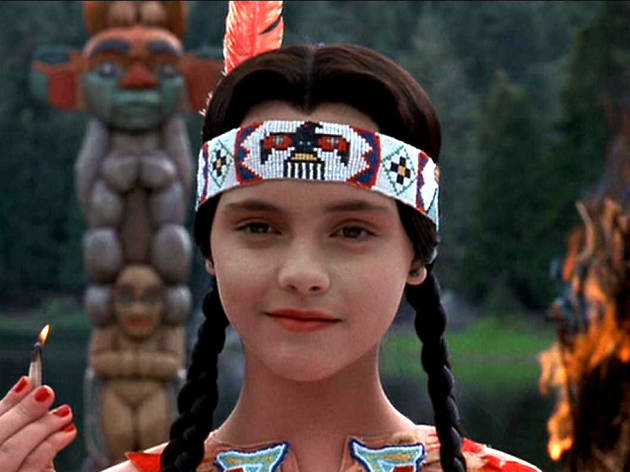 It may not have the spark of the first film, but Wednesday's hijacking of Camp Chippewa's musical rendition of the first Thanksgiving, in which the indigenous Americans (all played by the outcast campers) revolt against the pilgrims, is pure joy.

Available to stream on Amazon Prime, Hulu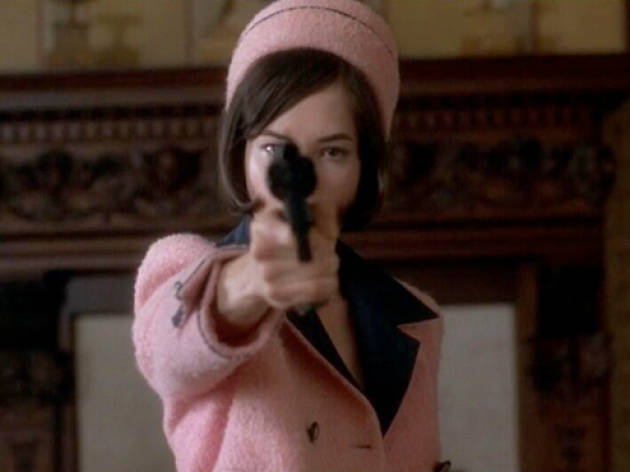 There's something quite lethal about Parker Posey in pearls, and for that alone, director Mark Waters deserves our gratitude. The film plays like
The Rocky Horror Picture Show
rewritten by August Strindberg and Oliver Stone: Josh Hamilton brings his fiancée Tori Spelling home to meet the family and the glamorous Jackie-O, as Posey styles herself. This film is quite insane, very arch and viciously funny (from a play by Wendy MacLeod).
Available for rent ($2.99): Vudu, iTunes, Amazon, YouTube, Google Play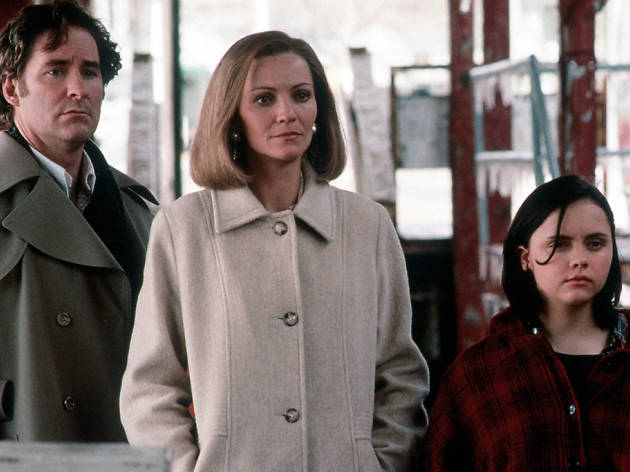 A brittle Connecticut family comes together for its 1973 Thanksgiving weekend (laced with bad weather and marital recriminations) in Ang Lee's expert take on the Rick Moody novel. Christina Ricci, playing the subversive daughter, ruins the festive mood with her heavily politicized grace.

Available for rent ($2.99): Vudu, iTunes, Amazon, YouTube, Google Play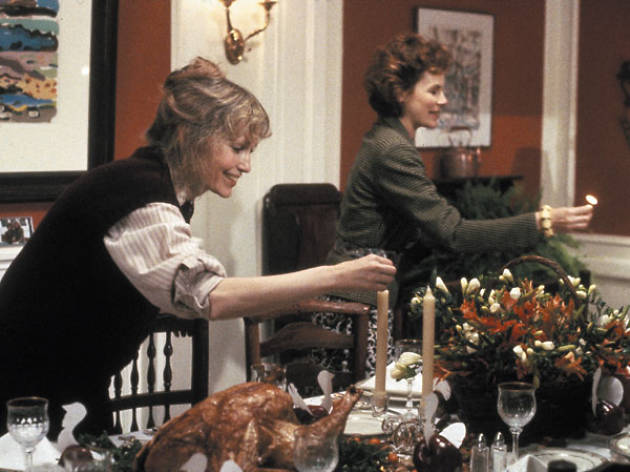 Woody Allen used the annual holiday meal—and Mia Farrow's actual Central Park West apartment—as a repeated motif in one of his most sophisticated romantic comedies. Suffused with urbane chat and book-lined coziness, these scenes provide instant nostalgia for a generation of New Yorkers. Bonus T-day points: The movie is actually about giving thanks—to the people who love and endure you, to the fates that keep you healthy and to the Marx Brothers for providing a reason to live.

Available for rent ($3.99): Amazon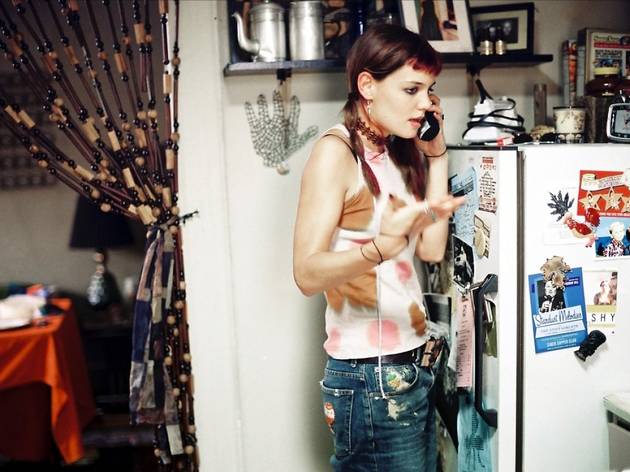 Riding high with Dawson's Creek, Katie Holmes confidently anchors this dark Sundance comedy about a young Lower East Sider who draws her bitter, broken relatives to her shitty apartment for a Thanksgiving reunion. The oven doesn't work, Mom's dying of breast cancer and everyone's in a foul mood, but this one deserves a spin for its concentrated inventiveness and touching finish.

Available for rent ($2.99): Vudu, iTunes, Amazon, YouTube, Google Play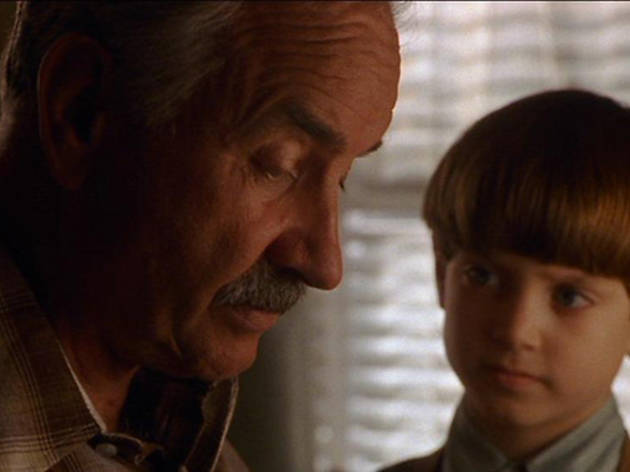 Assimilation chafes with tradition in Barry Levinson's magnificent evocation of 1950s Jewish life in Baltimore, a movie with a heartbreaker of a Thanksgiving argument. "You cut the turkey without me?" fumes an uncle late to the feast, as family tensions spill over into a fierce front-lawn confrontation.

Available for rent ($2.99): Vudu, iTunes, Amazon, YouTube, Google Play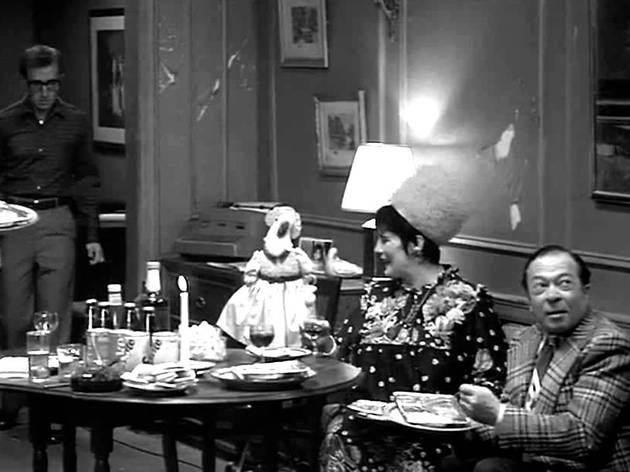 Broadway Danny Rose (1984)
More and more, this seems like the definitive Woody Allen comedy, a perfect balance of nebbishment and nourishment. Mia Farrow is virtually unrecognizable as a big-haired, brassy mob dame in love with a has-been Italian singer whose career the Woodman, playing a small-time manager, is trying desperately to ignite. A crucial scene with all of Danny's loser clients assembled in his apartment for a frozen-turkey dinner is heartbreakingly sweet.

Available for rent ($3.99): Amazon
Classic Thanksgiving TV episodes on demand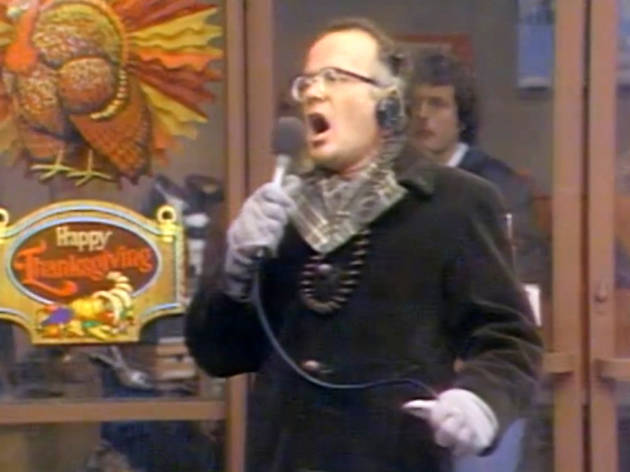 WKRP in Cincinnati: Turkeys Away (Season 1, Episode 7)
Based on an actual ill-fated radio promotion, this episode finds station manager Arthur Carlson organizing an event wherein live turkeys are jettisoned from a helicopter onto a supermarket parking lot, not having realized that turkeys can't fly.

Available to stream on Hulu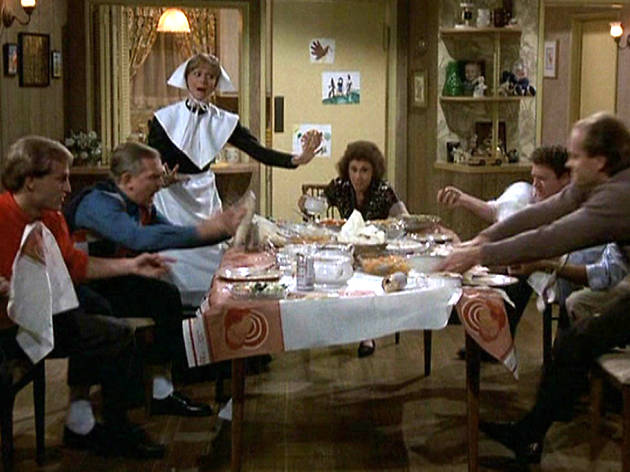 Cheers: Thanksgiving Orphans (Season 5, Episode 9)
One of the best sitcom ensembles ever trades the bar "where everybody knows your name" for Carla's apartment in an attempt to enjoy a traditional Thanksgiving dinner together, as none of them have anywhere else to be. When the meal is spoiled, it erupts into a gleefully cathartic food fight that illustrates why these barflies love each other like family.

Available to stream on Netflix, Amazon Prime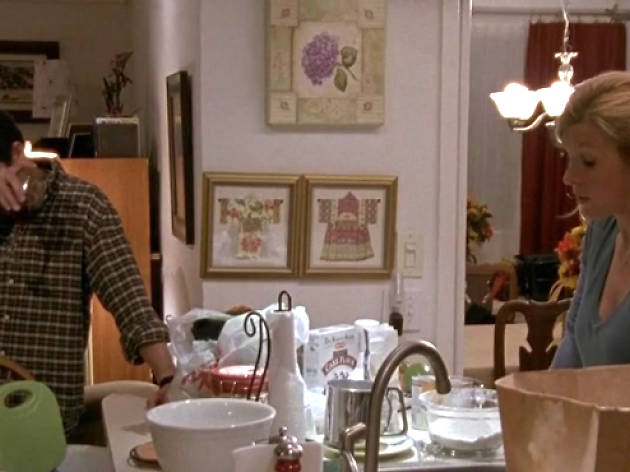 Friday Night Lights: Thanksgiving (Season 4, Episode 13)
The season four finale finds Eric and Tami Taylor hosting an expanded Thanksgiving feast on the eve of the East Dillon Lions' big game against the Dillon Panthers. It's nearly impossible to get through a FNL finale with dry eyes, especially one that's packed with multiple heartstring-pulling get-togethers, so be sure to keep the tissues handy.

Available to stream on Netflix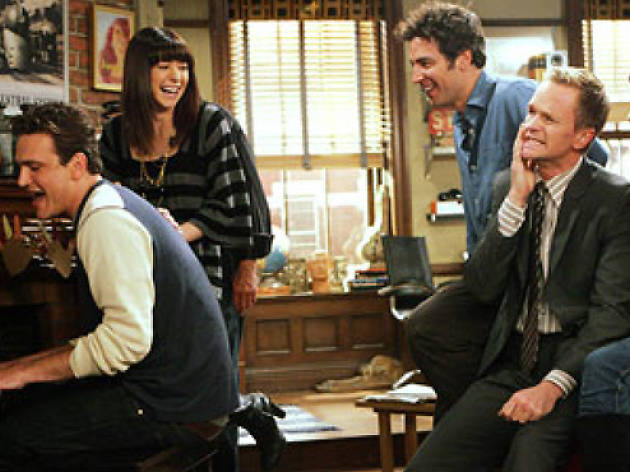 How I Met Your Mother: Slapsgiving (Season 3, Episode 9)
This is one half-hour where all of HIMYM's storytelling quirks are used to the best of their abilities. The pay-out of Marshall and Barney's long-running slap bet surfaces, as the former threatens to unleash one of his owed slaps during the holiday's festivities. Plus, one of the most memorable instances of Ted Mosby: Unreliable Narrator surfaces as, through his eyes, ex-girlfriend Robin's "older" date is cast as a senior citizen, rather than the forty-something man he actually is.

Available to stream on Netflix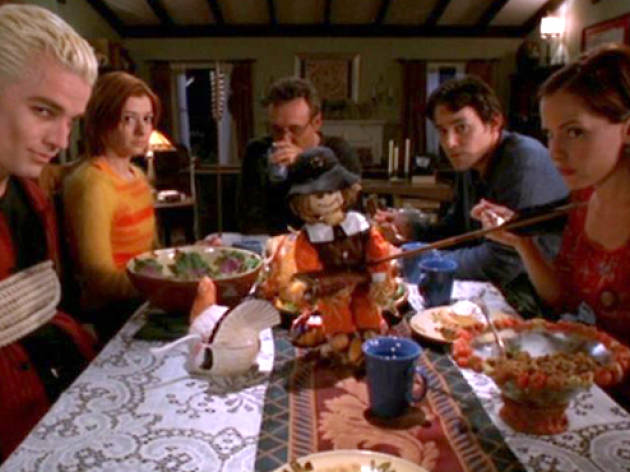 Buffy the Vampire Slayer: Pangs (Season 4, Episode 8)
Buffy's attempts to create a wholesome holiday dinner for her friends are complicated by an angry Native American spirit seeking retribution for the crimes against his tribe, proving, as you might expect, that the forces of darkness are nothing compared to delivering a celebrated Thanksgiving meal.

Available to stream on Netflix, Hulu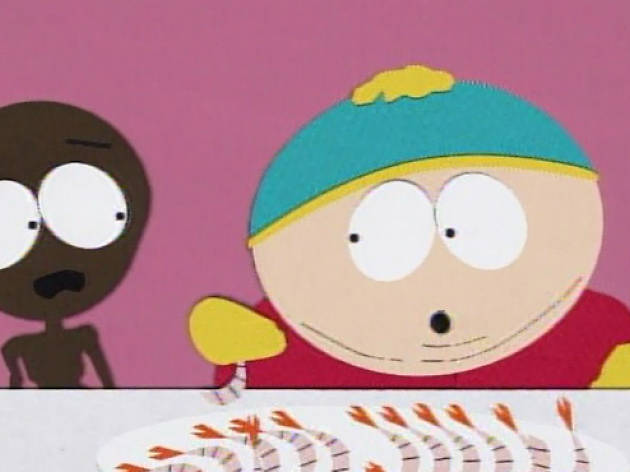 South Park: Starvin' Marvin (Season 1, Episode 8)
In its 20 seasons (and counting), there have been several Thanksgiving episodes, but none of them live up to the magic of the first, in which Cartman is accidentally sent to Ethiopia and, in a parody of Braveheart, the citizens of South Park go to war against an army of genetically engineered turkeys.

Available to stream on Hulu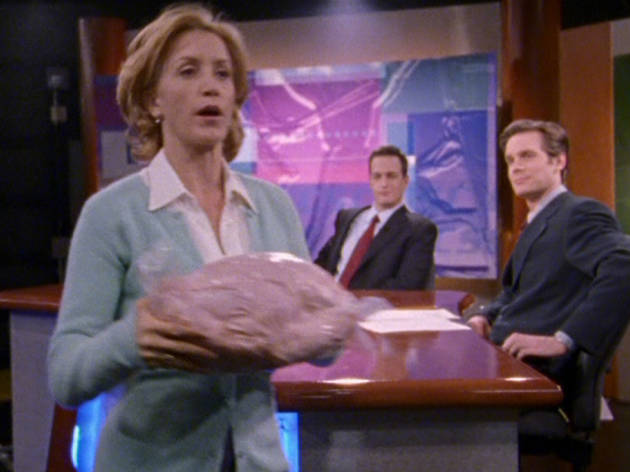 Sports Night: Thespis (Season 1, Episode 8)
The Sports Night team finds itself plagued by a series of unfortunate events during their live broadcast, attributed to the ghost of Thespis. In the midst of all this, Dana is attempting to thaw a turkey in the TV studio's light grid, as part of her mission to impress her mother with Thanksgiving dinner. Not surprisingly, the turkey doesn't stay put long.

Available to stream on Hulu, ABC.com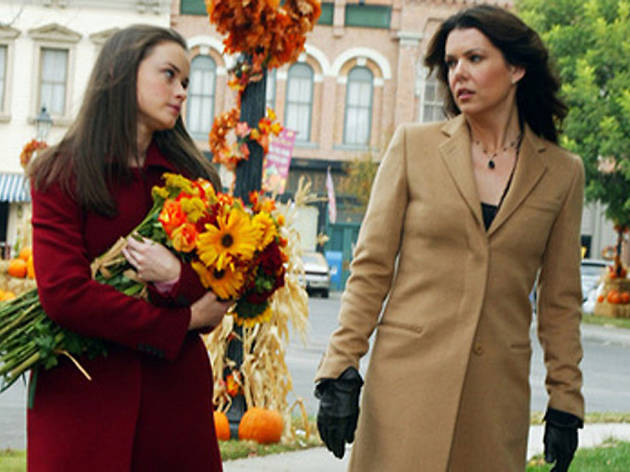 Gilmore Girls: A Deep-Fried Korean Thanksgiving (Season 3, Episode 9)
Anyone who's had to spend the holidays hopping through multiple parties can understand Lorelai and Rory's plight as the mother-daughter team treks their iron stomachs to four different Thanksgiving meals, some more pleasant than others. Melissa McCarthy's Sookie drowning her sorrows over her husband's deep-fried turkey dinner makes for an excellent comic highlight.

Available to stream on Netflix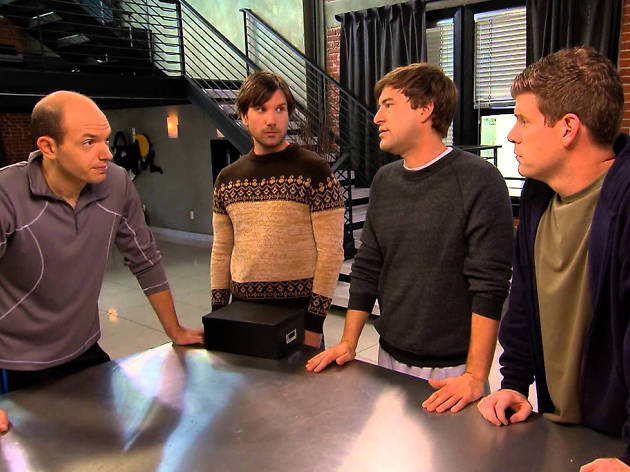 The League: Thanksgiving (Season 3, Episode 8)
The brilliant casting of Jeff Goldblum as Nick Kroll's father is reason enough to check out this debacle-filled holiday episode, but the joy doesn't end there, in a half-hour that also includes a guest appearance from Sarah Silverman and the disastrous MacArthur Thanksgiving meal, in which a guinea pig meets an untimely end.

Available to stream on Netflix, Hulu