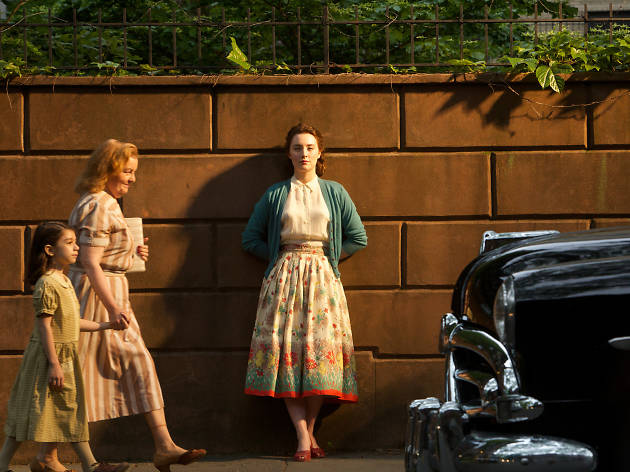 Time Out says
Set in a bustling era of self-reinvention, a young woman's story coalesces into the year's most stirring film.
The bearded-hipster image of Brooklyn has gone so global, it's almost miraculous that a film would succeed in making the borough seem exotic again—by reaching back to its blue-collar Dodgers-loving past. That's one of the many feats of Irish director John Crowley's rapturously big-hearted adaptation of Colm Tóibín's 2009 novel, an immigrant tale set in 1952. But Brooklyn is no mere nostalgia piece (even though these Montreal streets sure do the trick). It's also a reclamation of a kind of sincere moviemaking that's gone out of style, where decent characters grapple with real ethical dilemmas and awaken to new versions of themselves. Call it square, but no other drama this year feels quite so virtuous.
Its beating heart is 21-year-old Saoirse Ronan, once the bright-eyed teen from Atonement but now, on evidence here, the most quietly expressive actor of her generation. She plays Eilis, bored and amused by her provincial life in Ireland as a browbeaten market assistant, yet still not grown-up enough to happily embrace the promising American future that's been arranged for her by a kindly priest (Jim Broadbent). Leaving behind her mother and older sister for the journey to Ellis Island, she's a sad, lonely figure barely able to speak, but the movement of the story—from wrenching homesickness to blooming confidence and a smile on one's stroll to work—elevates the movie into universal urban poetry.
Sharply scripted by Nick Hornby (who speeds the plot through what might have been a gauzy lull), Brooklyn eventually presents a pair of complications for Eilis. The first is a lovestruck Italian-American plumber, Tony (Emory Cohen, like a young Brando), who gives his heart to her respectfully and dreams of moving them out to Long Island. The other, encountered on an emergency return trip to the old country, is Jim (Domhnall Gleeson), exactly the kind of perceptive boy Eilis wished she'd met before she left. Suddenly her future is too bright, and the plot's love triangle is energized by the nuanced pull of home—wherever that might happen to be in this transitional moment. The tension is exquisite, more than enough for any movie, and Ronan makes you feel every pang of it.
Follow Joshua Rothkopf on Twitter: @joshrothkopf
Details
Release details
Rated:
PG-13
Release date:
Wednesday November 4 2015
Duration:
111 mins
Cast and crew
Director:
John Crowley
Screenwriter:
Nick Hornby
Cast:
Saoirse Ronan
Domhnall Gleeson
Emory Cohen

Users say