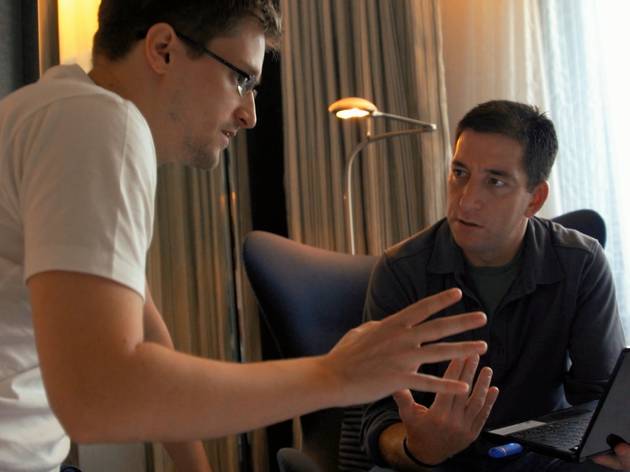 In June 2013, after several months of coded messages back and forth, U.S. security worker Edward Snowden summoned three people to a hotel room in Hong Kong to reveal who he was and what he wanted. Two of the three were journalists: freelancer Glenn Greenwald and The Guardian's Ewen MacAskill. The third was documentary maker Laura Poitras (The Oath), who has now turned 
the behind-the-scenes story of Snowden's revelations into this movie. Her film's quiet, matter-
of-fact sobriety is as chilling as 
the information Snowden revealed—that the U.S. and U.K. governments were spying on their citizens to an extent beyond most paranoiacs' wildest nightmares.
Even if you know Snowden's story, it's doubly striking when heard here, straight from the horse's mouth and shared for 
the first time. Partly, Citizenfour 
serves as a concise refresher of 
a complicated story that has 
been developing for over a year. 
Poitras offers helpful background, 
opening her film with the testimony of other whistle-blowers and repeated high-up denials of
their allegations.
But Citizenfour is at its most eye-opening—and essential—simply as a portrait of the then-29-year-old at a point of absolute no return as he spends almost a week hiding out before disappearing into an entirely new existence. He talks about his motivations, about leaving his girlfriend a note in their Hawaii home saying that he had gone on a long work trip, about cutting all ties with friends and family, about the near-inevitability that he would end up in jail.
Banal details are raised to the level of a thriller as Snowden sweeps back his hair in the mirror, hoping he won't be recognized on the street, or bristles as a fire alarm goes off, wondering aloud if there are more sinister reasons for it. Poitras delivers an intimate, human sketch of Snowden, who comes across well: rational, considered, confident, with a hint of fragility. There's a nobility to him entirely unforced by Poitras.
Once Snowden leaves the hotel room to embark on a journey that would eventually lead to him living in exile in Russia, Poitras is left behind and her film loses some energy. And then, a final, recent encounter snaps us out of any complacency and reminds us that this is very much a live story, one that will run and run and run.
Release details
Rated:
N/R
Release date:
Friday October 24 2014
Duration:
114 mins
Cast and crew