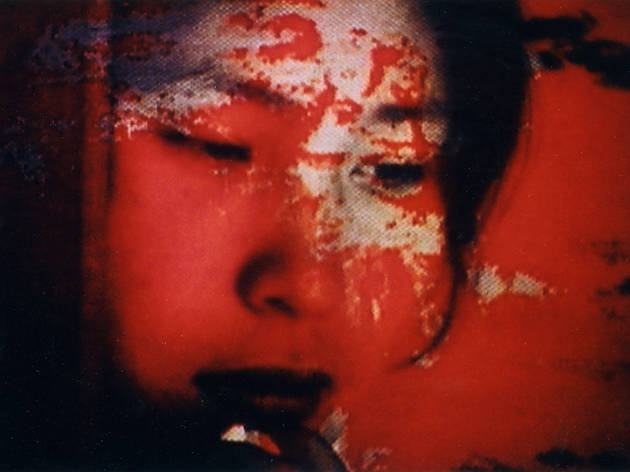 Is it right to even call this sensational feature by the late Chris Marker a documentary? Much of what this inimitable French artist created inventively blurred the lines between the real and the illusory. His best-known work—the 1962 time-travel short "La Jetée," which inspired Terry Gilliam's Twelve Monkeys (1995)—had the air of an investigative report, albeit one beamed from its own off-kilter universe.
Level Five is a similarly strange brew: the video diaries of a stoic computer programmer, Laura (the gorgeously alien-looking Catherine Belkhodja), as she builds a strategy game based on the bloody 82-day WWII campaign known as the Battle of Okinawa. Her research consists of watching footage Marker himself shot in Japan in 1985 of the various combat sites, as well as interviews with witnesses and those (like provocateur filmmaker Nagisa Oshima) who have tried to shed light on this high-casualty assault.
The deeper Laura gets into the game's creation, the more her view of this terrible historical event is complicated, as is ours: The film's vaguely sci-fi trappings (Laura does some incognito virtual travel, and is explictly likened to a character out of William Gibson's cyberpunk classic Neuromancer) add a dimension to Marker's vérité footage. On their own, such chilling interviews as the one in which a battle survivor admits to murdering his own family (all in the name of the emperor) would likely be too raw to fully process. But by using Laura as an avatar, Marker actually helps us see the visuals and their knotty meanings much more clearly. The more we watch, the more Laura softens, until—in a mind-bending conceit—her very status as a fictional creation is called into question. The effect is ecstatic.
Follow Keith Uhlich on Twitter: @keithuhlich
Release details
| | |
| --- | --- |
| Release date: | Friday August 15 2014 |
| Duration: | 106 mins |
Cast and crew
Director:
Chris Marker
Screenwriter:
Chris Marker
Cast:
Catherine Belkhodja
Kenji Tokitsu
Nagisa Oshima
Junishi Ushiyama