Olympus Has Fallen: movie review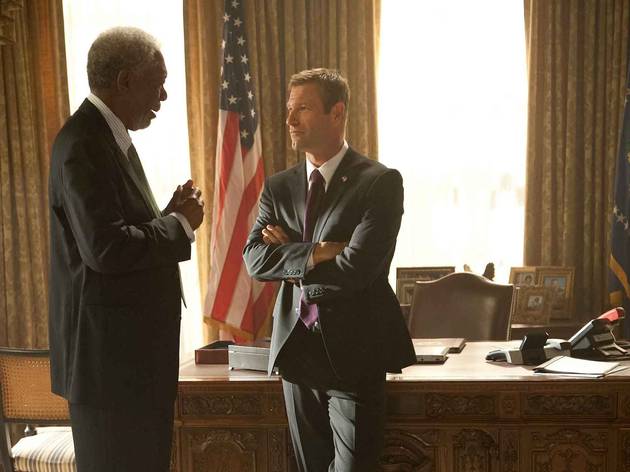 Only weeks after a lackluster Die Hard sequel—and days since the release of another fabulously shoddy piece of North Korean propaganda video—comes this White House invasion thriller, so somberly silly that it comes close to redeeming itself. After a mysterious bomber begins strafing Washington's Mall and splattering tourists (the violence is Verhoeven-level gooey), an elaborate foreign-led siege is on, with the President (Aaron Eckhart) shuttled underground, a wicked mastermind (Rick Yune) in the bunker with him and a lone, disgraced Secret Service agent (Gerard Butler) on the grounds to save our dignity. In between symbolic insert shots (hey, that American flag has bullet holes in it), there's plenty of skulking around in the dark while nuclear codes scramble into place.
A deep supporting cast brings its A-game to the ridiculous dialogue, from Robert Forster's top-ranking general ("Goddamn it, where's that response team?"), Angela Bassett's director of security ("We may have a hostage situation on our hands") and Morgan Freeman's vexed Speaker of the House ("He's just opened the gates of hell…"). Our hero, alas, isn't quite Bruce Willis; Gerard Butler is better suited to action than comedy, but he remains stubbornly charmless. Meanwhile, as national monuments fall in raining showers of fake-looking CGI cinder blocks, a thornier question comes to mind: Is it finally no longer "too soon" for Hollywood to do what it does best to our skylines? Your audience might be disquieted—mine was ecstatic.
Follow Joshua Rothkopf on Twitter: @joshrothkopf
Release details
Rated:
R
Release date:
Friday March 22 2013
Duration:
120 mins
Cast and crew
Director:
Antoine Fuqua
Cast:
Gerard Butler
Aaron Eckhart
Morgan Freeman