Oscar predictions for 2014
Time Out looks at the contenders for the 2014 Academy Awards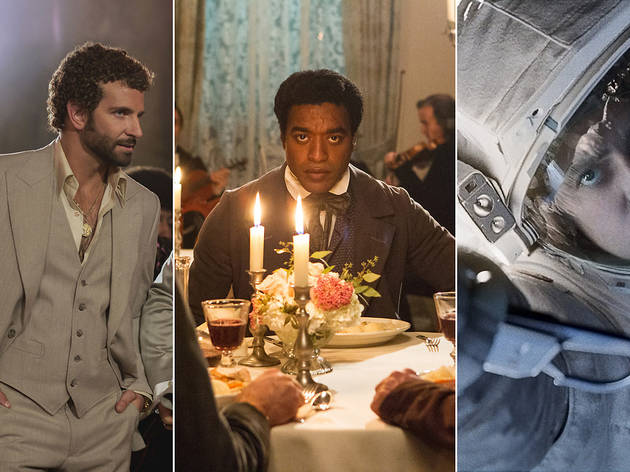 Will win
American Hustle
Should win
12 Years a Slave

Should have been nominated

The Great Beauty
The frontrunner
It truly is a three-horse race for Best Picture. Steve McQueen's 12 Years a Slave is a drama both brutal and uplifting—right in the Academy's wheelhouse. No one could deny that it's an important film, and a beautifully made one. But sneaking up on the inside is American Hustle, precisely the kind of gorgeously mounted fluff that the Oscars just love to give surprise awards to (remember Chicago?). David O Russell's crime caper sports stunning costume design, whip-smart dialogue and terrific performances, which, given the huge number of actors who vote in this category, could well swing the vote in its favor.

But let us not overlook Gravity, which has had critics and audiences swooning, and has plenty of momentum following a pair of Bafta wins (for Best Director and Best British Film). If the Academy decides to court the multiplex vote, this is the one they'll pick.

Possible spoilers
12 Years a Slave may simply prove too heavy going for the Academy's old-timer voters. It's hard to imagine them relishing the idea of being lectured on their nation's historical crimes by a foreigner—especially a Brit. American Hustle is fizzy and fun, but will its lack of substance leave it wanting? And Gravity may be the popular choice, but the big prize has never gone to a sci-fi flick before.

Who else is nominated?
AIDS drama Dallas Buyers Club may sport strong performances and powerful subject matter, but the film just isn't impressive enough. The Wolf of Wall Street is probably too brash for Oscar tastes—too many drugs and hookers, not enough lesson-learning. And the lack of a Best Actor nod for Tom Hanks in Captain Phillips means that film is clearly not uppermost in the Academy's hearts and minds.

Nebraska, Her and great British hope Philomena are the kind of spry, indie-ish character pieces that always pick up nominations but rarely grab the big prize (bearing in mind, we said the same thing about The King's Speech a couple of years back).
Will win?
Alfonso Cuarón for
Gravity
Should win
Alfonso Cuarón.
Should have been nominated
The Coen brothers for
Inside Llewyn Davis
The frontrunner
Alfonso Cuarón is the favorite in this category for his head-scratching, jaw-dropping work on the space drama
Gravity
. The Mexican director, whose previous films include
Children of Men
and
Harry Potter and the Prisoner of Azkaban
, has so far won the Best Director prize at both the Bafta and Directors Guild of America awards—strong indicators that he's set to take this category at the Oscars. While some naysayers have grumbled about the plot of
Gravity
, there's a consensus afoot that Cuarón's work has widened the boundaries of sci-fi storytelling and harnessed the power of special effects in a manner that's sensitive and intelligent.

Possible spoiler
Crime comedy
American Hustle
has the same number of overall Oscar nominations—ten—as
Gravity
, so its director, David O Russell is in with an outside chance. But the biggest threat to Cuarón in this category and the Best Picture category is surely
12 Years a Slave
, which has nine nominations overall. Might a swell of support for this sombre, true-life historical tale mean that the British director of
Shame
and
Hunger
wins the little gold man? Certainly there are scenes in McQueen's film—an attempted lynching, a brutal whipping—where his masterly direction plants itself firmly in any audience's memory.
Who else is nominated
?
After Cuarón, Russell and McQueen, the other two nominees are Martin Scorsese for
The Wolf of Wall Street
and Alexander Payne for
Nebraska
. Neither will win. Scorsese's work is exceptional, but surely too many voters will feel they've seen it before, especially in
GoodFellas
and
Casino
? Payne's black-and-white tale of a father and son sort-of-bonding on a road trip has clearly struck a chord with Oscar voters, but it's too laidback to win.

Will win
Matthew McConaughey for Dallas Buyers Club
Should win
Chiwetel Ejiofor for 12 Years a Slave

Should have been nominated
Robert Redford for All Is Lost

The frontrunner
Matthew McConaughey's performance as homophobic redneck turned AIDS victim and pharmaceutical campaigner Ron Woodroof in Dallas Buyers Club is the natural frontrunner. It's a frank, powerful performance, refusing to shy away from the uglier aspects of both the man and the disease. McConaughey is an industry favourite who has climbed the ranks from indie obscurity to mainstream slush to "proper" acting roles.

Possible spoilers
Let's not rule out Bruce Dern for Nebraska. He's an acting legend who has spent too long in unworthy roles, and his turn as a befuddled dad reconnecting with his son has all the wit, warmth and insight the Academy loves.

Who else is nominated?
Chiwetel Ejiofor took the big prize at Bafta for his thoughtful turn in 12 Years a Slave, but let's face it, his Oscar chances are slimmer than McConaughey's waistband.

Leonardo DiCaprio's crooked stockbroker in The Wolf of Wall Street will likely prove too outrageous, too coke-fuelled, too hooker-happy to charm the more conservative voters.

Christian Bale for American Hustle is the male equivalent of Meryl Streep's Best Actress nomination. It's a kneejerk nod for an actor many voters admire, even if his work this time around isn't exactly earth shattering.
Will win
Cate Blanchett for
Blue Jasmine
Should win
Cate Blanchett.
Should have been nominated
Greta Gerwig for
Frances Ha
The frontrunner
Short of defecting to North Korea and swearing allegiance to Kim Jong-un, Cate Blanchett is a dead cert. The Aussie actress has been bookies' favorite from the get-go for her devastating performance in
Blue Jasmine
. Wins at the Baftas, Golden Globes and the Screen Actors Guild awards have only cemented her position. The only potential spoiler, and this is a big if, is Woodygate: the very public and increasingly bitter row between Woody Allen and Mia Farrow over allegations that he abused his adopted daughter.
Possible spoilers
The closest Blanchett has got to a rival is serial nominee Amy Adams (five nominations in eight years), who hits all the right notes across the emotional range as a gangster's moll in
American Hustle
.
Who else is nominated?
A knee-op has kept Judi Dench from the campaign trail, so her Oscar-friendly twinkly-eyed performance in
Philomena
hasn't made the dent many thought it would.
Sandra Bullock is nominated for
Gravity
. But while the 3D extravaganza is looking hot for Best Picture and Best Director, its astonishing visual effects will most likely be rewarded over its acting pyrotechnics.
Meryl Streep is up for
August: Osage County
. But the film hasn't turned out to be the juicy-looking piece of Oscar bait some were expecting.
Will win
The Great Beauty
Should win
The Great Beauty
Should have been nominated
Wadjda
The frontrunner
Comparisons to the great Italian director Federico Fellini could help the cause of Paolo Sorrentino's
The Great Beauty
among ageing Oscar voters who think that's what great European cinema looks like. It's also a terrific film: stylish, strange and moving in the way it tells of a fast-living dandy (Toni Servillo) in his fifties who's beginning to wonder what his life is worth. It's set in Rome, but viewers in Hollywood will easily relate.

Possible spoilers
Voters in this category have a habit of overlooking great films in favour of the middle-of-the-road, safe option.
The Hunt
is a solid Danish drama from
Festen
director Thomas Vinterberg which looks at small-town outrage centred on a suspected paedophile and primary-school teacher. It's knotty but accessible—and Danish star Mads Mikkelsen is a recognisable face. Meanwhile,
Omar
is a strong Palestinian film about youth and radicalisation, and its commentary on foreign troubles that Oscar voters might even be aware of could help its cause.
Who else is nominated
?
The Missing Picture
is a stop-motion animated study of murder in Cambodia and
The Broken Circle Breakdown
is a musical romance from Belgium.