Rosamund Pike interview: 'I feel like I've never been stretched'
The Bond girl-turned-'Gone Girl' tells us about the rewards of crossing over to the dark side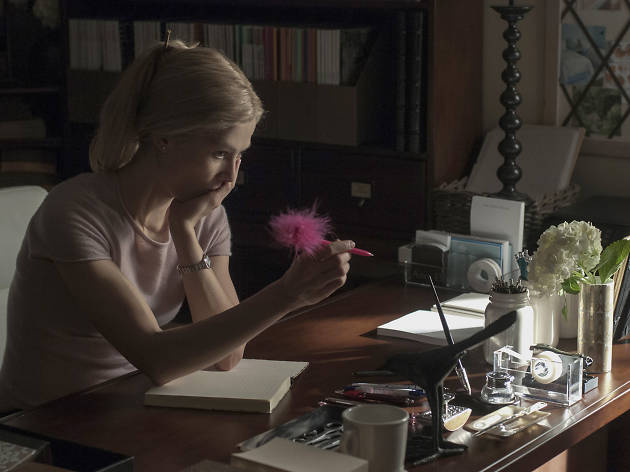 Early last summer Rosamund Pike was working her butt off in a gym near Glasgow. Not at a spinning class or doing hot yoga, but in several four-hour-long auditions over Skype with director David Fincher (The Social Network). At the time, blogs were buzzing with gossip about which A-lister Fincher would cast opposite Ben Affleck in his film adaptation of Gone Girl.
Gillian Flynn's novel was the subway read of 2013—an insanely addictive thriller about a woman who disappears on her fifth wedding anniversary. Natalie Portman, Charlize Theron and Emily Blunt all reportedly went for it. Pike was making a film in Scotland at the time and the gym was the only place with decent wifi. Even she was shocked by Fincher's interest: "It was really cool realizing that I was even on his radar. I mean, I've seen everything he's ever done."

It turns out that Fincher had her in mind from the get-go. He wanted a "relative unknown" and liked her look, describing her as "luminously beautiful." That's no exaggeration. Rosamund Pike is flawless. It's a weirdly muggy September afternoon in Soho when we meet, and everyone is damp and frizzy in the monsoon-ish weather. Except Pike, who despite being seven months pregnant, bump neatly covered by a 1960s-style navy pinafore dress, is all poise and perfection—more like a painting than a person.

Pike's first in-person meeting with Fincher to talk about Gone Girl was top secret. She flew from Glasgow to St. Louis, Missouri, where he was scouting locations, to meet for dinner. On the plane Pike opened an email from him containing the script—"For your eyes only" was the subject line. "Nobody knew anything about it," she says. "Not even my agent. For once in my life I knew more about what was going on than anyone else. Usually the actor is behind the curve." Her eyes widen, as if she still can't believe her luck at snatching a role destined for a more famous actress. "I said to Fincher: 'We both know, if it wasn't you directing, I wouldn't be playing Amy.'"
If you've read Gone Girl (if not, where have you been?), you'll know why actresses got all sharp-elbowed about the role of mysterious and complex Amy Dunne. Pike devoured the book in three sittings before her first Skype call with Fincher: "It just gets into your veins, like someone is injecting toxicity into you. I couldn't shake that feeling." Amy and her husband Nick (played by Affleck, brilliantly channelling the hottest boy in school, 20 years down the line and gone to seed) are lost in their mid-thirties. Both have been laid off from their cool jobs as writers in New York and have moved back to his hometown in Missouri. When Amy goes missing, Nick is the prime suspect. Did he kill his wife? Is she really as perfect as she seems?

Pike has been around since she landed the role of a Bond girl opposite Pierce Brosnan in Die Another Day, straight out of an English degree at Oxford in 2002. To be bluntly honest, in the 14 years since, she's been wasted in supporting roles: the pretty big sister in Pride and Prejudice, Tom Cruise's love interest in Jack Reacher, token girlfriend in The World's End.
Was she ready for a tougher role? "I've been ready for years." Pike leans forward for emphasis, though her voice stays oddly soft and serene. "I wanted a high-pressure job like this. I was ready to get out of all the boxes I've been put into; for someone to call on me for the dark bits." Does she ever feel frustrated by the roles she's offered? "I feel like I've never been stretched, that there's always more," she muses, adding unnecessarily, "but I don't think there's any actress alive who doesn't feel like that."

I wonder if all that poise and beauty might not have done her any favours. Friends of Pike—she grew up in London, the only child of two opera singers—always say what a laugh she is. But somehow, when people think of Rosamund Pike they think prim and posh. "It's odd. I've done a variety of things in my career, but I'm still seen in the same light: the reserved, cool one from Oxford. Intimidating comes up."
Talking in public, she insists, reduces her to a quivering mess. She cringes at the memory of presenting at the Baftas: "I cocked it up so spectacularly. Everyone meets me and thinks: She'd be very good, she's very composed. But those public appearances make me unbelievably nervous." Gone Girl, she hopes, will drive a stake through that buttoned-up image. The film should do wonders for Pike's career too, and chances are her name will be all over Best Actress lists come awards season.
Whatever you do, don't watch this film with your sweetheart. Author Gillian Flynn, who also wrote the script, has joked that she wants it to be "the date movie that breaks up couples." And it's ruthlessly insightful about relationships. At the screeni​ng I went to, a woman sitting next to me giggled uncomfortably as Amy talked about playing "the cool girl" when she first met Nick: drinking beer, staying up late, eating hot dogs while maintaining a model-skinny figure.
"I was quite intrigued by this idea of marriage as con game—the idea that we're all selling a version of ourselves," says Pike. She thinks Facebook and internet dating encourage us to play with identities: "You can try indie-rock chick on for size. Maybe it's fun for a while, but after a bit you think: Oh, actually, that's not really who I am. So you do bookish intellectual for a while."

Pike admits that filming was at times "brutal." Fincher is known for shooting 50 or 60 takes for one scene. She moved from her home in Primrose Hill to Los Angeles with her partner, Robie Uniacke, and their young son to work on the film. Was it tricky juggling the role of a lifetime with being mom to a toddler? "No. Being a mother is quite good, because you just leave it behind. There's no space to agonize or obsess over what you've just done. You go home and play with Legos or roll Play-Doh balls."
But she struggled with some of the darker scenes. "You think: I'd better make sure this is all buried away. I don't want to release any of this when I get home. Gillian told me that she has this Post-it note in her downstairs writing room: 'Leave the crazy downstairs.' I had a playlist that I listened to, to let go. To leave the crazy. It was hard work. But I craved that hard work."

Gone Girl is nasty, but it's also very funny—a romantic comedy wrapped in barbed wire. The tone of the film is like having a conversation with someone in that bitter, sarcastic, "fuck it" stage of a break-up. Pike has watched it a couple of times, the first with her hands in front of her face. "The second time, I said to Fincher: 'I really like it.' He's like: 'I think you need therapy.'"

Gone Girl opens on Fri Oct 3.