The Best Exotic Marigold Hotel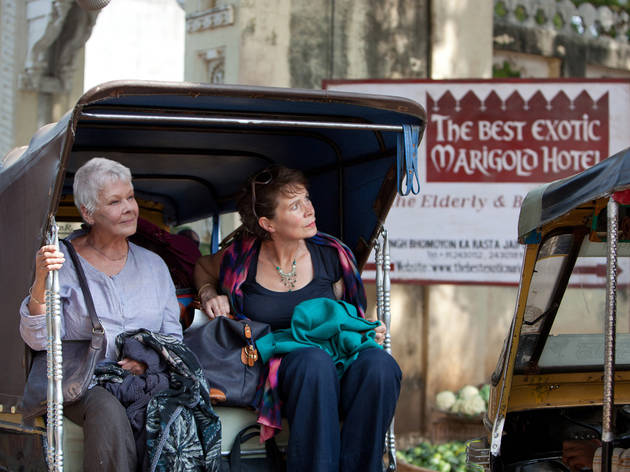 "Old age is no place for sissies," said Bette Davis, who could liven up a late-career embarrassment with a withering glance and an above-it-all quip. Another mature performer, Maggie Smith, fulfills the cantankerous wisecracker role in John Madden's ponderously predictable dramedy: As one of a group of seven British retirees spending their declining years at a decrepit Indian hotel, Dame Mags hilariously (not to say intentionally) transplants her snooty dowager countess shtick from Downtown Abbey to our politically correct times. You haven't lived until you've heard the former Ms. Jean Brodie observe that a black emergency-room doctor can scrub all he likes—that color isn't coming out. The bar has been set for any wheelchair-bound ornery racist roles to follow.
Smith isn't the main attraction, of course; she's just pushed into frame whenever the movie (sure to delight your seventysomething aunt) needs a vulgar goose. Mostly, we're stuck watching U.K. cinema bright lights like Judi Dench, Bill Nighy and Tom Wilkinson navigating sub-sitcom scenarios that touch perfunctorily, sometimes borderline offensively, on issues of sexuality, soulmates and culture clash. (Want to get your call-center operators to be productive and sympathetic? Dame Judi's on the scene!) Madden pads the film with shimmering images of Jaipur and its surroundings; a midmovie funeral sequence—'cause somebody's got to kick the bucket!—even manages to be somewhat evocative and moving. The rest makes you long for senility to set in, but quick.
Follow Keith Uhlich on Twitter: @keithuhlich
Release details
Rated:
PG-13
Release date:
Friday May 4 2012
Duration:
124 mins
Cast and crew
Director:
John Madden
Screenwriter:
Ol Parker
Cast:
Maggie Smith
Judi Dench
Bill Nighy