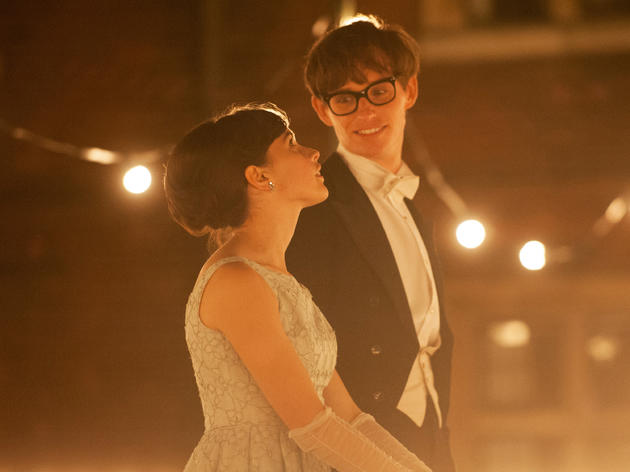 At its best (which is often), director James Marsh's affecting biopic of the cosmos-rattling astrophysicist Stephen Hawking plays deftly against schmaltz. Hawking, a great wit, has always seen the dark humor in his bodily predicament, the ALS-like disease that began robbing the intellectual explorer of his muscular function as early as his university years. The Theory of Everything embraces that irony: This is a Hawking profile in which you'll see the wheelchair-bound, speech-impaired scientist happily rolling around his living room dressed up like a Dalek from Doctor Who, his children squealing.
More substantially, it's a movie that delivers science in an approachable Neil deGrasse Tyson–like way, one that might turn young people onto big theoretical ideas—as well as turn them onto the enjoyment of problem solving with the right partner. An early scene has a thoughtful professor introducing ruffled Cambridge student Stephen (Eddie Redmayne) to a lab where all the action happens; it's a lovely moment of quiet inspiration. The film is filled with snazzy visual metaphors: A swirling cup of coffee becomes a symbol for dark and light matter. A formal dance, where Stephen twirls with the future love of his life, Jane (Felicity Jones), twinkles with glowing lights and a hint of the universe falling into place.
The film is their story (the script is largely based on the second of Jane Hawking's two memoirs), and even though it smooths out some of their domestic unease and eventual divorce, there's still a pronounced strain just below the surface, from playful sparring over religion to the tougher difficulties of back-burnered ambitions. Both performers are extraordinary, imbued with confidence in complex roles, and while Redmayne has more physical mannerisms to master, Jones burns hotter as a strong woman who can't forget her own needs.
Follow Joshua Rothkopf on Twitter: @joshrothkopf
Release details
Rated:
PG-13
Release date:
Friday November 7 2014
Duration:
123 mins
Cast and crew
Director:
James Marsh
Screenwriter:
Anthony McCarten
Cast:
Felicity Jones
Eddie Redmayne
Emily Watson
Charlie Cox
Simon McBurney