Fall Cookbook Preview 2012
Scores of books come out this season; here are the ones we'll be cooking from.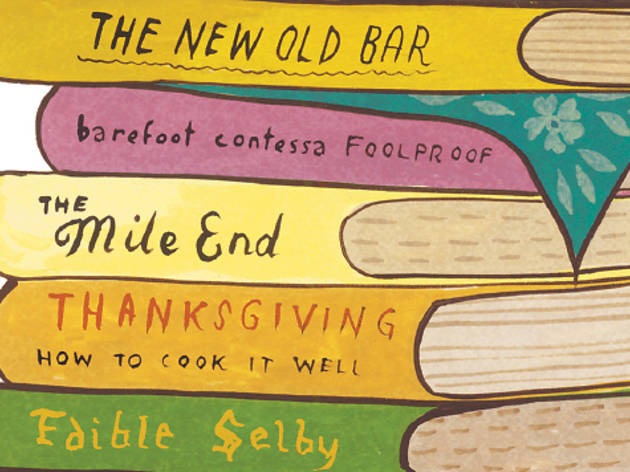 Barefoot Contessa Foolproof
Ina Garten (Clarkson Potter, $35, Oct)
Between all the talk about Jeffrey and the Hamptons, Ina has become a parody of herself. But that only makes us love her (and this, her eighth book) even more.
The Blue Bottle Craft of Coffee
James Freeman and Caitlin Freeman (Ten Speed, $25, Oct)
Obsessive-compulsive recipes for coffee (yes, you need them), less-obsessive recipes for coffee cake.
Bouchon Bakery
Thomas Keller and Sebastien Rouxel (Artisan, $50, Oct)
A meticulous, exacting and comprehensive pastry tome.
Edible Selby
Todd Selby (Abrams, $35, Oct)
The world's most hipster interior photographer turns his focus to chefs and kitchens. Addictive coffee-table reading.
Frontera: Margaritas, Guacamoles, and Snacks
Rick Bayless (W.W. Norton, $25, Nov)
Admit it, those are the only things you really want to make anyway.
Jerusalem
Yotam Ottolenghi and Sami Tamimi (Ten Speed, $35, Oct)
Following up on last year's revered Plenty, Ottolenghi teams up with Tamimi to pay homage to the food of their native city.
The Meatloaf Bakery Cookbook
Cynthia Kallile (Adams Media, $20, Nov)
The most unlikely success story in Chicago reveals its secrets.
The Mile End Cookbook
Noah Bernamoff and Rae Bernamoff (Clarkson Potter, $27.50, out now)
This book from the Brooklyn restaurant of the same name contains Jewish deli "projects"—smoked salmon, pastrami sandwiches, challah cinnamon buns.
My Provence
Laurent Gras (Alta Editions, $10, out now)
Gras, always a few steps ahead, publishes an e-book of homestyle French food.
The New Old Bar
Steve McDonagh and Dan Smith (Agate Surrey, $20, Nov)
A compendium of cocktail recipes (most of them classics) from the Hearty Boys. An intriguing bar snacks chapter includes inventions like chorizo-stuffed "pop tarts."
The Smitten Kitchen Cookbook
Deb Perelman (Knopf, $35, Oct)
The obsessive home cook/blogger behind SmittenKitchen.com brings her engaging voice, meticulous recipe-writing and joyous love of food to the printed page.
Thanksgiving: How to Cook It Well
Sam Sifton (Random House, $18, Oct)
A holiday guide from a NYT editor. Does anybody not need this book?