Halloween bar nights 2011
Jell-O shots and other scary things.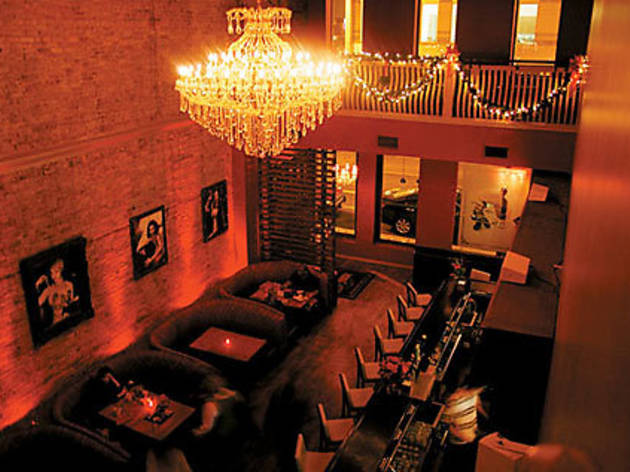 Chicago Avenue Halloween Bar Crawl Three Ukie Village spots—Roots, High Dive and Cleo's—join forces for this Saturday-night costume crawl. The allure of $3 Jameson shots and $4 pints of craft beer will get you in the door, but it's the three chances to win a $100 prize for your costume (at 11:30pm at Roots, 12:30am at High Dive and 1:30am at Cleo's) that'll make you stick around. Sat 29, 10pm–2am. Roots, 1924 W Chicago Ave; Cleo's, 1935 W Chicago Ave; High Dive, 1938 W Chicago Ave.
Dead on Division Not to be confused with drunk on Division, which could happen any time of year, Dead on Division is the annual Halloween collaboration among Division Street staples Original Mother's, Mother's Too, Bootleggers, the Lodge, She-nannigans and the Hangge-Uppe. Roam among these bars freely without fear of losing the Halloween spirit: The streets will be full of psychics, jugglers, zombies and—watch out!—women in dangerously high heels. Sat 29. Division Street at Rush Street.
Halloween "Fright Fest" at Wabash Tap This South Loop haunt starts off the weekend with something truly scary: $3 Jell-O shots. Also on tap for the evening are $5 house cocktails and a costume contest that awards prizes for both best outfit and most ghoulish group garb. Fri 28 at 10pm. 1233 S Wabash Ave (312-360-9488).
Halloween Horror Trivia Night at Michael Diversey's Tavern Celebrate Halloween by testing your horror knowledge at a grave game of trivia. The competitive Q&A begins at 10pm and is followed by a costume contest at 11:30. First-place winners get $100 in cash and a $40 gift certificate to Michael Diversey's; second and third get slightly lesser prizes of a similar nature. Sat 29 at 10pm. 670 WDiversey Pkwy (773-327-7040).
Rocky Horror Picture ShowBrunch at Kit Kat If you haven't overdosed on camp by the time Sunday morning comes around (and you very well may not have—Halloween isn't until Monday, after all), take in Rocky Horror on seven screens at Kit Kat's special brunch. Three martinis (names: Rocky Martini, Sweet Transexual and Riff-Raff) have been developed for the morning; don't forget to eat some pancakes to soak them up. Sun 30, 11am–3pm. 3700 N Halsted St (773-525-1111).
The "Scary Canary" Halloween Bash The festivities begin innocently enough at 9pm Saturday night, but by 3am, the Red Canary will be frightening in the best of ways. A costume competition (judged by crowd applause at 1am) will bury the victor alive in cash—$1,000 to be exact—and a DJ will spin everything from classic Halloween hits to hip-hop. Sat 29, 9pm–3am. 695 N Milwaukee Ave (312-846-1475).