Sushi—now with steak, Thai and Korean on the side
We test three new restaurants' hypothesis that maki can go with pretty much anything.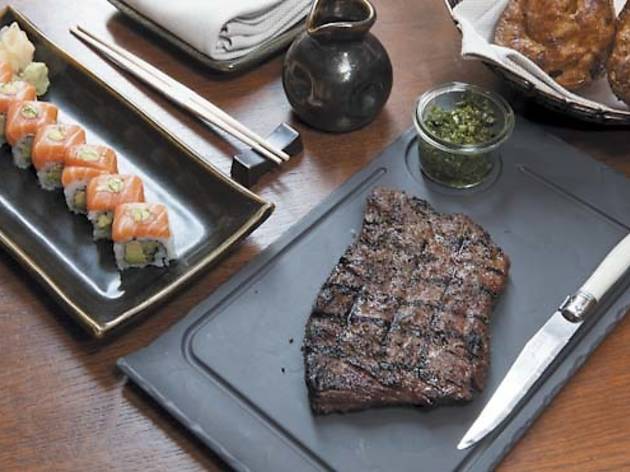 The test case
Stetsons Modern Steak & Sushi (151 E Wacker Dr, 312-239-4491)
The focus
A selection of ceviches and Mediterranean appetizers affirms Stetsons' willingness to serve food from pretty much anywhere, but the main gist of the menu is steakhouse fare, including a terrific wedge salad (that smartly subs in juicy sun-dried tomatoes for wan fresh ones) and a perfectly cooked, rock-shaped "cap steak" with a texture similar to skirt steak.
The sushi
Needlessly expensive maki, such as a shrimp tempura roll ($21) and a salmon-avocado roll ($19), were technically well-constructed but lacked flavor and contrast.
The conclusion
This restaurant in the Hyatt Regency Hotel would be just as good—and appear much less scatterbrained—if it scrapped the sushi portion of the menu and simply copped to being a steakhouse.
---
The test case
Polygon Cafe (5204 N Clark St, 773-275-1234)
The focus
Classic Thai noodle, rice and curry dishes make up most of the menu. Standouts include a salad of crispy soft-shell crab, Granny Smith apples, cashews and mixed greens with a spicy lime dressing, and deep-fried chicken wings marinated in a tamarind sauce.
The sushi
A perfectly fine menu of standards you've seen before with a few creative surprises, like the Magma roll, made with escolar, hamachi, avocado and multicolored roe, then topped with unagi sauce and spicy mayo ($14).
The conclusion
Andersonville's newest pan-Asian spot is a good choice for an easy night out in the neighborhood, but nothing here is going to knock your socks off. That said, we had better luck with the non-sushi dishes.
---
The test case
En Hakkore (1840 N Damen Ave, 773-772-9880)
The focus
The very small menu is a mix of faithful Korean dishes (such as a giant, superfresh bibimbap with your choice of beef bulgogi or spicy pork) and twists, like the (justifiably) already famous tacos, in which either of those proteins is loaded with kimchi and pickled radishes and swaddled in a crispy paratha.
The sushi
Sushi features in two of the dishes, the "sashimi-bap," which adds tuna, salmon and white tuna to vegetable bibimbap, and a not terribly successful bibimbap-inspired roll, in which barbecue beef, fried tofu and crabmeat are stuffed into nori.
The conclusion
Wicker Park/Bucktown has enough sushi joints; En Hakkore's raison d'être is its tacos and bibimbap (not to mention its reasonable prices, delicious Job's tears–walnut tea and charming selection of packaged desserts, such as Pocky).