A week of off-Boystown bar nights
Chicago's queer universe is again expanding. We take you through our week of off-Boystown bar nights.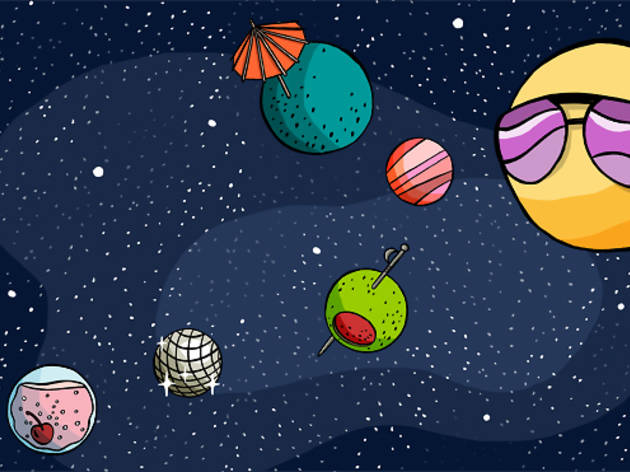 Juicy at Brudder's Lounge
With our necks craned back like a pair of baby birds waiting to receive a worm, TOC Dance editor Zac Whittenburg and I lap up free shots of Grey Goose. A naughty school girl in Raggedy Ann stockings, chunky black frames and a plaid skirt cut so short that when she bends over her booty moons the crowd, funnels booze into our hungry mouths from atop the bar. Juicy, a Friday queer night at Brudder's Lounge (3600 N Pulaski Rd, 773-427-6404) in Avondale, lures us with tempting Twitter updates like "wet boobies tonight," and we were only too happy to join the swirl of mostly Latino men and women jamming to Bell Biv DeVoe's "Poison."
Tempting Tuesdays
A group of shrieking baby dykes at Wrigleyville's Rebel (3462 N Clark St, 773-975-2010) is knee-deep in beer pong antics. It's like the girlie version of Frat House night at Scarlet bar in Boystown. A quick survey of the bar reveals snapshots of lesbians gone wild, such as a quartet of ladies sharing a head-spinning Cubby Blue (to the uninitiated, that's 60 whopping ounces of raspberry vodka, blue curaçao and lemonade) while go-go girls in fringe-cut undies rock the room. On the margins, boys, gay ones and a few hapless straights, linger.
Runaway Wednesdays
Similar to the oversized michelada (like a Bloody Mary with beer, for those who aren't regularly reading our Food & Drink section) being consumed by a group of ladies at the bar, the crowd at Runaway Wednesdays at Junior's Sports Bar in Pilsen (2058 W Cermak Rd, 773-203-4028) is an interesting mix. Latino/a queers dominate, but this is Pilsen after all, and as my date (a hot Latin man himself) and I settle in for cocktails and conversation, while the banners of various sports teams float above us, we notice bunches of hetero hipster dudes likewise imbibing. The rainbow flag hanging out front breaks the tie in our favor.
Watra Thursdays
Under a dozen glittery disco balls, Cee-Cee LaRouge, dressed in a leopard-print unitard, lip-syncs "My vagina is eight miles wide" in our faces as we search her body for curvy openings for our singles. LaRouge is the same queen who shouts "Gay! Gay! Gay!" at us as we approach Watra Night Club (4758 S Pulaski Rd, 773-927-0710), an otherwise straight, Polish hangout that's been sporting a weekly queer night for some time. As our group settles in for the drag show, a crowd numbering 50 joins us. The show is bawdy, the tequila shots free and host Israel as friendly as could be. And as for the breakdown of this South Side queer crowd, let's just say they lose their fucking minds when LaRouge busts out a number by the late, great Mexican superstar Selena, and most of the shrieking voices belong to women.
Stonewall Inn
Inside the Stonewall Inn (8143 47th St, Lyons; 708-442-0234), a corner roadhouse in nowheresville suburbia, a large banner reads "the party is here!" but unfortunately it isn't. We arrive at 11pm on a Thursday night, lured by the website's promise of go-go boys, but there are none and it's so quiet my friends and I can hear a glowstick drop. Aside from two guys hanging out in the sprawling backyard beer garden (an admittedly enviable feature), the place is empty. We sidle up to the bar and order $4 Long Island iced teas and Blue Muthafuckas from the bartender who swears he's never seen it this dead (that old line). When two dudes walk through the door, we're surprised to actually know them. It's a small gay world, but hopefully on some nights at the Stonewall, it will feel like a bigger one.