Fall Preview | The Kinsey Sicks
San Francisco's drag a cappella quartet lands in Chicago this fall.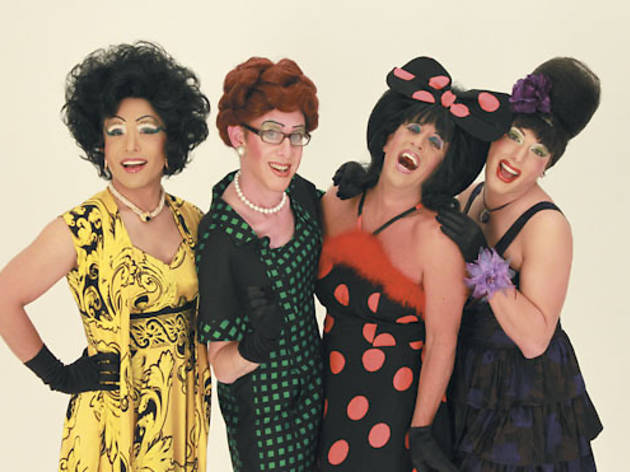 In anticipation of their October appearance in Chicago, we asked the girls to tell us a little bit about themselves starting with which part they sing:
Rachel
People ask what part I sing, but in truth I'm versatile; it's amazing what I'll do for (or with) some cough syrup and a zucchini. But I digress. And why are you so damned curious about my parts? If you wanna know about my parts, do what everyone else does and slip me a rufie after the show. Don't be intimidated by my ladylike manner, l wasn't born in a manger, just conceived in one.
Trixie
Unlike other beauties of indeterminate age, I do not discriminate against any persons who seek my infectious affections. Be they single, married, divorced, partnerships or international corporations, none are found wanting (as long as they shower me with their eternal devotion, mother's maiden name, SSN and no prenup). In my spare time, I enjoy traveling the world with my three perfectly adequate backup singers. They love me dearly, no matter what they say.
Winnie
People often ask what I bring to the group. Answer: mostly snickerdoodles. The other girls just love 'em! Often during a rehearsal, I'll come up with a revolutionary new idea for the show, and the others say, "Hey Winnie, could you get some more snickerdoodles?" Sometimes after a show they say, "Gee Winnie, we sure wish we could've sent you out for snickerdoodles during the third song, and the fifth, sixth and seventh." Is that sweet or what?
Trampolina
I'll never forget my favorite experience performing with The Kinsey Sicks. We played a coffeehouse in Boston and I had too much caffeine. Which reminds me when I was little, my mom, Vaselina, told me I should never have Coke because it's a gateway drug, only high-profile celebrities do it, and it makes you forgetful. But don't tell anyone, I got one from a vending machine once. Did I tell you about my favorite experience?
Kinsey Sicks play the Mayne Stage October 19 at 7:30, 10pm. $25.
*Editor's note: This is the original, full-length text. An abridged version appeared in print.