Kid-friendly restaurants in Chicago
Kid-friendly restaurants can be tasty for adults, too. The whole family will love these Chicago spots with kids' menus.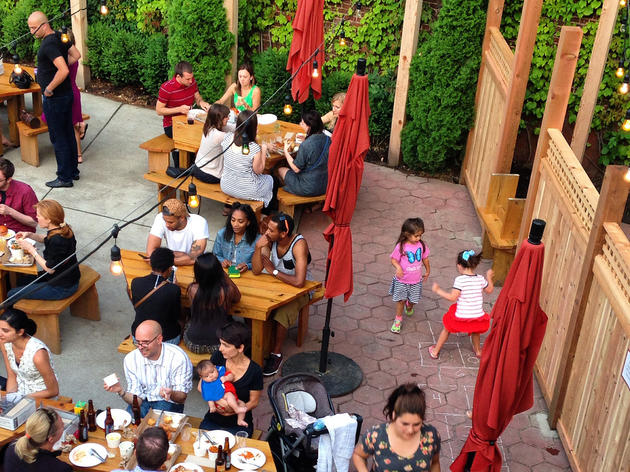 Move over, chicken fingers and hot dogs. These family-friendly Chicago restaurants around town have amped up their offerings with kicked-up kids' menus and features that make it just a little less stressful to dine out with the brood in tow. From menus that include steak and ribs to stroller valets, these kid-friendly restaurants may convince you to leave your house during meal time, after all. Bonus: Kids eat free at some of these spots.
Kid-friendly restaurants in Chicago
This butcher-meets-restaurant-meets–performance venue is a hot spot for families as well. Kids eat free every Monday–Friday from 4–6 pm. Drag them over to the butcher shop next door and they may pick out something they'll actually let you cook them for dinner another day.
Book now
Read more
This ultra kid-friendly restaurant in the Southport Corridor caters to kids in every aspect, and kids eat free every day from 4–6pm. Adults will appreciate the small touches: wide doors that fits your stroller, a stroller valet and step stools in the bathroom. If your kid eyes the skillet cookie dessert, we suggest you be a sport and help them indulge.
Read more
What kid doesn't love fried chicken, especially when they can make it an activity by slathering honey butter on it? Parents will love that the chicken is boneless so it can really be a do-it-themselves activity. Mac and cheese and a sticker come with the meal—bonus!
Read more
What kid doesn't love pasta? Kids can get a pasta with their choice of topping, whether it be a butter and cheese night or a red sauce and meatball. Crayons are plentiful, and if your kid is well-behaved she may even get a special "I ate at Francesca's" bib.
Book now
Read more
Nothing makes it easier to dine with kids than a big ol' patio. And although this trick only works half of the year at best, this is the perfect spot for dining al fresco with the family. The patio is big with cushy benches, and nobody thinks twice when your kids are climbing all over them.
Read more
Across from the zoo and Lincoln Park, this restaurant's location couldn't be better. Leave your stroller with the stroller valet and head inside. Kids get a special sippy cup top that pulls over a regular cup to drink just like Mom and Dad. They also get served on old-school cafeteria trays that include animal crackers and Wiki Stix in addition to their meal.
Book now
Read more
No need for a kids' menu here when the little ones can eat just like Mom and Dad. Housemade mozzarella sticks are a favorite with the littles, and they can watch as the chefs prepare their pizza through a special viewing window. They'll also get a hunk of dough to play with at the table. Oh, and there's a kick-ass Midwestern beer menu for you.
Read more
This Ravenswood spot is super family-friendly, and owner Jonathan Goldsmith goes out his way to make sure families have a stress-free dining experience. No need for a special menu, as your bambinos can share the Neapolitan pizza with the whole family.
Read more
Rick Bayless altered his Xoco concept just a bit when he moved into Wicker Park due to families looking for more entrees in addition to sandwiches. Kids gobble up guacamole while coloring pictures and sipping on agua frescas. There is a kids' menu, and servers are pretty flexible with picky kids.
Read more