Scoop dreams!
A few lucky kids get the sweet job of reporting on some of the city's best-and craziest-ice-cream offerings (their parents chime in, too).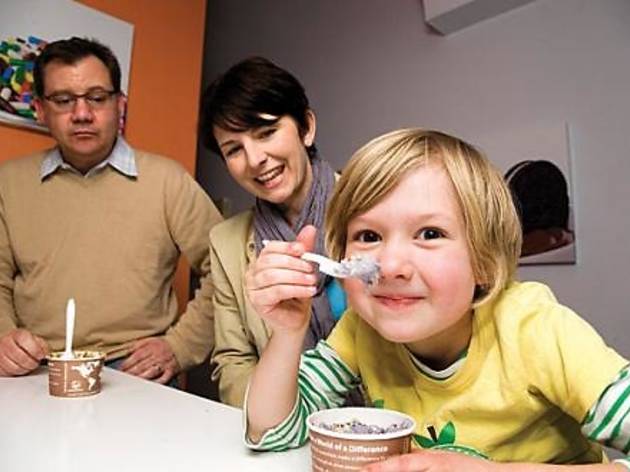 iCream(1537 N Milwaukee Ave, 773-342-2834)
Grown-ups might find the idea of customizing every aspect of a scoop of ice cream (from the type of milk used to the color it's dyed) at this new Wicker Park store overwhelming. For kids, including five-year-old Elliot Robinson, the futuristic, laboratory-like space where flash-frozen ice cream creates plumes of liquid nitrogen can be summed up in one word: "Awesome!!!" So awesome, she and her parents, Kendra and Jay Robinson, visited twice.
Elliot's picks: "I loved watching the ice cream being made. I blended orange and vanilla with strawberries and purple color the first time, then white chocolate and banana with M&Ms and bright pink coloring the second time."
Kendra and Jay's picks: That Guy From Florida—cream-soda flavor, white chocolate and Nutella. "We all loved this one and would definitely go out of our way to have it again," Kendra says. "The second trip, we went sophisticated with pear and pomegranate ice cream topped with fresh raspberries. The raspberries were improved by not being flash frozen."
Kendra and Jay's pans: "Elliot's color choice [orange-vanilla ice cream tinted purple] didn't do much for us adults, and fresh fruit added to the base [like the strawberries in Elliot's orange-vanilla concoction] gets frozen quite hard by the nitrogen," Kendra says.
Capannari Ice Cream Shop(10 S Pine St, Mount Prospect, 847-392-2277)
"Every time we go to Capannari's I feel like we're taking a step into small-town America," TOC Kids executive editor Amy Carr says. It's located inside a former general store and post office—old-fashioned charm at its best." Her eight-year-old son, Zach Burke, is more interested in the constantly rotating flavors than history: "You could get one random flavor that sounds good and looks good, and usually, it is good. If I were them, I wouldn't change a thing other than adding new flavors, 'cause it's pretty perfect," he says.
Zach's picks: "I loved the mint chocolate chip. Dutch apple pie tastes really good 'cause I like apples and can taste the crust of the pie. I always get rocky road."
Zach's pan: "Cookie dough was too much dough, not enough cookie."
Amy's picks: "I'm not a huge coconut fan, but coconut chip was surprisingly delicious. Oatmeal raisin cookie tasted like it came straight from the bakery, and Dutch apple pie—my favorite!"
Amy's pan: "Coconut curry was a little too overpowering for both of us."
Flamingo's(6733 W Cermak Rd, Berwyn, 708-749-4287)
Six-year-old twins Samara and Gabriel Taylor paced back and forth in awe when they laid eyes on the 100-plus flavors at this southwest suburban gem—including a whole case of "devil's" flavors, sprinkled with chile powder for added kick. It fast became clear to their parents, Robert Taylor and TOC Kids editor Judy Sutton Taylor, why every table had its own megaroll of paper towels.
Samara's picks: Sweet potato pie. "It tastes just like Thanksgiving. Yummm."
Samara's pans: "The spicy flavors are just too spicy for my taste."
Gabriel's picks: "This [horchata ice cream] tastes exactly like the horchata I drink when we eat tacos. It's creamy."
Gabriel's pan: "Thumbs down [on the Parmesan flavor]. It only sorta tastes like the cheese you put on pasta."
Judy and Rob's picks: "Flan and Mexican hot chocolate. This was a killer, winning combo," Rob says. "The Parmesan was not at all weird, just sweet enough with a Parmesan taste that wasn't overwhelming."
Original Rainbow Cone(9233 S Western Ave, 773-238-7075)
A native South Sider, TOC account manager January Overton used to go to the Original Rainbow Cone as a kid. Now she takes her 10-year-old son, Noah Guardado, to the century-old shop. "This is an old-school place that knows what they are doing," Overton says. "They don't try to add a bunch of new flavors every month. They just stick to what they have and do it right."
Noah's picks: Peanut butter cup, cookies and cream, and banana. "I loved the cookies and cream. Next time, I would probably just get two scoops of that one."
Noah's pan: "Palmer House [vanilla ice cream with cherries and walnuts] didn't even sound good to me."
January's picks: The namesake rainbow cone: strawberry ice cream, orange sherbet, pistachio ice cream, Palmer House ice cream and chocolate ice cream all on one cone or in a cup. "You'd think it'd be weird, but it never is—I love it."
January's pan: Bubble-gum ice cream. "I don't like pieces of real gum mixed into my ice cream."
Scooter's Frozen Custard(1658 W Belmont Ave, 773-244-6415)
Laura Yee and her nine-year-old daughter, Kelsey, are self-professed frozen-custard fanatics, and they say nothing beats the stuff served at this Roscoe Village shop. "We have been to them all!" says Laura.
Kelsey's picks: Chocolate custard with Snickers, cookie dough, M&Ms and gummy worms. "I love the creaminess and all the crunchiness and texture. I like the way the Snickers make it a little salty. It's dreamy."
Kelsey's pan: "I don't like these gummy worms—not slimy enough."
Laura's pans: "The mix-ins take away from the creaminess and simple chocolate and vanilla flavors. The concretes [dense frozen custard blended with mix-ins] are pricey (small, $3.99; regular, $4.99) —opt for small sizes and limit the mix-ins to two so you're not eating more candy than ice cream."