Sports Camps | 2011
NOTE: Also check out General Interest Camps, Arts Camps and Academic Camps. Our favorite Midwest overnight camps are here. ...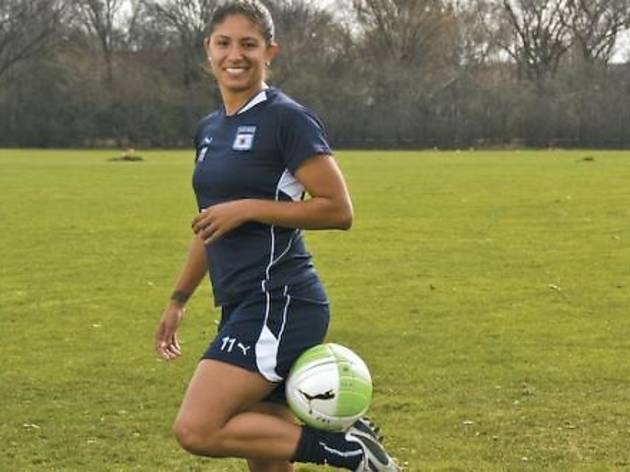 NOTE: Also check out General Interest Camps, Arts Camps and Academic Camps. Our favorite Midwest overnight camps are here.
Did we miss a camp? Let us know by sending an e-mail to kids@timeoutchicago.com and we'll add it to our listings.
AYSO Camps This nonprofit, volunteer organization's focus is on character development—but you can bet that soccer skills are part of the deal. Visit the national site at AYSO.org to find your region and details on the half- and full-day summer programs (773-929-5425).
Chicago Bears Football Camps Your pint-sized Jay Cutler learns new skills and gain confidence under the instruction of professional, college and high-school football coaches at this safe, non-contact, station-based training camp, which features Bears Camp Heroes such as Robin Earl, Allan Ellis, Kris Haines and Mickey Pruitt. Locations throughout the city; visit website for locations (312-226-7776). Jun 13–July 29, Mon–Fri 9am–3pm. One-week session $389–$419. Ages 6–14.
Chicago Bulls Basketball Camp Little ballers can shoot free throws all day, sprint up and down the driveway and jump rope until their quads burn. But to take it to the next level, they need to learn new skills and practice the fundamentals with talented coaches. Check and check. Locations throughout the city. Dates, times and pricing TBD.
Chicago Youth Rowing Camps Ready, set, row! The Chicago Rowing Foundation teaches teens how to get their row on. Kids learn the essentials of sweep rowing (one oar per person) from former collegiate athletes by training on rowing machines and in boats on the Chicago River. The focus is on basic rowing skills and lingo, with an emphasis on learning how to row as a crew of eight. 1586 N Kingsbury St (312-929-2776). Jun 15 –25 and Jul 6–16, Monday–Friday 9am–2pm. $500 per session. Ages 12–17.
Doug Bruno Basketball Camp for Girls A slam dunk if your daughter loves basketball, Bruno's camps focus on hard work, fun, friendship and discipline. Campers improve fundamental skills, such as dribbling and passing, and work on shooting technique. Locations throughout the city (773-281-6057). Jun 20–Aug 11. Three-day session $345, four-day session $385.
GameBreaker Lacrosse Camp Instructors help campers improve their offense, defense, shooting and stick skills through practices and scrimmages. Lake Forest College, 555 N Sheridan Rd, Lake Forest (800-944-7112). Boys Jul 6–9, girls Aug 1–4. Four-day overnight session $525–$535, four-day extended day session $445. Grades 3–12.
HealthKick Kung Fu Summer Camp For Kids Introduce your child to the ancient martial art of Shaolin Kung Fu. The exercises provide a full body workout that enhance health and vigor. They also require concentration and focus, which nurtures mental discipline. The camp places an emphasis on avoiding physical confrontations, providing your child with the skill to successfully negotiate aggressive behavior. HealthKick Kung Fu, 1327 N Larrabee (773-879-0063). Jun 20–Aug 19, Mon–Fri 9am–12pm. $150 per week.
GameOn! Sports Camps 4 Girls With camps ranging from volleyball to horseback riding to to lacrosse, girls improve athletic skills, build friendships and boost confidence. Lake Forest College, 555 N Sheridan Rd, Lake Forest (847-229-9959). Jun 13–Aug 5, Mon–Fri. Times and prices TBD. Ages prekindergarten to 8th grade.
Lifetime Fitness Summer Camp A girl power-themed camp teaches girls self-defense and rock climbing, but also leaves room for a little hair and nails fun. Other camps are geared toward sports, rock climbing and cheerleading. Locations vary. Dates, programs, times and prices vary, depending on location. All camps start at $150. Ages 3 –14.
Lil' Kickers: Soccer for Kids Register your own lil' kicker for a half-day camp and he or she will be ready to play with the likes of David Beckham and Mia Hamm. Seasoned coaches school kiddos in the basics via soccer activities, games and more. Locations vary (877-545-5457). Dates and prices vary. 9am–12pm or 1pm–4pm. Ages 3–5.
Offense-Defense Fooball Camp Players participate in one-on-one drills with NFL pro players including Rosevelt Colvin, Jevon Kearse and Ray Lewis. North Central College, 30 N Brainard St, Naperville (843-903-1888). Jun 19–22, Sun–Wed 7am–5:30pm. Four-day session $499–$760. Ages 7 –18.
Play by Play Sports Broadcasting Camp Camp breaks into two groups by age and rotates between activities such as making sports anchor tapes and sports talk radio shows at the Northwestern TV studio, and creating play-by-play tapes of the NCAA Finals and Super Bowl. There's also a field trip to Soldier Field and visits from bigwigs like Blackhawks announcer John Wiedeman, who will talk about the 2010 Stanley Cup run. Holiday Inn, 5300 W Touhy Ave, Skokie. Aug 8–12. Day Camp $510, overnight camp $1,125. Ages 7–18.
Windy City Fieldhouse Got some kiddos with energy to sizzle off? This is the place to do just that. Windy City Fieldhouse offers around 40 different sports classes throughout the summer (like soccer academy and basketball). Those looking for a half- and full-day camp experience will also be sated—the days are a multisport extravaganza (golf, football, etc.) where the focus is on team-building skills. Summer classes run Jun 6 to Aug 5, check the website as times and pricing vary. Camps run Aug 15–Aug 26 , Mon–Fri 9am–4pm. One week full-day $400, half-day $185.