Chairlift - Something | Album review
If you measure intelligence by vocabulary and restraint, than Chairlift's Something is the brainest pop album in some time.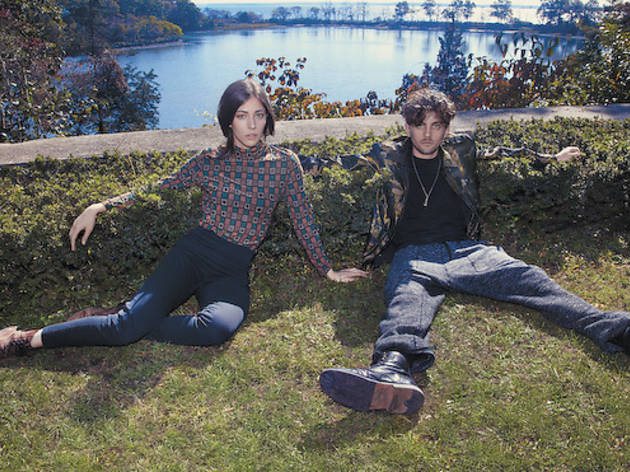 If you gauge intelligence by vocabulary, then Chairlift's Something is the brainiest pop album in some time. The first single from the duo's sophomore album is "Amanaemonesia," a real Scrabble championship winner of a word, if it were an actual word. Singer Caroline Polachek brainstormed the portmanteau, a hybrid of amnesia and Amanae, which is a quacky deep-tissue massage meant to knead away both muscular knots and emotional scars. The song, and the album as a whole, is centered around euphoria and forgetting.
So many of Chairlift's dream-pop peers are musically vague and inarticulate by intent, as if foggy sounds and mumbled lyrics are enough to limn the muddled emotions of growing older. Chairlift bests its competition by staying in focus and singing discernible lyrics, opening them up to thought and interpretation, not mere feeling. I know, a zany concept, right? The keyboards on Something may sound alien, but they're clean and bright. Slimmed down from three members to two, the group is sharpened and confident. There is the typical second-album leap in creativity, but it comes with thoughtful restraint. Tribal drumming pops in a short, well-placed burst at the album's close. A snaking synthesizer line slips in and out of the mix on "Sidewalk Safari."
The spellbinding soprano stunts of Polachek are wisely front and center. With a wide range, she traces unexpected melodic shapes, keening, yo-yoing notes low before zipping them back to a high octave. The wispy brunet channels new-wave queens—Annie Lennox, Debbie Harry, Dale Bozzio. It's wonderfully hard to think of a better frontwoman in synth-pop.
Chairlift hits Lincoln Hall Saturday 14, part of Tomorrow Never Knows.