Kid Rock | Interview
Kid is far friendlier and funnier than we expect. Than everyone expects.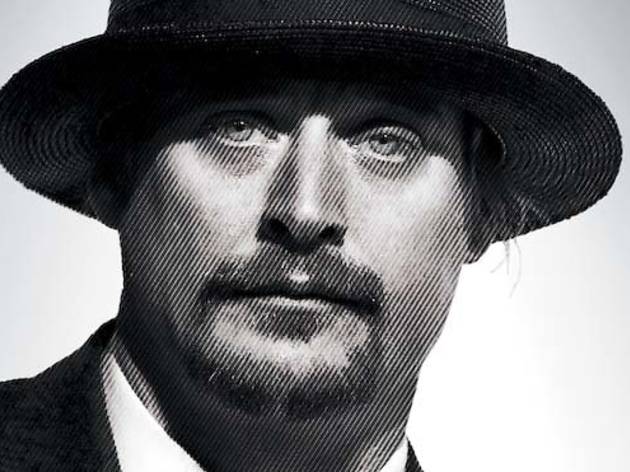 Kid Rock calls me directly. When I tell him I'm surprised a big star would do so, he snorts: "I can dial a fucking phone. I don't believe in all that publicist crap. 'Don't ask this, don't ask that.' Ask anything." And it's true, he'll answer any question, with a chuckle and a drag off a cigar. For a rocker with an album called Cocky and a police record for a fight in a Waffle House, Rock is remarkably upbeat, down-to-earth and flat-out hilarious. Just about every interview with the 40-year-old Michigan native notes, you know what, he's actually a great guy, believe it or not. "Story of my life," the artist otherwise known as Bob Ritchie says. "Story. Of. My. Life."
What should I call you?
Take your pick. You can call me Bob, Kid, Mr. Rock, the Devil without a Cause, American Badass, Detroit Cowboy.
In a 1996 interview you said the only book you had ever read is the biography of Hank Williams. Is that still true?
That is still true. I just read most of The Last Sultan, the Ahmet Ertegun book. They asked me for a quote for it. That was really interesting. But yeah, that's about it. [Laughs]
Why are you not into books?
I just have never got into reading. I always buy books. I bought a book of Mark Twain quotes. That's about my speed. I'll read a couple quotes and put it down.
You worked with Rick Rubin on your new record. He's a very Zen dude. You are not. How do you two get along?
We've known each other and been friends for probably nine years, whether it's seeing him at Johnny Cash's funeral or at a show in New York or hangin' with him in L.A. He's a funny, funny dude. Super funny. We both came to the same spot through hip-hop and rock & roll to the country thing, Americana music. As wild as I get sometimes, I don't make any bones about it with him, and he just kinda laughs. You know, I'm like, "Come on over, dude, there's a lot of fun goin' on at the house. Bad stuff." "No, no, I'm goin' to bed." "Ya pussy!"
Justin Bieber has your old tour bus.
I was like, Did you have that thing sanitized, young man? I had the bus made with all red leather. That bus, for a few years, was just evil. We called it the Devil's Den.
I don't think Bieber calls it that.
[Laughs] Nah, I doubt it. It had embossed Detroit D's, a skylight and a fiber-optic see-through shower. You just look at it, and go, "Oh, doesn't look like anything positive happened in here." Now it's like an ice-cream truck.
Was naming your son Junior inspired by Hank Williams?
I'm sure it was a little bit, but I don't think that was the deciding factor. I'm not sure what it was. I was 22. I was like, I can't believe I've got a fucking kid.
And now he's starting college.
He already went to orientation [in Nashville] with his aunt. He was trying to keep the Kid Rock thing down, but I talked about it in so many interviews, he came out of there pissed. He was like, "Everyone knows who my dad is." I was like, "Whatever, dude. Your dad could be Richard Simmons. Lighten up!"
Your son's there now. You're a bit country. Ever consider moving to Nashville?
I've got a condo there. I spend a fair amount of time there. And I just bought some property in Alabama.
You have a lot of places.
I do. They're not nuts. Well, Malibu's kinda nuts, but that was just a crazy decision at a time when I wasn't thinkin' straight. I always tease people. I got 400 acres in L.A. They're like, "Where do you got 400 acres in L.A.?" I'm like, "Lower Alabama, motherfucker!"
What made you buy in Alabama?
Hank. I got property connected to Hank Jr.'s farm. We got fuckin' 1,600 acres to just be general rednecks on.
And what does that entail?
Hunt and fish. Have big-ass bonfires and build little structures that you'd never get approved in some city. Just shoot machine guns to cut down trees, fire off Civil War cannons. Have shrimp boils.
People in the North and South aren't that different, are they?
People in north Michigan are not different at all from people in southern Alabama. Trust me, someone who's spent a lot of time in both places. They're all hardworking, simple people.
Do you drink your own beer, Badass?
Of course I do, it's fuckin' free! My two favorite types of beer: mine and free.
It must be hard to stay sober.
I'm not trying to be sober. Who told you that?
Kid Rock plays First Midwest Bank Amphitheatre August 19 at 7pm.