Mucca Pazza | Interview
Chicago's punk marching band breaks the fourth wall on Safety Fifth.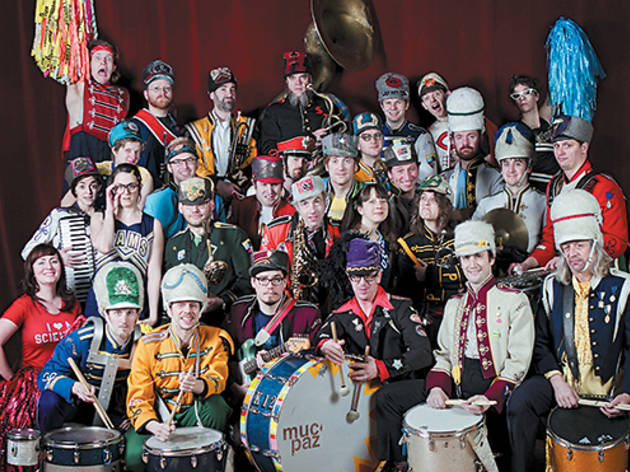 "Occasionally, we'll cause a small child to cry," says Mark Messing of Mucca Pazza's music. Reactions to the Chicago-based punk marching band Messing cofounded, directs and performs in are usually dramatic. A mix of delight and confusion is typical, as the ensemble's unpredictable live shows burst with Balkan circus fanfare and surf-rock guitar licks.
The expansive group aims to move within every inch of any given venue, saturating the space and, by extension, the crowd with its infectious energy. At one point, the ensemble even recruited local choreographer (and former TOC Dance editor) Asimina Chremos to teach members exercises that would increase their peripheral vision and spatial awareness. During concerts, drummers run in circles while a clarinet trio might pop up in a balcony next to an unsuspecting audience member.
"When we get to a [venue], we notice the acoustics and the architecture and try to figure out where people are going to congregate," says the 55-year-old Messing. "The big stages, like the Conan O'Brien stage [the band closed out O'Brien's weeklong Chicago Theatre run in 2006] or outdoor festival stages are always the hardest. They're isolated from people, so we look at those as kind of an online dating service: You can get a glimpse of us and, if you're interested, you can get in touch with us later and we'll meet in a more intimate venue."
When Mucca Pazza (Italian for "mad cow") formed in 2004, the Humboldt Park resident would gather roughly 30 drumline enthusiasts to play in the A. Finkl & Sons parking lot in Lincoln Park. Ever since, Messing says, the outfit's worked from "a very organized framework—with improvisation." The group still describes itself as a marching band, but it could be just as accurately pegged as a performance-art project or musical-theater troupe. Messing's own background is in theater composition, where he's written operas and scores for Theater Oobleck, the Chicago Children's Theater and street theater company Opera-Matic. His bandmates include fellow theater brethren, but members' careers also span teaching, acting, programming and, according to Messing, "trumpet making." Career choices aren't the only aspect where the band asserts its diversity—the group's collective taste is equally eclectic.
"It's impossible to resist influences, especially since [Balkan music] is such a strong tradition," Messing says. "The heart of our music is really more American: rock & roll and soul. But any tradition that has a lot of brass in it will be influenced by things like New Orleans jazz and funk and classic '60s TV."
Those elements are all at play in the band's new album, Safety Fifth, which Messing insists lacks any distinct theme. A collection of unrecorded work from the past three years, Mucca Pazza's third release builds on its influences with zigzag harmonies to create a quirky and, above all, fun blend of festive Eastern European brass, rugged American rock and '70s, Bar-Kays–style funk. "We're still working on how to play for the tape recorder," Messing says. "It's a new thing, because we really like the live dynamic better than anything. But I like that this album was recorded with us all together in a big room."
Messing recognizes the necessity, and demand, for another Mucca Pazza album, but says it's impossible to understate the dynamic a live audience creates. "The best is when our song actually moves around the room," he says. "People [don't] witness a spectacle, they get to be part of the spectacle."
Mucca Pazza parades into Bottom Lounge Saturday 18. Safety Fifth is out now.