Pick a fest
We help you decide which of the four major summer music festivals is best for you.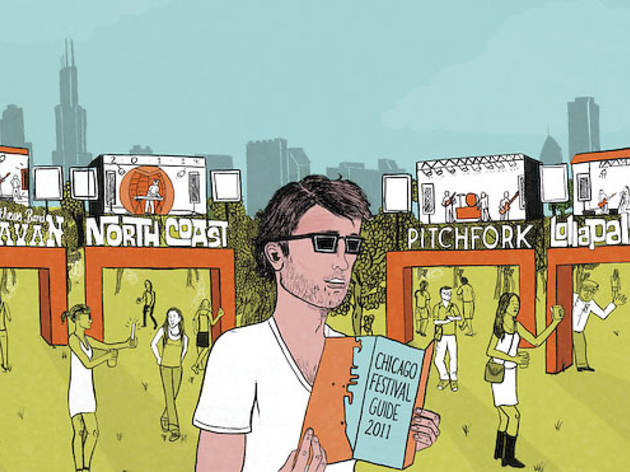 Festival
Dave Matthews Band Caravan
Lakeside, July 8–10
$85/day, three-day pass $195, VIP three-day $825
Headliners
Dave Matthews Band, David Gray, Ray LaMontagne
Best reasons to go
Make all the Stuff White People Like jokes you want: This surprisingly eclectic bill also brings Kid Cudi, the Flaming Lips, Sharon Jones & the Dap-Kings, and Vieux Farka Touré.
Demographic
The lower deck of any given Cubs game
Selling point
Be the first to check out the new Lakeside outdoor concert space, right next to the water on the former grounds of the U.S. Steel plant, with the skyline on the horizon.
Drug of choice
Pot pizza, pot brownies, pot burritos
Festival
Pitchfork
Union Park, July 15–17
$45/day (three-day pass sold out)
Headliners
Fleet Foxes, TV on the Radio, Animal Collective
Best reasons to go
Hip-hop. Rocking the turntable and mics: Das Racist, G-Side, DJ Shadow and Shabazz Palaces, a spacey new project from a former Digable Planet.
Demographic
NPR donators, ethnomusicology postgrads, American Apparel shoppers
Selling point
The poster gallery, plus the record bazaar—the best music shop in the Midwest
Drug of choice
Acid, kombucha
Festival
Lollapalooza
Grant Park, August 5–7
$90/day, three-day pass $215 (VIP pass sold out)
Headliners
Eminem, Foo Fighters, Coldplay, My Morning Jacket, Muse, Deadmau5
Best reasons to go
The newcomers lurking low on the bill: Cults, Foster the People, Friendly Fires, the Naked & Famous. All should be playing bigger stages next time around. Plus, they're dumb fun and belong in the sun.
Demographic
Suburban kids who can't even remember what CDs are. And their spoiled parents fenced off in the VIP section.
Selling point
The food. Chef Graham Elliot is back to curate a smorgasbord that will include Kuma's, Bonsoiree, Saigon Sisters and his own haute lowbrow dishes, namely a lobster corndog. Imagine, a Kuma's burger with no line. (If you eat it at 10am.)
Drug of choice
A cup of anything you can toss a Ping-Pong ball into
Festival
North Coast Music Festival
Union Park, September 2–4
Three-day pass $95
Headliners
David Guetta, Wiz Khalifa, Fatboy Slim, Common
Best reasons to go
After guest spots with Gorillaz and Raphael Saadiq, Yukimi Nagano is set to blow up with her sultry Swedish electro-pop troupe Little Dragon. The new album is a corker.
Demographic
People wearing bass-thumping Beats by Dr. Dre headphones
Selling point
The weather. Waiting until it's no longer in the 90s to host a festival? Why haven't more people thought of this?
Drug of choice
Can you drink the inside of a glowstick?