Portishead's long-awaited tour and album
The trip-hop progenitors finally support 2008's Third with a series of live shows.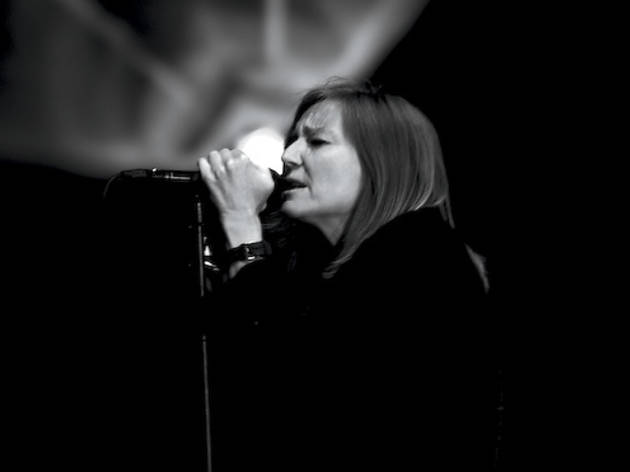 The members of Portishead like to take their time. Or, rather, being Portishead takes time. Third, the U.K. trio's, well, third record, came out in 2008, after a decade-long break. Now, singer Beth Gibbons, guitarist Adrian Utley and chief musical architect Geoff Barrow are in the spotlight again, making the European festival rounds and traveling across the pond for a string of U.S. dates—including one at the Aragon on October 12.
In a pretour interview with London's The Guardian, Barrow recalled a chance encounter with Radiohead's Thom Yorke at Paddington Station. Now, as he chats with me on the phone from Bristol, he says he's a bit embarrassed he recounted that story. "I kind of felt like a knob when I said that [about Yorke]," Barrow says. "I don't want to seem like a name dropper. Like I said, they release an album in the time that it takes us to find two notes that work. I know that they struggle as well. It's just obvious they can reach a place that they're a lot happier with."
Far from a boast about hobnobbing with a celeb, his anecdote was telling, not just because it's hard to imagine these two musical heavyweights running into each other amid the swell of commuters, but because it illustrates Portishead's tribulations.
The reasons for the band's ten-year gap are many: personal issues, families, children and creative soul-searching among them. Beginning with '94's Dummy, Portishead unleashed trip-hop on the world. An enticing and moody mix of crackling downtempo beats, hip-hop–style sampling and Gibbons's jazz-inflected, melancholy and stunning incantations, it was a dramatic departure for electronic music and it took off in a big way, garnering a Mercury Prize and a spot on Rolling Stone's top 500 albums of all time. Riffing on a similar formula, a self-titled sophomore LP followed three years later, but after that things stalled.
"I had the ideas, but I couldn't actually musically find it," Barrow says. The 39-year-old frontman came from a sample- and loop-based style of production and he was trying to break away from that. "I didn't like how limited that was," he adds. "I wanted to almost be in a loop world, but where things can change sonically and be really varied. I had to retrain myself."
When Third finally came together and hit the shelves, virtually every review claimed it was a dramatic departure for the band that had spawned trip-hop. "We were just the same band really," Barrow counters. "A lot of people imagined us being quite set in our ways. People hadn't heard what our music would have been like in a long time, so I think they just resigned themselves to what we sounded like in the past."
Though more organic and at times more aggressive (the snare drum hits on lead single "Machine Gun" come at you like a hail of bullets), Third is still Portishead through and through. "It was a departure for us, but it was incredibly comfortable," Barrow says. "Beth has always been the same; she just wants to write great songs. That doesn't change. And Adrian is incredibly sonically aware and inventive. It was my frustration with myself rather than the other two [that stalled the album]. I just couldn't deliver stuff that I was happy with."
The three Bristolians may take their time, but in the end, they know who they are as a band and how they should sound. "There's still a constant disbelief and amazement that people actually relate to it and are still with it," Barrow concludes. "Well, not still with it… A lot of the shows we've been playing, the audiences are so young. You're heartened by it, you know?"
Portishead • Aragon, 1106 W Lawrence Ave (800-514-3849, etix.com) • Oct 12 at 6:30pm; sold out