Skrillex brings Lollapalooza to a close with bass and lasers
We jumped in the pit to feel the Transformer assault of the prince of brostep. This is what it feels like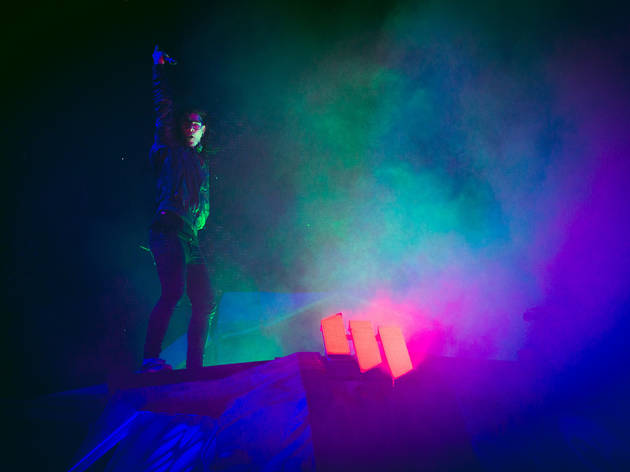 1/7
Bill Whitmire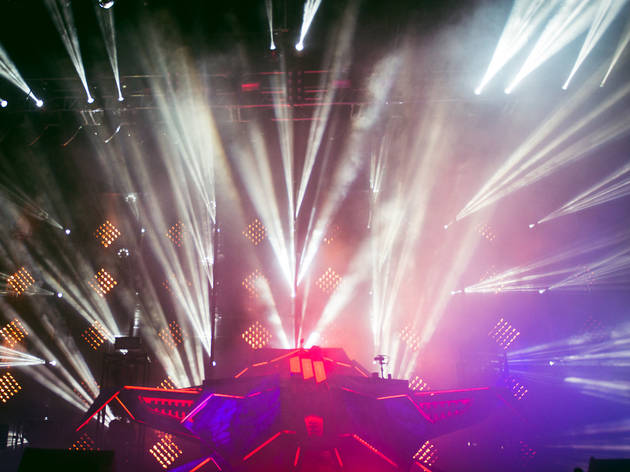 2/7
Bill Whitmire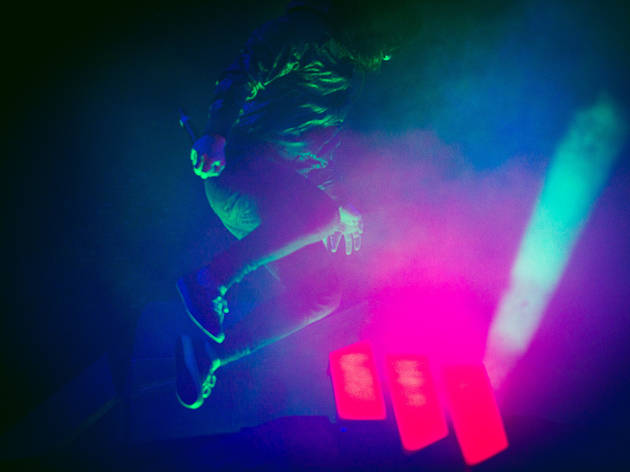 3/7
Bill Whitmire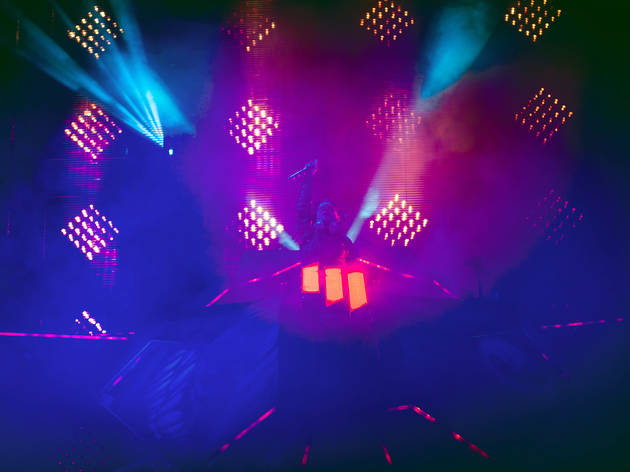 4/7
Bill Whitmire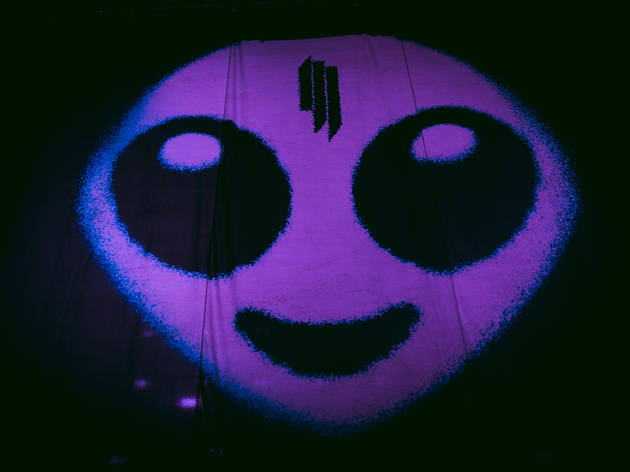 5/7
Photograph: Bill Whitmire
Skrillex hits the stage in Grant Park to play a sold-out Lollapalooza Music Festival 2014.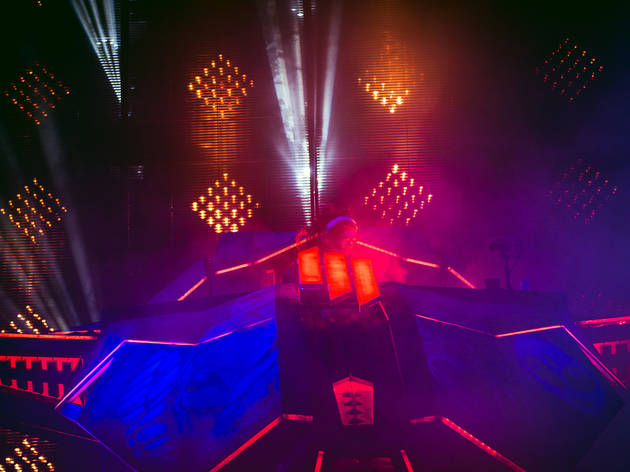 6/7
Bill Whitmire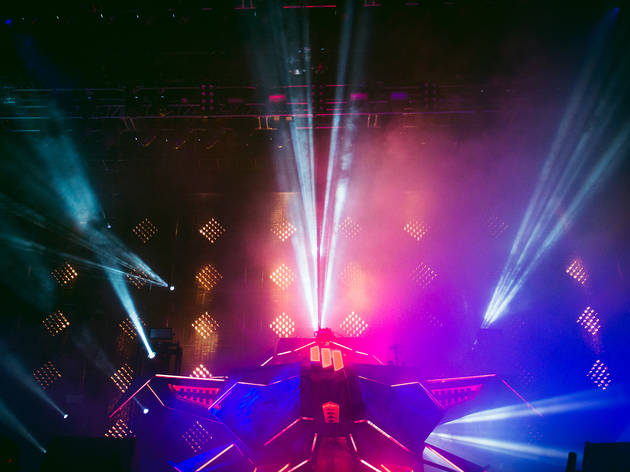 7/7
Bill Whitmire
When Lollapalooza booked Skrillex, I'm sure that it seemed like a no-brainer. He drew a sizable crowd at Lollapalooza in 2011 when he turned in a set at Perry's Stage and again last year as part of electronic duo Dog Blood. He doesn't boast the chart-topping chachet of Avicii or the lucrative Vegas residencies of fellow Lollapalooza headliner Calvin Harris, but Skrillex is a name that is almost synonymous with dubstep and, by extension, EDM. A prime, headlining slot on the final night of the festival was Lollapalooza's invitation to ravers everywhere to come and party, yet the crowd was a small fraction of the number that gathered to see Outkast the previous night. So where were they?
There are, undoubtably, multiple answers to that question. Weather likely played a factor, with Sunday's constant rain scaring some people away from the festival's muddy fields. Perhaps Kings of Leon's performance with a string section or Chance the Rapper's ill-advised duet with R. Kelly proved too tempting for some casual fans. Maybe some folks went home early after the physical tolls of constant walking and drinking caught up with them. But ultimately, it seemed as if Skrillex isn't the EDM heavyweight that he's commonly perceived to be.
I decided to experience Skrillex in the same way as his biggest fans: Packed in tightly among a throng of teenagers, breathing a haze of pot smoke, body odor and the stench of Grant Park's goose-shit-infested mud. When the giant alien-emblazoned curtain dropped to reveal the DJ perched atop his gaudy spaceship stage set, I watched the crowd around me erupt into a writhing mass of bobbing hands and glowing phone screens. "Can you prove to me that you are the capital of the motherfuckin' bounce?" Skrillex screamed, a query answered by thousands of feet jumping in unison. Strobe lights flashed to the beat. Flames burst out from cannons placed in front of the stage. This seemed like the party that the festival's organizers had planned for.
After 20 minutes in the thick of it, I had to retreat to higher ground. I initially expected to slog through a seemingly endless morass of stoned onlookers, but instead I joined a group of fellow decampers and found a short path out of the crowd before the next bass drop hit. From the back of the field, I could actually admire the precise laser display that lit up the trees surrounding the stage in shades of neon green and purple. Without speakers blaring directly into my face, the dancehall beats of his recent Recess LP stood out against the noisier (but crowd-pleasing) brostep. Removed from the small rave taking place at the front of the field, there was something strangely captivating about a guy with a stupid haircut at the center of an ostentatious dance party.
RECOMMENDED: Check out more photos and coverage from Lollapalooza
But therein lies the fundamental problem with Skrillex as a headlining performer. A guy behind a couple of turntables, backed by a bank of blinding lights and surrounded by pyrotechnics can certainly create a spectacle, but he has a difficult time forging a genuine connection. If the crowds at Lollapalooza were any indication, the relative spontaneity of artists like Kings of Leon, Outkast or even Eminem is still more appealing in a festival setting (at least in America). Sonny Moore is welcome to land his mothership on Perry's Stage and crank his digitized playlist, but the most successful headlining performances at this festival still belong to artists who can muster something a bit more human.