Songs of summer 2011
The Time Out Chicago music staff judges the leading candidates for 2011's summer jam, and nominated a few picks.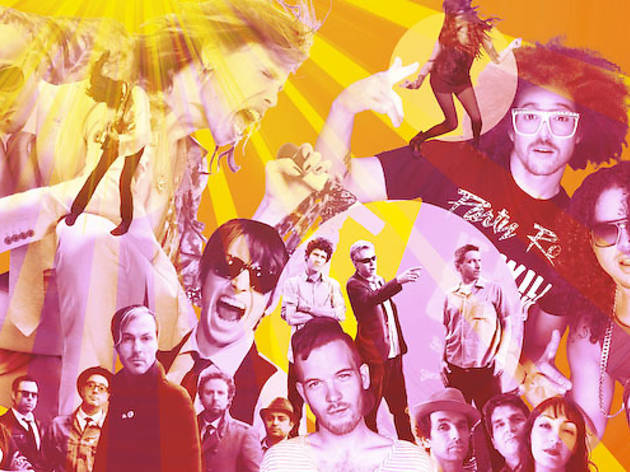 Sometimes you can see the song of summer coming a mile away. It could well be "Rolling in the Deep," the Adele tune that's dominated the charts for months. Or the ultimate seasonal jam could come out of nowhere, like M.I.A.'s "Paper Planes." We loaded up a boom box with some of the leading candidates, as well as a few picks of our own, and one celeb's nomination.
Cults"Go Outside"
Areif Sless-Kitain I dig a summer jam with glockenspiel. A kindergarten class could sing it and it'd sound just like this. It's easy on the ears for sure.
Brent DiCrescenzo I find it too hazy. I know, that's blasphemy in hipster circles. By their skin, it doesn't look like they get outside much. Perhaps it's about vitamin D deficiency.
Joshua P. Ferguson This will be on repeat on my back patio. That said, I wonder how it'll hold up live.
ASK Somebody mic the shit out of that glockenspiel!
LMFAO"Party Rock Anthem"
ASK Well, it's not "Shots." That's a start.
JPF These are the cookie-cutter dance components that make my ears hurt. At least in the past these guys would say something stupid and make me laugh. I don't get that here.
ASK Lyrically, this isn't far removed from "Friday."
BD This is all I've gathered about LMFAO after ten songs or so: They're really, really into rocking parties.
ASK Never thought I'd say this, but I think I miss Lil Jon.
Foster the People"Pumped Up Kicks"
JPF I've heard this on at least two TV shows.
ASK It's got that mumbly Broken Social Scene delivery. It's a total indie pastiche. BSS is kicking themselves that they didn't write this.
BD The song is a sucker punch. It's breezy, there is whistling, but it's about a kid going on a shooting spree.
JPF Nice to have a little substance.
BD Unlike LMFAO, he's not just singing about shots! shots! shots!
ASK Well, different kind of shots.
Pitbull feat. Ne-Yo, Afrojack and Nayer"Give Me Everything"
ASK Oh shit, Ne-Yo's in the house.
JPF …and Afrojack. That's where this song beats LMFAO. Pitbull tapped a dude who makes crushing club tracks. But Pitbull is the weakest link here.
ASK Wait, this isn't the LMFAO song?
BD "Got it locked up like Lindsay Lohan." Dope metaphor, dude. He totally has this beat under house arrest and sentenced to rehab.
JPF Wait, who's Nayer?
ASK As in: Put your hands in Nayer?
Steven Tyler"(It) Feels So Good"
BD Somehow, old rockers going solo end up sounding like Lenny Kravitz. I keep thinking, "Aww, Daaaad."
JPF I see the mid-America bar crowd eating this up.
ASK Blues harp solo! Where's that dude from Blues Traveler when you need him? Aerosmith really should go ahead and fire him now.
Brent's pick
Beastie Boys + Santigold "Don't Play No Game That I Can't Win"
BD I gravitate towards reggae in the summer. And this is a better Santigold song than the new Santigold song.
JPF She really does dominate here, doesn't she?
ASK Yeah, there's barely any B Boys rapping on this. The bass is killer.
JPF These horns at the end for the win.
ASK These kids should stick with it. They could really go places.
Josh's pick
Rusko"Everyday"
BD This opening reminds me of playing Defender or Missile Command.
ASK Very Space Invaders–y. Okay, these sound effects are ridiculous. The singer sounds on nitrous.
JPF Dubstep's biggest problem is that it's so angry. This doesn't have any of that.
BD Is that because Rusko moved to L.A.? However, he doesn't sound exactly thrilled that the "sun is shining every day."
JPF He's harnessed the rave quality without seeming cheesy.
ASK C'mon, it is a little cheesy.
Areif'spick
Ursa Minor"She Wants You"
BD This is überbubbly. She sounds like Feist.
JPF Oh yeah, she's got this great poppier Feist thing going on.
ASK Or, it's kinda like if Chrissie Hynde could really sing. Love the chicken-pickin' guitar.
JPF It's a good contrast to the other things we've heard.
BD This could sell the fuck out of some iPads.
Foster the People's pick
Fitz & The Tantrums"L.O.V."
ASK That's a great pick.
BD The organ is classic summer, like "Wooly Bully" or "96 Tears."
JPF I've always been a sucker for retro soul, but they give it a contemporary spin. This reminds me of a ska band that grew up.
BD Sweet sax solo. It gets a tad yakety.