The people behind the parties
Underground promoters divulge why their events are worth the risk.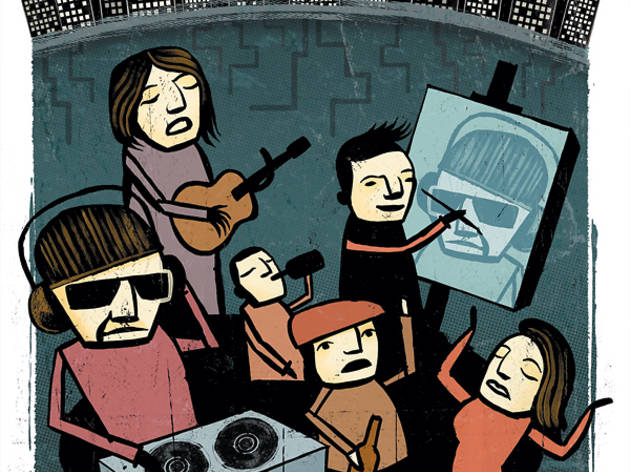 The past decade of Chicago's underground cultural scene is littered with the tombstones of unlicensed venues, parties and events killed off by police and licensing crackdowns. The list of dearly departed spaces is as long as it is quirky, with similar stories behind each closing: steep fines, court dates, angry neighbors and angrier landlords.
But that's the price of an illicit good time, right? Not so, says Carlin Thomas. When Thomas and a couple of friends started throwing under-the-radar ragers last November, she recognized the Achilles' heel of a lot of those shuttered party places: They stayed in one spot. "The AV-aerie was in the forefront of my brain when we started," says the 26-year-old, referring to the West Loop loft and music venue that was shut down last year. The Department of Revenue and the Department of Business Affairs and Consumer Protection cited the owner for operating without a Public Place of Amusement or Performing Arts Venue license—a city requirement for any entertainment venue—and selling alcohol without a liquor license. A moving target is harder to catch, Thomas reasoned. And so, Queerer Park, the roving, gay-centric rave, was born (see page 20). Each dance party migrates to a new spot, usually a loft or warehouse whose location is promoted mostly by word of mouth, and door and liquor donations go to LGBT orgs. "Thankfully," Thomas says, "we haven't encountered any trouble with the cops…yet."
But the licenses help the city keep tabs on the venues' safety, according to DBACP spokeswoman Efrat Stein. Operating without them can get costly—if you're found out. So why chance a $10,000 penalty (the max fine for operating without a PPA) and legal disputes to put on an unsanctioned event? Most underground cultural purveyors say the freedom is intoxicating. "A show in someone's basement or living room or in a weird loft space or an art gallery…is more fun than a show at a bar," says Rotten Milk, who organizes unsanctioned all-ages BYOB rock shows, including the underground Pitchfork alternative, Bitchpork Fest.
Thomas agrees. "Going into a traditional club or bar, there's already set guidelines for what can and cannot happen." She says Queerer Park's alternative mission of improvisational fun makes the risk worth taking. Take your shirt off, hook up with a stranger—it's not frowned upon. At one party, Thomas was deejaying when everyone on the dance floor suddenly flooded out of the room. "A little later I found out they were dancing naked on the roof," she says.
Dance artist Celia Weiss Bambara uses her Wicker Park loft, dubbed praxis place, to showcase dancers performing experimental, improvisational and in-progress works. At the semimonthly affair, called bloom, donations are accepted, but making a buck isn't the point. "I'm trying to create a space where there's a mixing of anything off-the-grid, a place where someone is not just making a piece to get a ticket sale," Bambara says. "Some of the most amazing performances can happen in a warehouse."
Clandestine spots largely pull from the same bag of tricks to delicately balance promotion with preservation. They often opt for word-of-mouth hype or buzz built around e-mailing a select group instead of broadcasting messages on Facebook or Twitter. "I mostly promote by making flyers and handing them out at other shows I go to," Milk says. "I wish I could make posters and plaster them all over the city, get a megaphone and shout from the highest rooftop."
Others get more creative. Although it's risky to send press releases to publications like TOC, Corinna Kirsch, whose Logan Square apartment doubles as the Exhibition Agency, says her secret to avoiding unwanted attention is not using the word gallery. (The city doesn't recognize the term apartment gallery, and licensed creation and display of art is allowed in only a few live/work–zoned areas, Stein says.) "Whenever the city hears [the word gallery], they think things are being bought and sold—that it's commercial versus something more casual like a salon," says Kirsch, 26. She prefers the term project space. "I'm a curator without a museum, and exhibitions happen to take place in my apartment."
Alt venue High Concept Laboratories masquerades as a provider of "office space" for artists because the Lincoln Park building's zoning doesn't allow for the required PPA or PAV license. "We've always got to have office-y stuff upstairs, and we have an intern there who's always filing things," says HCL consultant Jared Hatch, 25. Aside from serving as home to various arts events like a film-screening series curated by rental store Odd Obsession, HCL's rotating artists-in-residence use the space to create and present new work. Hatch says being surreptitious "gives our events an allure" of exclusivity.
Not everyone can hack it underground. Mike Oleon, 24, and his roommates got sick of sneaking around. Last month, they moved out of their Logan Square apartment that doubled as an illegal 60-seat live theater, the Rough House. Billed as "an experimental performance arts playground," it was run more like a speakeasy because applying for the PAV license would've made the theater subject to a round of city inspections—fire, electrical, plumbing, ventilation, structural—and would've prohibited (without a liquor license) the parties that occurred after the shows. "We really liked blurring the line between performance and what you'd do on a Friday night," Oleon explains.
Oleon says he started getting "scared" of the city at the 2010 Creative Chicago Expo, a series of workshops at the Cultural Center in April. Sophia Carey, a DBACP rep, ran down a slew of licenses related to the arts. While the DBACP's Stein stresses several licenses is not the norm, she notes, "One business could have multiple activities that require different licenses." Carey also described how her department busts illicit venues. "We conduct [more than] 70,000 investigations every year. Most of those are complaint-driven, but I will tell you that canvassing goes on."
While the Rough House branches out into the storefront scene, Green Lantern Gallery and 65GRAND, two formerly illegal apartment galleries, reopened in new legal locations after being shut down by the city. Green Lantern owner Caroline Picard was approved for a business license in mid-October, but last week she announced she'll close January 6 due to grim financial projections.
65GRAND's Bill Gross, 54, has some perspective on this circle of life underground. "I remember spaces that existed in Chicago a long time ago," he says. "They start, they're around for a while, and then they die off. It's their nature."