Why Nevermind is underrated
Here lies the heart of Nevermind's underrateability: It's too noisy for classic rockers, too classically arranged for noise rockers.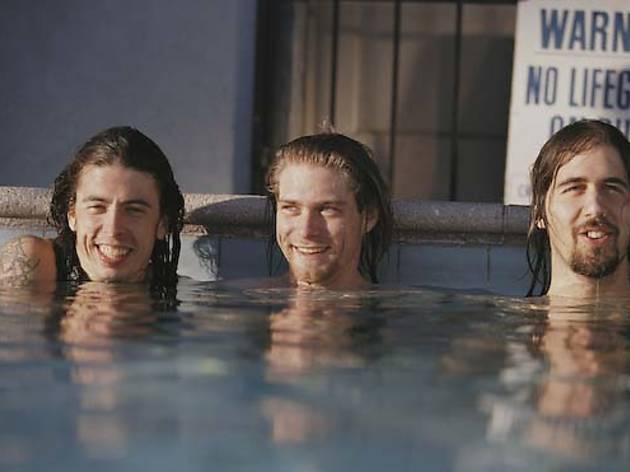 In the early '90s, not long before an electrician discovered the body of Kurt Cobain, Sloan visited the offices of its bosses, Geffen Records. The Canadian band began peeking into fan mail for its labelmate, Nirvana. There was a stunning amount of it, written across the globe in broken English. Sloan turned the saddest, funniest bits into a song, "Penpals," which opened the Nova Scotians' second and final album for Geffen, 1994's Twice Removed.
"Can I have a wick of hair? Send me documents and a photo of you alone," a Norwegian boy wrote. It's a wonderful song on a brilliant album. Yet its power-pop was at least six shades sunnier than grunge. So Geffen had no will or way to market it.
Twice Removed is an underrated album in the conventional sense: It's amazing; hardly anybody has heard it. Sloan was one of a hundred great indie bands signed in the wake of Nirvana that were quickly dropped for not immediately selling tens of millions of albums. For this reason, over which the Seattle trio had no control, Nirvana catches a lot of shit from music snobs. Radio demanded a bottomless supply of knockoff jock slop like Bush, not the Pixies and Sloan. Which makes Nevermind an underrated record in another sense: It's heavily nitpicked, because so many people raved about it, because Scandinavian teens idolized this slovenly threesome with ripped jeans and unwashed, collectible hair.
I began defending Nevermind the day after it came out, 20 years ago this week. As a junior, I carpooled a Buick full of underclassmen to and from school. I popped in the cassette, already worn with three listens, and suffered through that anxiety that comes from playing music for judgmental friends. "All these songs end weird," a JV fullback snipped. What? I loved all that. The sustain at the end of "Drain You," how "Lounge Act" melts down, the sludge that builds up as "Stay Away" fades, when Kurt punctuates "Breed" with a loud "DUH." That was the punk band playfully spilling out of these perfect pop molds. The others didn't care about punk. Eventually, I put on the fucking Eagles to silence the car.
There lies the heart of Nevermind's underrateability. It's too noisy for classic rockers, too traditional for noiseniks. In Spin's recent 20th-anniversary Nevermind nostalgiafest, Jeff Tweedy says this: "It sounded so slick—like a Whitney Houston record." Which is absurd and the first common lie spread about the record. Thankfully, the new reissue redeems producer Butch Vig. His recordings, heard on the bonus disc, are raucous. The guitars are fudgy and fuzzy. Dave Grohl hammers the paint off his drums. The final product was just all impeccably mixed into discernible shapes by Andy Wallace. Pearl Jam's recent deluxe editions sound like Whitesnake in comparison.
Nevermind is the high point of middlebrow. Though middlegut might be more appropriate. Intelligence has little to do with it. Cobain bled and then candy-coated his emotions. His pain can cheer you up. Which leads to the second common lie told of Nevermind: that its splenetic follow-up, In Utero, is better. Sure, the final Nirvana outing is far more raw and harrowing. Yet the tunes are duller, and sometimes recycled ("Rape Me" is "Teen Spirit" in a bad mood). Steve Albini is a hip producer, but one with a rigid, oppressive sound. In Utero saw Nirvana trying to reconnect with a scene it had outgrown. Nevermind captured a band in transit between the underground and the mainstream and bettering both of them.
Nevermind: Deluxe Edition is released Tuesday 27.