Tête Charcuterie (CLOSED)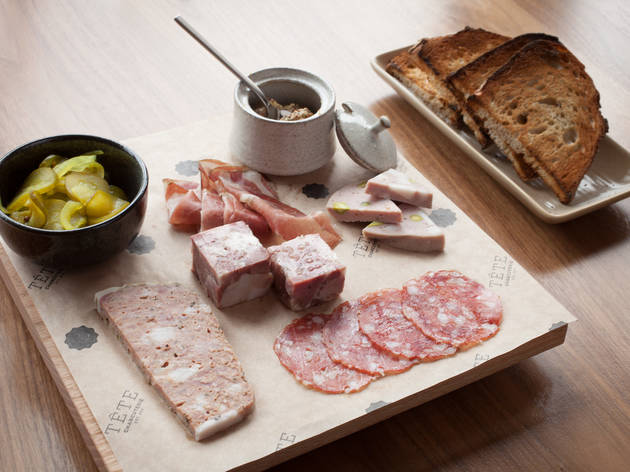 1/22
Photograph: Martha Williams
Charcuterie board at TÊTE Charcuterie.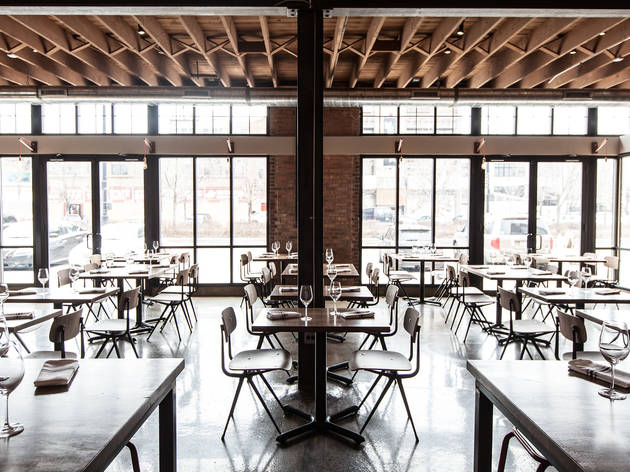 2/22
Photograph: Martha Williams
TÊTE Charcuterie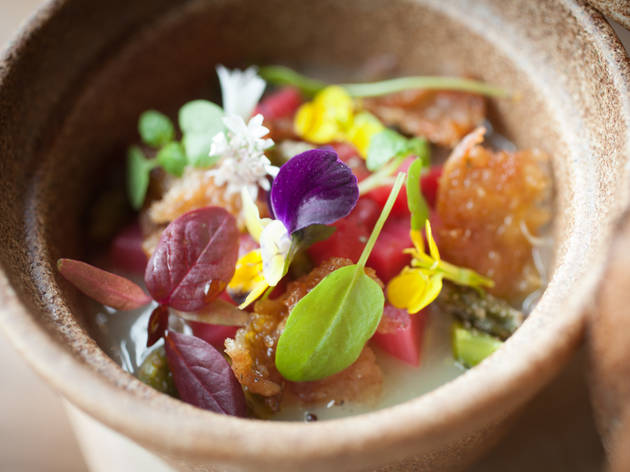 3/22
Photograph: Martha Williams
Rillette of duck confit TÊTE Charcuterie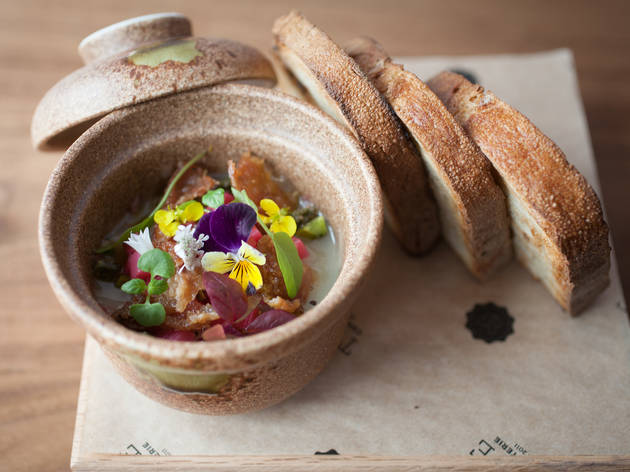 4/22
Photograph: Martha Williams
Rillette of duck confit TÊTE Charcuterie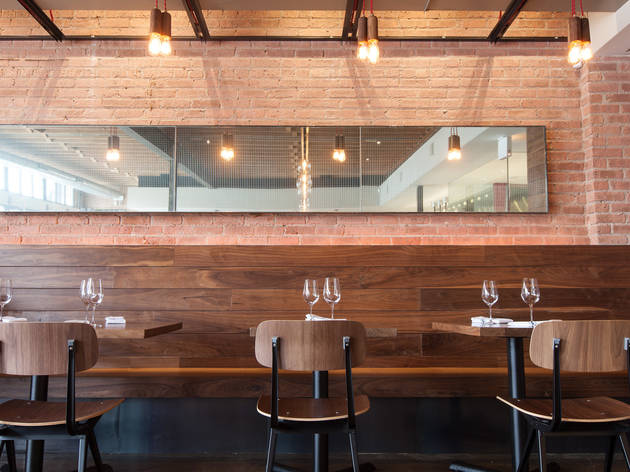 5/22
Photograph: Martha Williams
TÊTE Charcuterie
6/22
Photograph: Martha Williams
Two-tree days at TÊTE Charcuterie.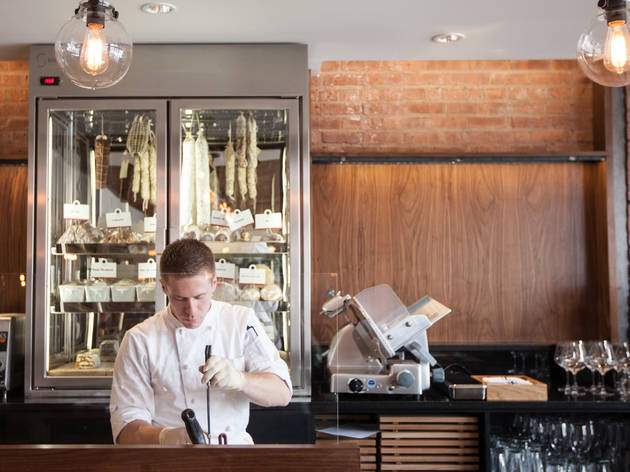 7/22
Photograph: Martha Williams
TÊTE Charcuterie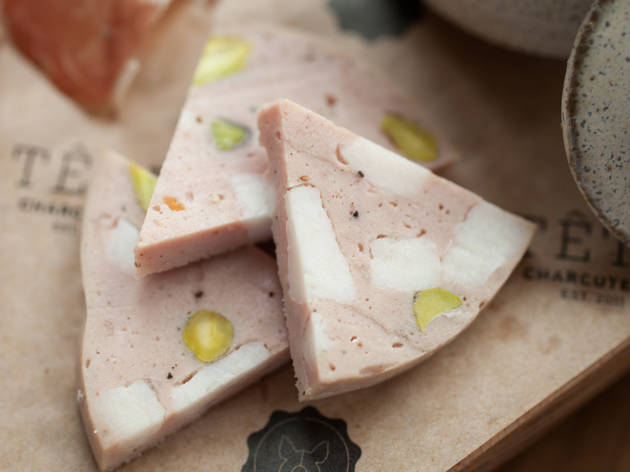 8/22
Photograph: Martha Williams
Mortadella at TÊTE Charcuterie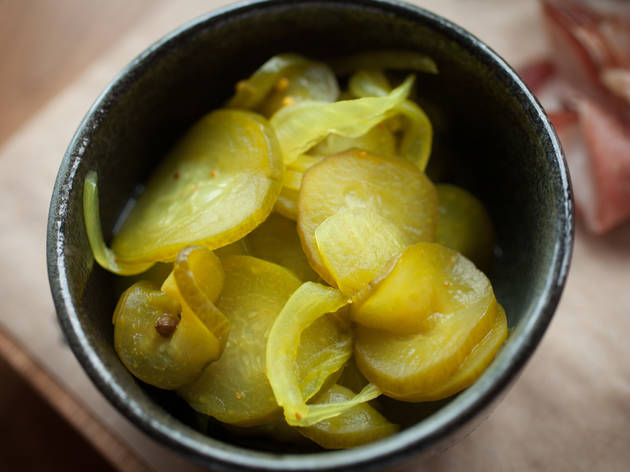 9/22
Photograph: Martha Williams
Pickles at TÊTE Charcuterie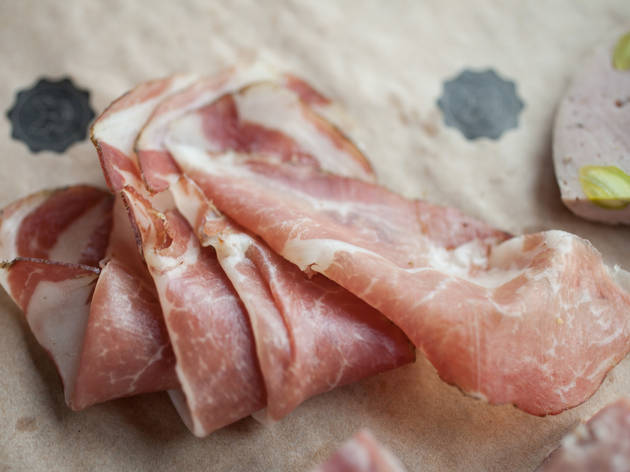 10/22
Photograph: Martha Williams
West loop salumi coppa at TÊTE Charcuterie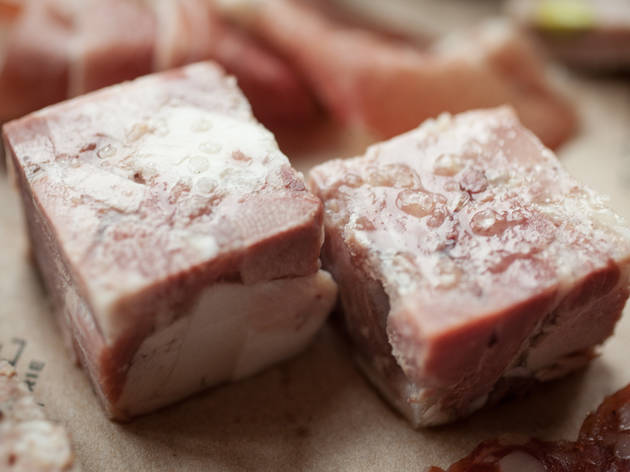 11/22
Photograph: Martha Williams
Fromage de tete at TÊTE Charcuterie.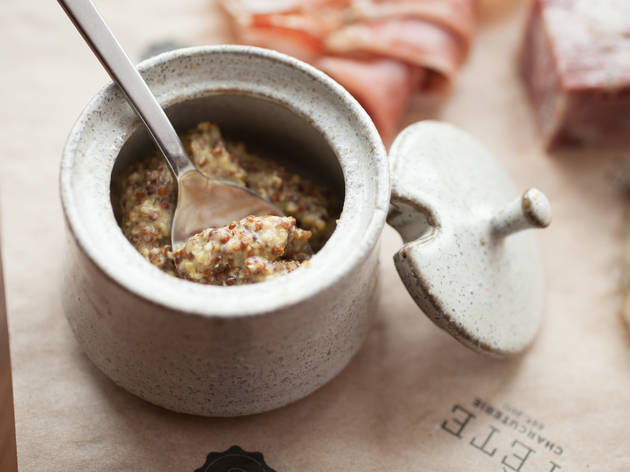 12/22
Photograph: Martha Williams
Mustard at TÊTE Charcuterie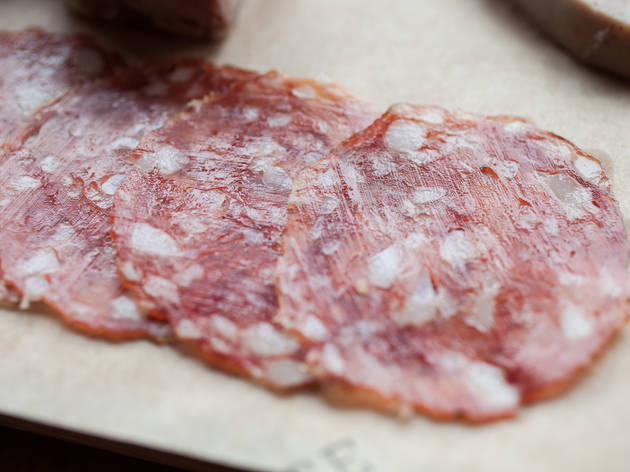 13/22
Photograph: Martha Williams
Rosette de lyon at TÊTE Charcuterie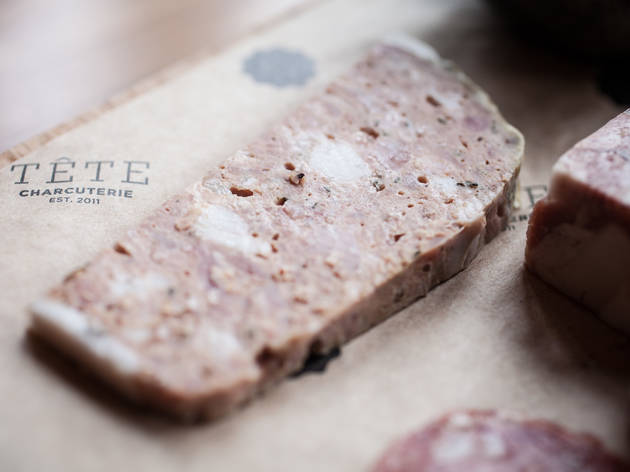 14/22
Photograph: Martha Williams
Pate de campagne at TÊTE Charcuterie.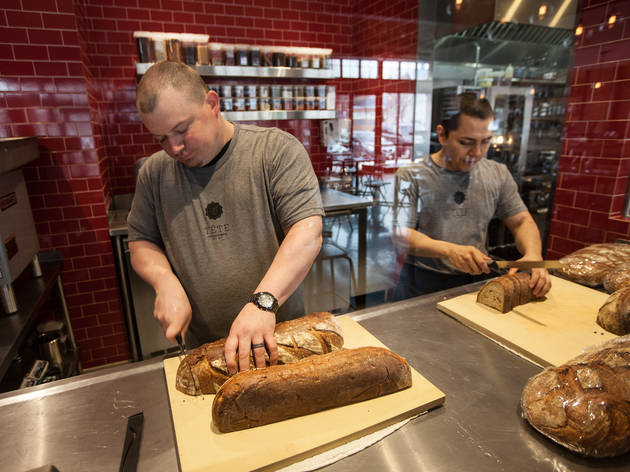 15/22
Photograph: Martha Williams
TÊTE Charcuterie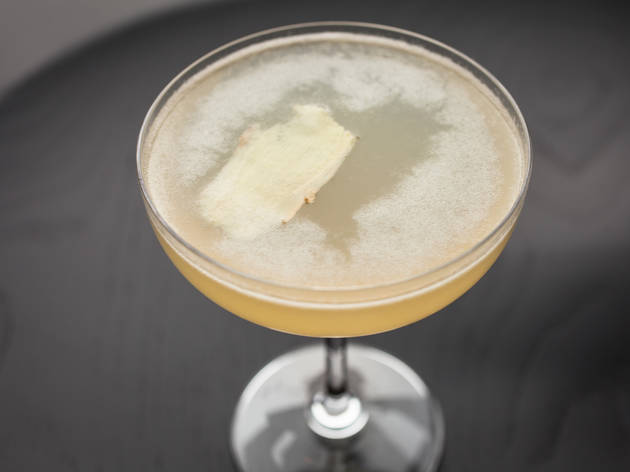 16/22
Photograph: Martha Williams
Tete a tete at TÊTE Charcuterie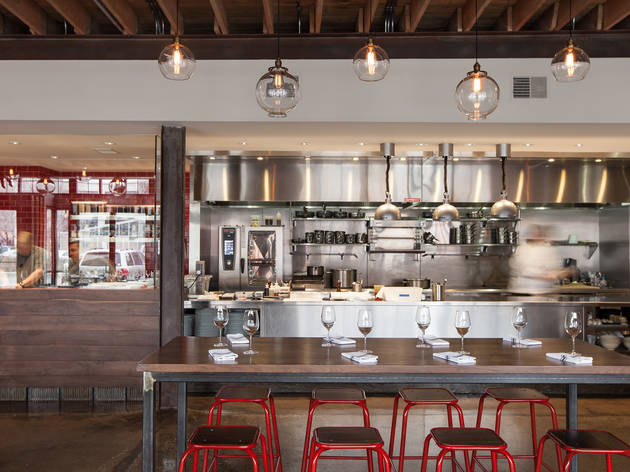 17/22
Photograph: Martha Williams
TÊTE Charcuterie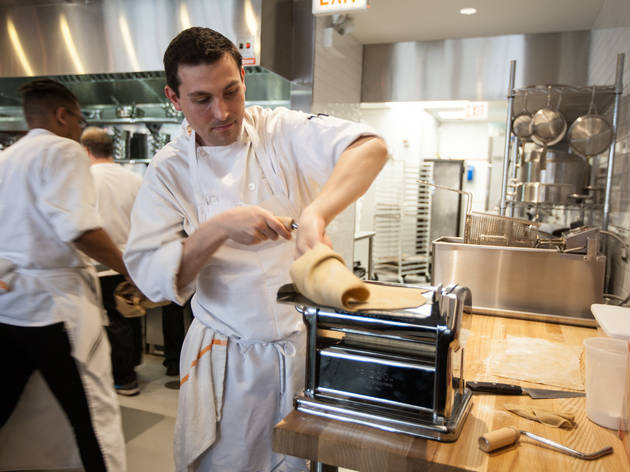 18/22
Photograph: Martha Williams
TÊTE Charcuterie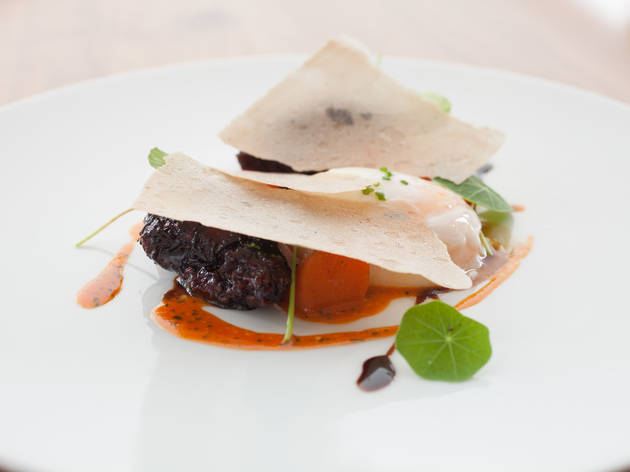 19/22
Photograph: Martha Williams
Veal sweetbreads at TÊTE Charcuterie.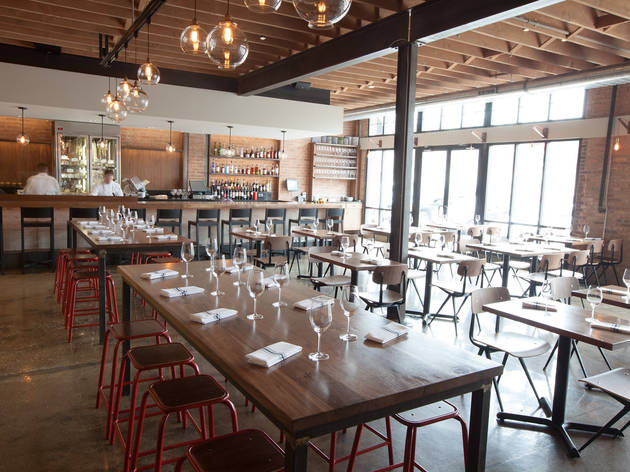 20/22
Photograph: Martha Williams
TÊTE Charcuterie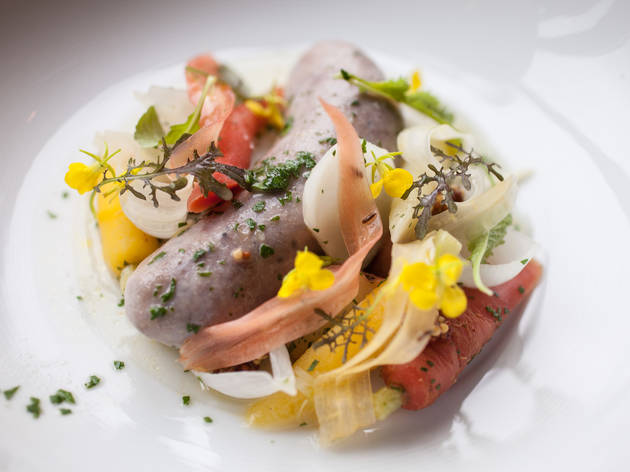 21/22
Photograph: Martha Williams
Germany sausage at TÊTE Charcuterie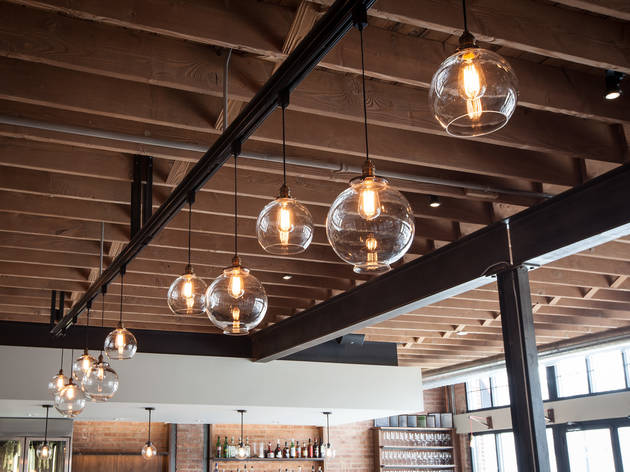 22/22
Photograph: Martha Williams
TÊTE Charcuterie
Time Out says
Restaurant review by Amy Cavanaugh
The cocotte was placed on the table and our server came over to describe the pot.
"There are 19 different vegetables, fruits and herbs in here," he said of the Spring Garden dish. "Some are roasted, some are raw and some are pickled."
The vibrantly colored dish was one of the most interesting vegetable dishes I've had lately—between roasted onions, shaved radishes, frilly little herbs and other vegetables, each bite was intensely flavored and perfectly executed. It displayed the kind of care for a vegetable dish that I'd love to see more frequently. That the dish was served at a restaurant with "charcuterie" in its name was even more impressive.
But it's not surprising—Thomas Rice and Kurt Guzowski's Tête Charcuterie feels like one of the more thoughtful restaurants I've been to recently. Sure, there's the recognition that not everyone wants to eat meat all the time (I certainly don't) and that vegetarian dishes don't have to be lame. But there's also excellent charcuterie, a solid drink selection, and a space that feels both lively and intimate.
Located on Randolph Street, Tête is housed in an old meatpacking facility. There's an open kitchen, big windows looking onto the sidewalk and a meat locker with hanging tubes of charcuterie behind the bar. It's a big, open space, but it seats up to 65, so tables aren't on top of each other, and the open kitchen allows you to feel like part of the action.
But you can also ignore the buzz of the room—my date and I took a walk around the restaurant after dinner, because we were so wrapped up in our food that we didn't pay attention to the chefs. The menu is divided into cured meats, terrines and pates; sausages, snacks and a la carte, which range from salads to more meat dishes. The charcuterie recipes were inspired by the duo's visits to butcher shops in France and Germany.
Start with a charcuterie plate—the menu says that each one is different and assembled by the chef, but we requested the mortadella, fromage de tete (headcheese, the house specialty) and pate bourguignon, and received all of those, plus pate de campagne, and coppa and salumi barola, both made by West Loop Salumi. I love West Loop's products, and Tête is serving them until its own cured meats are ready.
While individual cuts of charcuterie feel pricey, the charcuterie plate for $24, which also included four slices of warm toasted bread, a little jar of excellent tangy mustard, and a bowl of tiny pickles, is a steal. While the mortadella could have used more salt, everything else was solid, and the standouts were the pate de campagne, a richly flavored slab of chicken liver and pork with a punch of cognac; succulent cubes of head cheese, with chunks of pork and bits of gelatin to bind it all together; and melt-in-your mouth salumi. This is the best charcuterie plate in Chicago right now.
But it's not all charcuterie—the sausage section includes the Philippines sausage, with a garlicky longanisa sausage (similar to chorizo), served in a bowl with dried shrimp fried rice, a scoop of fresno chili marmalade and a slow-cooked egg, which, when mixed, provided a spicy, yolky, richly satisfying bowl. While the rillettes of duck confit, tender shreds of duck topped with flowers, rhubarb jam and cracklins, had great texture (and was the prettiest dish of rillettes ever), it was undersalted and dominated by rhubarb.
When everything you're eating is meaty, salty and spicy, you need a drink to help balance it out. Tete's drink list is pretty accessible, with three- or four-ingredient cocktails, like the Jackson Blues, a rye-based cocktail that balanced the bitterness of Cynar with the sweetness of grenadine, capped off with egg white froth. There's also a dozen beers and ciders, which are mostly Midwestern, and an extensive wine list, including a basic but decent house red and house white, each of which is $7 a glass.
Holding Tête back a bit, though, is the service. Our server described dishes well after they arrived at our table, and his suggestions, such as mixing up the bowl of rice before eating it, came later than they should have. Bussers and other servers hovered over the table, and tried to remove dishes we were clearly still eating more than once. Glasses of wine went forgotten for awhile. Service aside, though, Tête shines. I'll be back once they start serving their own cured meats, and I can't wait to go.
Details
Address:
1114 W Randolph St
Chicago


Transport:
El stop: Green/Pink to Morgan-Lake.
Contact:
Do you own this business?
Rating Breakdown
5 star:

0

4 star:

0

3 star:

0

2 star:

0

1 star:

1
I would never go back to this place. First of all, the regular menu and restaurant week menu posted online were completely different than the menus at the restaurant. Three friends and I went to dinner for restaurant week and tried their tasting menu. The first thing we were told was that if one person ordered off the tasting menu, everyone had to. I've been to several other restaurants for the tasting menu and this was not the case. Next, we ordered wine and while our glasses were brought out immediately, the wine didn't come for another 15 minutes after that. Following that, my friend ordered the hanger steak and the wait told her that tonight they were offering truffle shavings on the steak. What he failed to mention was that the truffle shavings were an additional $35 which was more than the entire three course tasting menu. Luckily I had looked at the menu online prior to that and saw it was $35 but my friend didn't know this and had said yes. About a half and hour later, the manager came up and told my friend it was $35 extra. It was clear that the manager had done this because someone else had obviously been shocked when they got a $35 additional charge to their receipt. For most, we know truffles are expensive but don't go around offering truffle shavings like you would pepper on a salad if you're not going to include the fact that you're charging more for the truffles than the entire menu. We're not talking about a $3 additional fee here. To continue on, we waited at least 30 minutes between each course. By the time we were served our main course, no one was even hungry because we had waited so long. There were at minimum 8 chefs cooking so there was no reason for the food to take so long to come. Not to mention the fact that all of our food came out at different times. I'm not talking a minute or two...almost ten minutes went by between the time one person at the table got her first course and the other three of us. I ordered the salad as my first course and requested no blue cheese in it. I was told aggressively that that was not possible. There were no substitutions. How hard is it to leave cheese out of a salad? I then ordered pasta as my main dish, and I have honestly had better pasta from the Olive Garden, which I think is also terrible. It was bland and tasteless. The waiter didn't come back one time to check on us throughout our meal and the restaurant was half empty. I think that's enough said being the fact that it is a Friday during restaurant week. Where was everyone and why was the service so terrible if it was only half full? I for one will not be returning and I will be sure to make my fellow foodie friends aware that this restaurant is no gem. With all the other fabulous restaurants in Chicago, I can't see this one lasting.