2011 spring and summer sports league sign-up guide
Everything you need to know to get on the right team this season.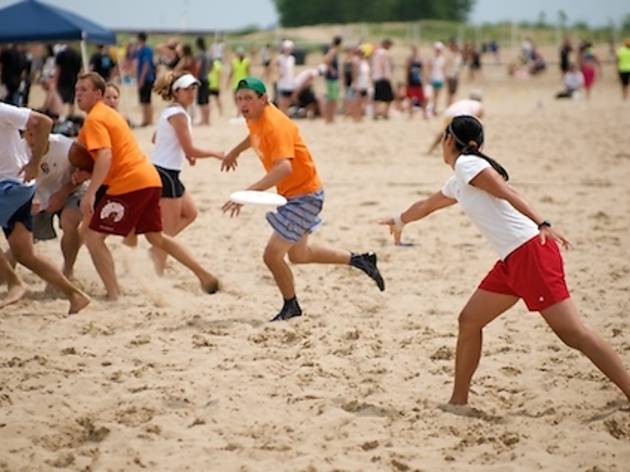 Spring/summer sports league organizations

Players Sports Group
Players Sports Group offers five levels of play from recreational to competitive levels. Founded in 1993, Players annually signs up about 45,000 players partaking in sports ranging from bags to skiing.

Chicago Sport & Social Club
With more than 70,000 players nationwide, Chicago Sport & Social Club hosts many of the spring and summer's favorite sporting events & leagues. CSSC hosts team events, providing locations, referees, and even equipment such as volleyball nets, basketballs or in the case of kayaking, the actual boat.

Team Sponsorships
Looking to play but not pay? You may want to look to your favorite bar, tavern or lounge prior to registering. Many local hot spots are more than willing to put the T-shirt on your back and pay upfront league dues in exchange for your presence post-game. Players Sports has sponsorship info, too.

Sign-up information, by sport

Basketball
Beginning late March, 5- and 10-player teams can dribble it out at courts located throughout the city including the Windy City Fieldhouse, participating FFC (Fitness Formula Clubs) and gyms at city high schools and colleges. Players Sports Group now offers a lower intermediate league that plays Wednesday nights at FFC Gold Coast.

Beach Tennis
North Avenue Beach will host the hottest new beach sport to come from the sandy shores of the Caribbean, Florida and California. Beach tennis is a combination of badminton, tennis, and volleyball. Much like doubles in tennis, teams of two use paddles to lob a tennis ball over a volleyball net; the goal being not to let the tennis ball hit the ground. For more rules and summer registration information visit Beach Tennis USA.

Beach Volleyball
Lakeside becomes a mecca of lobs and spikes this spring and summer as volleyballers hit the beaches at North Avenue and Montrose. Teams can range from 2, 4 or 6 players and be coed or not. Depending on the beach, volleying takes place 7 days a week from June-Aug. Register early (now) to can take advantage of special pricing from Chicago Social and Players Sports.

Dodgeball
Open registration for individuals and teams has begun. Weeknight and weekend games begin late March and mid-April. Teams are coed. Locations range from the Wicker Park Fieldhouse to schoolyards in Lakeview and Lincoln Park.
Flag Football
Coed, men's, and women's team are beginning to form. Team size ranges from seven to eight players. Depending on skill level and experience, recreational to competitive level games are available. Locations depend on the day.

Kickball
Spring and summer registration is open. Spring leagues usually play six to eight games beginning in mid-April with games held on weeknights and over the weekend. Popular locations include North Ave at LSD, Brands Park on Elston, and Union Park at 1500 W. Randolph.

Soccer
Spring team and individual registration is currently open. Full- or short-fields, courts, and TURF sights are available and located along the lake and throughout Lincoln Park, Lakeview as well as UIC and Brands Park. The new soccer field at Lincoln Park South is also among the sights featured this season. Outdoor soccer season begins mid-April.

Softball
Spring league registration is underway with games beginning in mid-April. Choose from coed, men's or women's teams and 12" or 16" softball games. Teams also have a choice of weeknight or weekend games located throughout the city. Depending on your skill different levels of play are offered and range from recreational to highly competitive.

Tennis
From doubles leagues to learning how to hold a racket, league and class registration has begun. As long at the weather cooperates, outdoor play begins toward the end of March. Evening and weekend matches are available.


Sign-up information, by organization

Players Sports Group (register online)
Players Sports offers a number of spring leagues to get you moving and socializing this season. With all of these choices, you're sure to find an activity you can enjoy. You can make your own team or register as an individual online.

Men's Basketball
*Perks: guaranteed 7 regular season games and 1+ playoff game (all with two 20-minute halves), numbered shirts for 10 players and prizes for winning team.
*Monday, Tuesday, Wednesday, Thursday and Saturday leagues at multiple locations starting in March and April
*Early bird $749-$899/team, regular $799-$949/team, $100/individual

Co-ed Dodgeball
*Perks: 7 regular season matches and 1+ playoff match (each match is 7-9 games), t-shirts and prizes for winning team.
*Sunday, Monday, Tuesday, Wednesday and Thursday leagues at multiple locations beginning in April
*Before March 25 $759/team, after $799/team, $95/individual

Bowling
*Perks: six weeks of play (15 regular season games, 1+ playoff game), t-shirts and prizes for winning team.
*Sunday, Monday, Tuesday and Wednesday leagues available at Seven Ten Lounge and Lanes, dates and times vary.
*Early bird $519/team, regular $559/team, $125/individual

Co-ed 8v8 and Men's 7v7 Flag Football
*Perks: 7 regular season games and 1+ playoff game (games are two 20-minute halves), colored shirts for 12/13 players and prizes for winning teams. Gender rules apply to co-ed teams
*Sunday, Wednesday, Thursday and Saturday leagues available starting in April at multiple locations
*Early bird $889/team, regular $929/team, $100/individual

Co-ed Kickball
*Perks: 7 regular season games and 1+ playoff game, t-shirts and prizes for winning team. Six men and four women on field at a time
*Sunday, Monday, Tuesday, Wednesday, Thursday, Friday and Saturday leagues open, locations, times and starting dates vary
*Early bird $859/team, regular $899/team, $90/individual

Co-ed and Men's 6v6 or 7v7 Indoor Soccer
*Perks: six weeks of play plus playoffs (two 20-minute halves per game), colored shirts and prizes for winning team. Gender rules apply to co-ed teams
*Sunday, Monday, Tuesday, Wednesday, Thursday leagues open. Starting dates, locations and times vary.
*Early bird $769-$999/team, regular $799-$1069/team, $95-$100/individual

Co-ed and Men's Outdoor Soccer
*Perks: 7 regular season games and 1+ playoff game (with two 20-minute halves), colored shirts and prizes for winning team. Gender rules apply to co-ed team.
*Sunday, Monday, Tuesday, Wednesday, Thursday, Friday and Saturday leagues open. Starting dates, location and times vary.
*Early bird $839-$1,689/team, regular $899-$1,749/team, $95-$125/individual

Co-ed and Men's (12'' and 16'') Softball
*Perks: 5 regular season games and 1+ playoff game, t-shirts and prizes for winning team. Co-ed teams are 6 men/4 women
*Sunday, Monday, Tuesday, Wednesday, Thursday, Friday and Saturday leagues available. Starting dates, location and times vary.
*Early bird $989/team, regular $1,039/team, $90/individual

Men's, Women's and Co-ed 6v6 and 4v4 Indoor Volleyball
*Perks: 7 regular season matches and 1+ playoff match (each match is three games up to 25), t-shirts and prizes for winning team.
*Sunday, Monday, Tuesday, Wednesday, Thursday. Starting dates, location and times vary.
*Early bird $479-$529/team, regular $509-$569/team, $95/individual
Chicago Sport & Social Club (register online):
Another large-scale recreational sport organization in Chicago, the Sport and Social Club has more options for spring leagues to take a look at.

Men's and Co-ed Basketball
*Perks: 7 regular season games plus playoff games for qualifying teams, t-shirts and prizes for winning team.
*Monday, Tuesday, Wednesday, Thursday, Saturday and Sunday league options. Starting dates, location and times vary.
*$125/individual, $895-$940/team

Bowling
*Perks: Six or eight week league with three games per week, t-shirts, shoe/equipment rental and prizes for winning team.
*Monday, Tuesday, Wednesday and Thursday league options. Starting dates, location and times vary.
*$100-$125/individual, $460-$550/team

Co-ed Dodgeball
*Perks: 7 regular season games plus playoff games for qualifying teams, t-shirts and prizes for winning team.
*Tuesday, Thursday and Sunday league options. Starting dates, location and times vary.
*$95-$115/individual, $750-$850/team

Co-ed Floor Hockey
*Perks: 7 regular season games plus playoff games for qualifying teams, t-shirts and prizes for winning team.
*Tuesday, Thursday and Saturday league options. Starting dates, location and times vary.
*$850/team

Co-ed and Men's Flag Football
*Perks: Six or seven regular season games plus playoff games for qualifying teams, t-shirts and prizes for winning team.
*Monday, Tuesday, Wednesday, Saturday and Sunday league options. Starting dates, location and times vary.
*$95-$135/individual, $875-$1,250/team

Co-ed Kickball
*Perks: Six or seven regular season games plus playoff games for qualifying teams, t-shirts and prizes for winning team.
*Monday, Tuesday, Wednesday, Friday, Saturday and Sunday league options. Starting dates, location and times vary.
*$95-$125/individual, $750-$975/team

Ping Pong
*Perks: Seven weeks of regular season play plus playoff games for qualifying teams, t-shirts and prizes for winning team.
*Wednesdays at Southport Lanes, 6:30-10:30pm
*$75/individual, $150/team

Co-ed Indoor Volleyball
*Perks: Seven regular season matches plus playoff games for qualifying teams, t-shirts and prizes for winning team.
*Monday, Tuesday, Wednesday, Thursday, Saturday and Sunday league options. Starting dates, location and times vary.
*$95/individual, $520-$590/team

Co-ed Indoor and Outdoor Soccer
*Perks: Six or seven regular season matches plus playoff games for qualifying teams, t-shirts and prizes for winning team.
*Monday, Tuesday, Wednesday, Thursday, Friday, Saturday and Sunday league options. Starting dates, location and times vary.
*Outdoor: $995-$135/individual, $780-$1,700/team; Indoor: $95-$135/individual, $825-$1,375/team

Men's and Co-ed (16'' and 12'') Softball
*Perks: Five, six, or seven-week regular season plus playoff games for qualifying teams, t-shirts and prizes for winning team.
*Monday, Tuesday, Wednesday, Thursday, Saturday and Sunday league options. Starting dates, location and times vary.
*$95-$140/individual, $900-$3,535/team

Sports Monster (register online):
Log on to Sports Monster, a national source for adult recreational sport leagues, and find a long list of spring leagues offered in Chicago. Here, different levels of play are offered to satisfy both the competitive types and those just looking to have a good time.

Men's and Co-ed Basketball
*Perks: 7-week regular season and 2-week elimination playoffs; 50-minute games, and prizes for championship team
*Monday, Tuesday, Thursday, Saturday and Sunday leagues available. Location, starting date and time vary
*$95-$105/individual, $695/team

Bowling
*Perks: six-week regular season and one-week bowl-off; 90-minute matches; Ball and shoe rental included; Prizes for winning teams
*Monday (March 21, 6:45-8:30pm), Wednesday (March 23, 6:30-11pm) and Thursday (March 24, 6:30-11pm) options all at Waveland Bowl
*$60-$65/individual, $390/team

Co-ed Dodgeball
*Perks: seven-week regular season and one week of single elimination playoffs, matches last an hour, and prizes for winning teams
*Tuesday (March 22) and Thursday (April 7) options, both play 6:30-10:30 p.m at Disney Magnet.
*$60/individual, $365/team

Men's and Co-ed Flag Football
*Perks: seven-week regular season followed by playoffs, and prizes for winning teams
*Sunday (April 3, 3-7pm) and Saturday (April 16, 9 a.m.-3pm), Monday (May 9, 6:30-9:30pm) and Wednesday (May 11, 6:30-9:30pm) options at two locations: Winnemac Park (Saturday/Sunday) and River Park (Monday/Wednesday)
*$40-$77/individual, $325-$650/team

Co-ed Floor Hockey
*Perks: Nine weeks of play plus playoffs, and prizes for winning team.
*Sunday, Tuesday, Wednesday and Saturday options available. Locations and times vary, leagues begin week of April 2
*$425-$735/team, $65-$125/individual

Co-ed Kickball
*Perks: seven-week regular season followed by two weeks of playoffs, and prizes for championship team.
*Sunday, Monday, Wednesday and Thursday options available. All played at Gill Park, times and start dates vary.
*$605/team, $66/individual

Co-ed, Men's and Women's Soccer
*Perks: seven, eight or nine weeks of play (game lengths vary), and a trophy presentation and party for championship team.
*Monday, Tuesday, Wednesday, Saturday and Sunday leagues available for multiple levels of skill. Starting dates, locations and times vary.
*$1099-$1995/team, $99-$185/individual

Men's and Co-ed Softball
*Perks: nine weeks of play, and prizes for championship team.
*Sunday, Monday, Wednesday, Thursday and Friday options available. Locations, times and start dates vary.
*$985/team, $95/individual

Women's and Co-ed Volleyball
*Perks: seven-week regular season followed by two weeks of playoffs, and prizes for championship team.
*Sunday, Monday, Tuesday, Wednesday and Thursday options available for multiple skill levels. Locations, times and start dates vary.
*$250-$490/team, $55-$105/individual

Live to Support Chicago (register online):
Live to Support is Chicago's on charity driven sports league. Get some friends together for a team or join as an individual and meet new people while staying active with these league options.

Sundays:
Kickball (April 17-June 12; $750/team, $85 individual; 10 a.m.-3pm; Seward Park/Stanton Fields, Gold Coast; 6 guy max, 4 girl min, 10 total players)

Co-ed 16'' Softball (April 17-June 12; $875/team, $90/individual; 5pm-9pm; Seward Park/Stanton Fields, Gold Coast; 6 guy max, 4 girl min, 10 total players)

Mondays:
Co-ed Flag Football (April 11-June 6; $800/team, $95/individual; 6:10pm-9pm; School & Seminary [Turf Field], Lakeview; 5 guys, 3 girls on field, 2 girl minimum)

Men's Flag Football (April 11-June 6; $700/team, $90/individual; 6:10pm-9pm; School & Seminary [Turf Field], Lakeview; 7 guys on field, 5 player minimum)

Tuesdays:
Co-ed Dodgeball (April 5-May 24; $650/team, $80/individual; 7:30pm-9pm; Seward Park, Gold Coast; 5 guys max, 3 girls min on court)

Men's 12'' Softball (April 19-June14; $875/team, $90/individual; 6pm-9pm; Stanton Fields, Gold Coast; 10 guys on field)

Wednesdays:
3v3 Co-ed Soccer (April 13-June 1; $395/team, $90/individual; 6:10pm-8pm—three 15 minute games; School & Seminary [Turf Field], Lakeview; one female minimum)

3v3 Men's Soccer (April 13-June 1; $395/team, $90/individual; 6:10pm-8pm—three 15 minute games; School & Seminary [Turf Field], Lakeview)

Thursdays:
Co-ed Volleyball (April 7-May 25; $425/team, $90/individual; 6:10-9pm, three games to 25, Nettelhorst Elementary, Lakeview; 4v4, two guys and two girls)

Chicago World Cup
Join other soccer fanatics in Chicago World Cup outdoor soccer leagues. New to the scene this spring are their 7v7 leagues in addition to the 11v11 option.

Men's 7v7 Soccer ($1,099 until March 19, $1,249 after) or 11v11 ($1,399 until March 19, $1,549 after)

Saturdays, starts April 9, Lincoln Park South Field, games beginning between 9 a.m. and 12pm, two 25 min halves

Mondays, starts April 11, Montrose Turf Field, games beginning between 9pm and 10pm, two 25 min halves
*Minimum 7 games for 11v11 and 8 games for 7v7, t-shirt and trophy/prizes for winners