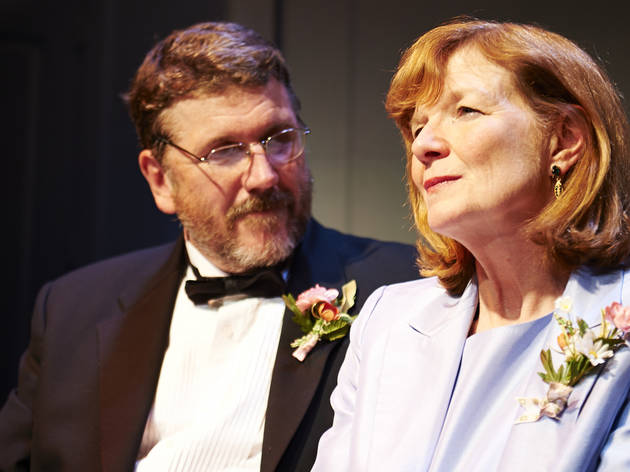 1/4
Photograph: Lee Miller
A Small Fire at Steep Theatre
2/4
Photograph: Lee Miller
A Small Fire at Steep Theatre
3/4
Photograph: Lee Miller
A Small Fire at Steep Theatre
4/4
Photograph: Lee Miller
A Small Fire at Steep Theatre
Steep Theatre. By Adam Bock. Directed by Joanie Schultz. With Melissa Riemer, Robert Koon, Julia Siple, James Allen. Running time: 1hr 20mins; no intermission.

Theater review by Kris Vire

Emily Bridges is the type of woman who once would've been referred to as a tough cookie. She owns her own construction company and prides herself on being seen as a tough boss, tied to her Blackberry and almost too eager to cut loose an employee who's having family issues in order to shore up her authority. As vividly played by Steep stalwart Melissa Riemer, Emily brings her bluntness home as well, leaving her more sensitive husband John (Robert Koon) a tad cowed and her grown daughter Jenny (Julia Siple) almost estranged.

"I don't like it when she just says things," says Jenny, who's very much Team Dad, and we see what she means when Emily complains to John about Jenny's unseen but apparently good-hearted fiancé—deemed snooty because he makes a living importing cheese—or when she tells Jenny that John will be fine dealing with a growing trauma because he has no imagination, so he can't imagine how bad it could get.

That upheaval is Emily's own health crisis: One by one, Emily is losing access to her senses. First she can't smell anything (which, combined with a minor kitchen incident, provides the piece's title). As playwright Adam Bock moves his episodic scenes toward Jenny's impending wedding, Emily loses taste and sight; finally, at the wedding reception, her hearing disappears.

Doctors are unable to diagnose her condition, which we'll call AIMS: Authorially Imposed Metaphorical Syndrome. But in Joanie Schultz's finely orchestrated staging of Bock's 2011 work, the metaphor is highly infectious.
Riemer's performance can veer a bit too flinty, but for the most part all four actors (including James Allen as Emily's designated protégé, here mostly to deliver a movingly contextualizing late speech to Koon's James) tackle the situation with braveness and honesty, with composer and sound designer Thomas Dixon's ominous aural environment eerily enhancing the unease that smolders beneath Bock's kindling.