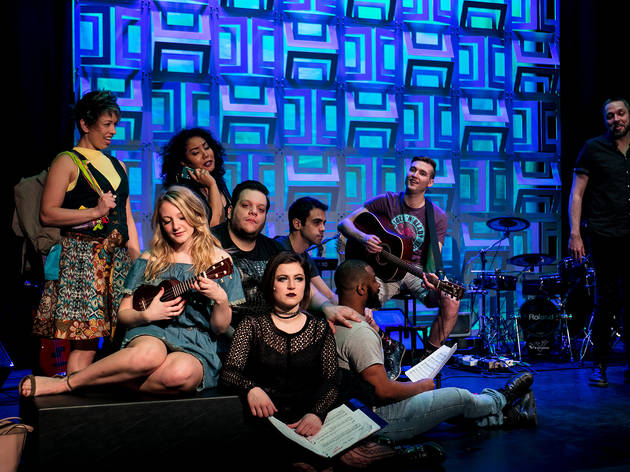 1/7
Photograph: Joel Maisonet
Creatives at Chicago Theatre Workshop
2/7
Photograph: Joel Maisonet
Creatives at Chicago Theatre Workshop
3/7
Photograph: Joel Maisonet
Creatives at Chicago Theatre Workshop
4/7
Photograph: Joel Maisonet
Creatives at Chicago Theatre Workshop
5/7
Photograph: Joel Maisonet
Creatives at Chicago Theatre Workshop
6/7
Photograph: Joel Maisonet
Creatives at Chicago Theatre Workshop
7/7
Photograph: Joel Maisonet
Creatives at Chicago Theatre Workshop
This undercooked portrait of a songwriting class isn't likely to make the whole world sing.
Making music can be a messy business. Tunes get stolen; hearts get broken; long hours of tired fingers, bleeding callouses and chapped lips can all end up being for naught—while someone far less talented, and scrupulous, simply waltzes into mega-stardom. The characters in Creatives, a new hybrid musical from director Tom Mullen and the Chicago Theatre Workshop, know these truths all too well. But the biggest mess of all is the show itself—a lurching, lumbering collection of original songs and alt-rock classics stitched over a script that, even at its best moments, feels like it was scrawled on the back of a beer-stained napkin.
Creatives is co-written by local writer Don De Grazia and Scottish novelist Irvine Welsh, best known as the author of Trainspotting. Fair warning: Any serious attempt to reconcile either man's resume (but especially Welsh's) with the angsty, 8th-grade level writing on display here will surely lead to madness. Set in Chicago, the show's plot centers around a songwriting class at fictional Carter Harrison College taught by Paul (Matt Kahler), a local punk rock elder statesman who, true to form, is broke and needs the money. One of Paul's old mentees, a massive tool named Sean O'Neill (Bradford Lund), has also become a massive pop star out in L.A. While he's back in town to play some shows at the Metro, Sean agrees to judge the final projects—aka the final songs—for Paul's students, and he throws in a $5,000 grand prize too.
The evening's 90-minute running time mostly consists of the students performing each other's songs (original music by Laurence Mark Wythe) and getting into arguments in between—but then they also occasionally play tunes, in classic "I just gotta sing" musical form, from Chance the Rapper, Iggy Pop and Oasis, among others. (This is all before the story's laughable big twist, which is shocking only because it comes out of absolutely nowhere.) The production has almost no set, and the intended feel is very much that of a concert, or at least a studio session. Mullen tries for a loose, free-wheeling atmosphere to match, but there's nothing that requires more precision than artful chaos. As such, everything just runs together in a giant muddle.
As has certainly been true of many Chicago storefront shows past, present and future, it's the cast, God bless them, that are the show's saving grace. Although their characters are mostly just an assortment of clichés, the moments when they're singing are just a good, old-fashioned pleasure. Nicole Lambert deserves special mention for her performance as Jennifer, who's sleeping with Paul, her teacher. Lambert is a big reason why Jennifer's song, which she performs with Vasily Deris, brings the show's only real moment of emotional weight. Lund and Kahler are also quite good, Lund especially; in addition to having fun with Sean's sheer obnoxiousness, he brings a ruthless cunning to his performance that the part barely even deserves.
Chicago Theatre Workshop is a brand new company, one dedicated to new work—a pursuit that is always to be admired. Yet this is the second show in the company's inaugural season that's been woefully, worryingly underwhelming. (The first was Wicked City.) The final show in this season is William Finn's adaptation of Little Miss Sunshine, and it will be good to get a sense of what CTW can do with a more established musical. But the company really ought to avoid shows that, like this one, are so completely unready for production. It's not fair to them, to their cast, to their writers or to their paying audiences.
Chicago Theatre Workshop at the Edge Theatre. By Don De Grazia and Irvine Welsh. Original music by Laurence Mark Wythe. With ensemble cast. Running time: 1hr 30mins; no intermission.