1/4
Photograph: Taylor Bailey
Haymaker at the Neo-Futurists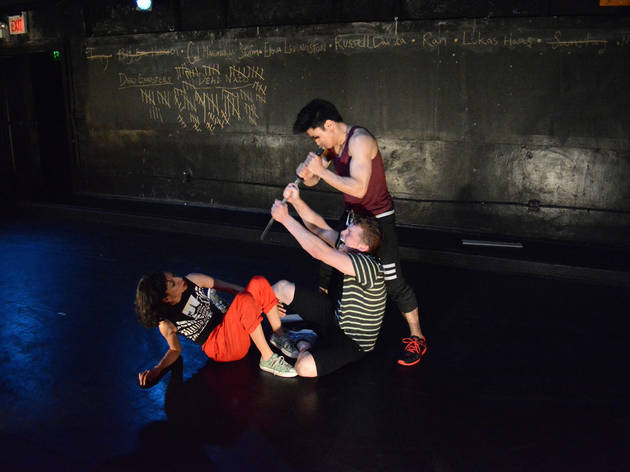 2/4
Photograph: Taylor Bailey
Haymaker at the Neo-Futurists
3/4
Photograph: Taylor Bailey
Haymaker at the Neo-Futurists
4/4
Photograph: Taylor Bailey
Haymaker at the Neo-Futurists
Neo-Futurists. Created by Trevor Dawkins. Directed by Kurt Chiang. Devised and performed by Indra Andreshak, Brenda Arellano, Daiva Bhandari, Trevor Dawkins, Kevin Duvall, Sarah Fornace, Mike Hamilton, Andrew Tham, Dallas Tolentino. Running time: 1hr 40mins; no intermission.
Theater review by Kris Vire
When he was 13 years old, Trevor Dawkins wrote Tears of Shanghai, an awesomely derivative, unintentionally hilarious screenplay for an action movie. The hero, Russell Dakota, fights legions of Nazis, gangsters and ninjas in 1930s China, and connects with a femme fatale thief named Elona Levingston. Now 27 and a company member with the Neo-Futurists, Dawkins mines his adolescent kung-fu fantasy for a reflective, gently self-mocking ensemble piece that lands as many laughs as it does punches.
Dawkins and company re-enact scenes from the script, complete with amusingly inventive and impressively executed fight choreography. But this being the Neo-Futurists, the cast members are always themselves onstage, which allows for plentiful commentary on young Trevor's writing and present Trevor's staging—questioning Tears of Shanghai's tropes and thereby the genre's. Actor Dallas Tolentino, for instance, rightfully gets to speak up about Trevor's insistence that his ninja assassin be wordless and how that plays into a history of limiting actors of Asian heritage.
Where things get murky is in the relationship between Dawkins and Brenda Arellano, who chafes at being cast as Elona. There are coy hints at a real-life relationship between the two performers, but the indirectness here feels distancing—an oddly un–Neolike obfuscation. Still, this leads into an eye-opening examination of young Trevor's true motivations for writing this punch-up power fantasy, and what boys learn from our culture about masculinity—an examination that seems all too grimly necessary at the moment. With a bit of judicious trimming and tightening (the stage version inherits from its source a bit of a repetitiveness), Haymaker could really pack a wallop.