1/3
Photograph: Dan Tamarkin
Nick Freed, Samuel Hubbard and Wm. Bullion inHotel Aphrodite at Factory Theater
2/3
Photograph: Dan Tamarkin
Kevin Alves and Jill Oliver in Hotel Aphrodite at Factory Theater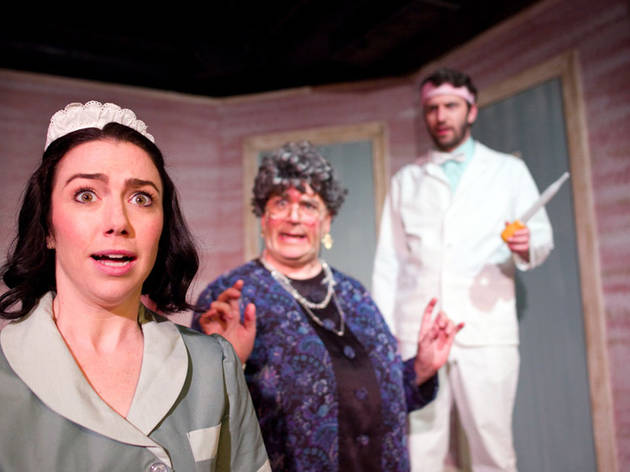 3/3
Photograph: Dan Tamarkin
Jill Oliver, Wm. Bullion and Nick Freed in Hotel Aphrodite at Factory Theater
Factory Theater at Prop Thtr. By Angelina Martinez. Directed by Matt Engle. With ensemble cast. Running time: 1hr 40mins; one intermission.
Theater review by Kevin Thomas
There is nothing original about Hotel Aphrodite, there is nothing unexpected about Hotel Aphrodite, and I had a great time and it earned its four stars.

Sometimes we need a fun throwback. With a big bag of silicone dicks. And the Factory Theater delivers. Angelina Martinez's new play has the sensibilities of The Birdcage inserted, with great passion, into an old-fashioned farce complete with many opening and closing doors, with shades of classic comedies like You Can't Take it With You and maybe the smallest pinch of Wes Anderson's Grand Budapest Hotel.

Even if no single style, character or plot point is unique, it's an assemblage of parts that work beautifully together. The Chateau Amantius is an erotic therapeutic retreat run by famed sex therapist Linda Knudson (Allison Cain), catering to every possible need an adventurous couple may have. In the midst of its grand re-opening, the sudden deaths of two distant relatives put the majority share of the hotel in the hands of Linda's conservative cousin who's ignorant of the hotel's nature. Linda is assisted by her hardworking (and to Linda's continuing dismay, virginal) daughter Cindy (Bridgette Hammond), the impeccable head of staff Mr. Bloodstone (Kevin Alves), and assorted maids, cooks, and new hires who wrangle the wayward guests while constantly teetering on the edge of total failure.

The blend of old-fashioned service with a sea of dildos, vibrators, and erotic costumes makes the Chateau Amantius come alive and creates a vibrant, comical backdrop for every scene. Despite its premise, Hotel Aphrodite does not rely on crass sex jokes, instead dancing between puns, visual gags, faux pas, mistaken identities and every other hallmark of a fast-paced farce. Not everything works, particularly the efforts to establish certain running jokes that never seemed to catch on with the audience. But most of it is hilarious, and Martinez's script is really quite charming. The staff has sincere love for each other and their hotel, with its bouncy-castle room and safari suite. The show invites you to feel affection for their absurd creation, and erotic pleasure is played less as titillation and more like the unadulterated glee one feels at Disney World.

Best of all, the play builds towards a satisfying, madcap conclusion. After a first act spent dashing throughout the hotel, the second takes everything we've learned about our characters and confines them to a single room. It lets the talented cast run rampant and bounce off each other to great effect. I particularly must compliment Alves for providing the necessary deadpan foundation of the group in his professional, unflappable Mr. Bloodstone, and Hammond as Cindy, investing a complex range of emotions in the sole "normal" character in the show to turn her into an anchor for the story.

Hotel Aphrodite is never reflective, self-aware, or makes any sort of point. Thank God. Better for a comedy that justifies itself with good writing and great laughs. Honestly, it's far from perfect, but you won't really care. If it were a movie (and I think it could be), it'd be a favorite to rewatch on a cold dark night when bright colors, big smiles and cock rings are all you need.