Lighthousekeeping at New Leaf Theatre | Theater review
Georgette Kelly's new adaptation of Jeanette Winterson's novel keeps track of the story's many threads, but doesn't weave them into a satisfying whole.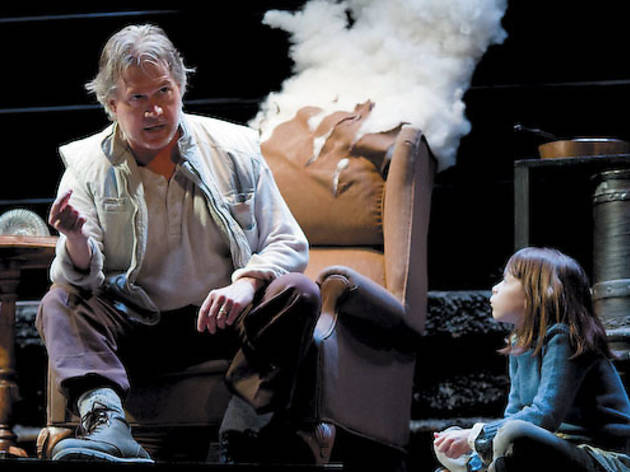 It's a red flag when authors declare their love for the multiplicity of stories: An addiction to narrative's intricacies might also signal an inability to focus on any one plot. On the evidence of Kelly's adaptation, Jeanette Winterson's 2004 novel suffers from authorial ADD. Orphan Silver (Caroline Phillips) is taken in by the blind lighthouse keeper Pew (Ron Butts), who spins her elaborate tales from the history of her Scottish village, mostly centering on the dastardly Rev. Babel Dark (Daniel McEvilly). Once Pew's evicted from his post, the adult Silver (Tien Doman) wanders about the Mediterranean, stealing books and retracing her past. Cameos from the illustrious dead—Charles Darwin, Robert Louis Stevenson—and constant invocations of the vital power of stories complement the portentous names. The result is an intriguing mess, rife with symbolic play and short on compelling drama. The chilling moment when Silver is plunged into an unfriendly contemporary world only shows by contrast how fancifully aloof most of Winterson's storytelling remains.
Kelly and director Hutchinson have given Lighthousekeeping an imaginative staging, though the Lookingglass-style traverse setup, with much of the action occurring in high perches to the sides of the stage, proves awkward in the DCA Storefront space. Delicate touches abound, as when narrator Silver conjures autumn for Babel Dark and his lover by dropping leaves onto them from above. Kelly's managed to keep the multiple overlapping threads of the novel aloft and traceable; what she isn't able to do is render them into a fully satisfying experience.