Paradise Park at Odradek Theatre Company | Theater review
Odradek takes all the amusement out of Charles Mee's theme-park fantasia.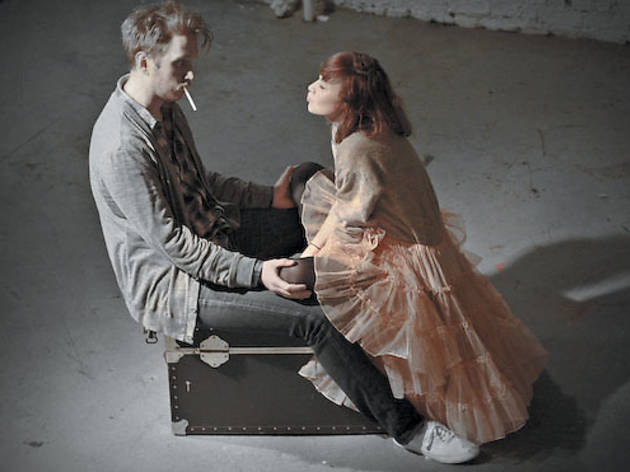 Playwright Charles Mee takes an unprecedented approach to licensing his shows. Where most writers require royalty fees for scripts and might respond to uncredited adaptations with lawsuits, Mee posts his works online and openly encourages ambitious directors to circumvent his copyrights and heavily doctor his plays, rewarding them in return with free performance rights. Local tailoring and creative innovation are the basis of his "(re)making project," but in Odradek Theatre Company's Paradise Park, adapters Jonathen Wikholm and Mark Litwicki don't remake Mee's play so much as unmake it, minimizing the play's poetic visual spectacle while keeping most of the dialogue intact, laboriously delivered with indiscernible character intentions.
What's left is an inept mess. Looking to escape the stress and dread of being alive, a young man (Kevin Sheehan) purchases a ticket to a fantasy amusement park, a sort of limbo puppeteered by a mouse-suited guide (Odie Escando) that's occupied by equally lost families and loners. Unsatisfied with superficial perfection, the park's guests whine, exchange platitudes and reflect on their former lives. Director Ashley-Marie Quijano doesn't seem to have a handle on Mee's montage structure or symbolism, haphazardly tossing in empty or blatant gestures such as double-casting an actor as both a young girl and her mother, requiring her to play both sides of an argument. The cast blows through Mee's heightened dialogue with little commitment beyond complacent readings. Clunky scenes—staged in promenade, pointless in Teatro Luna's tiny studio space—tumble from one to the next. Throughout, the denizens beg "Where is this?" and "Why?" Twenty minutes in, I wondered the same thing.