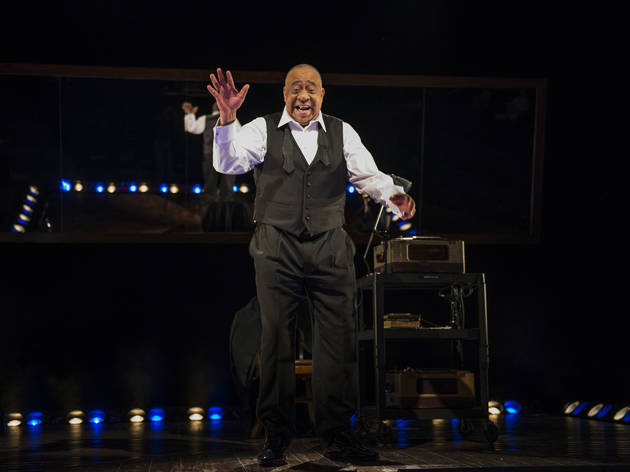 1/3
Photograph: Michael Brosilow
Barry Shabaka Henley in Satchmo at the Waldorf at Court Theatre
2/3
Photograph: Michael Brosilow
Barry Shabaka Henley in Satchmo at the Waldorf at Court Theatre
3/3
Photograph: Michael Brosilow
Barry Shabaka Henley in Satchmo at the Waldorf at Court Theatre
A charming solo play goes behind the music of Louis Armstrong.
This 2014 solo piece about trumpeter Louis Armstrong appropriately allows a performer to hit a great many notes. The dressing-room confessional is set in 1971, near the end of Armstrong's career, when he was both playing and living at the Waldorf-Astoria Hotel in New York; it calls for its actor to play both the aged and weary musician and his longtime manager, Joe Glaser, with additional cameo appearances by Miles Davis. (Though it's nominally set backstage at the Waldorf, designer John Culbert's set suggests a kind of dressing-room-as-limbo that, with Keith Parham's sharp lighting, allows for quick shifts of character.)
Playwright Terry Teachout—the wide-traveling theater critic for The Wall Street Journal, who's gone from praising Court Theatre to being produced there—previously authored a biography of Armstrong, and clearly has a strong grasp on his characters and the facts of their lives. But Satchmo can at times read like straight biography; though it's intriguing to see the private side of an entertainer who always put on a happy face in public, and Teachout cleverly contrasts Armstrong's and Glaser's versions of events, there's little in the way of tension. The play can have an and-then-and-then effect ("…and then we recorded 'Hello, Dolly!'"). Still, Barry Shabaka Henley's performance is riveting, handily inhabiting Armstrong's famous rasp even if, on opening night, he was still shaky at times on the lines. One wishes he had a longer run to really settle into the show.
Court Theatre. By Terry Teachout. Directed by Charles Newell. With Barry Shabaka Henley. Running time: 1hr 30mins; no intermission.