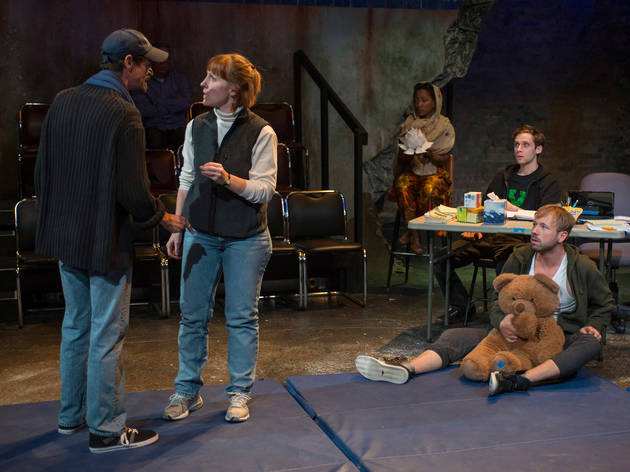 1/9
Photograph: Michael Brosilow
Thomas J Cox, Maggie Kettering, Tiffany Yvonne Cox, Ty Olwin and Shane Kenyon in Season on the Line at the House Theatre of Chicago
2/9
Photograph: Michael Brosilow
Ty Olwin, top, and the company of Season on the Line at the House Theatre of Chicago
3/9
Photograph: Michael Brosilow
Maggie Kettering and Thomas J. Cox in Season on the Line at the House Theatre of Chicago
4/9
Photograph: Michael Brosilow
Thomas J. Cox and Maggie Kettering in Season on the Line at the House Theatre of Chicago
5/9
Photograph: Michael Brosilow
Thomas J. Cox in Season on the Line at the House Theatre of Chicago
6/9
Photograph: Michael Brosilow
Sean Sinitski, right, and the company of Season on the Line at the House Theatre of Chicago
7/9
Photograph: Michael Brosilow
Shane Kenyon and Thomas J Cox in Season on the Line at the House Theatre of Chicago
8/9
Photograph: Michael Brosilow
Tiffany Yvonne Cox in Season on the Line at the House Theatre of Chicago
9/9
Photograph: Michael Brosilow
Marika Mashburn, Allison Latta, Thomas J Cox, Andy Lutz, Abu Ansari, Danny Bernardo, Marvin Quijada, Ty Olwin in Season on the Line at the House Theatre of Chicago
The House Theatre of Chicago at Chopin Theatre. By Shawn Pfautsch. Directed by Jess McLeod. With ensemble cast. Running time: 3hrs 20mins; two intermissions.

Theater review by Kris Vire

In a way, the House Theatre's latest plays like an enjoyable American take on Slings and Arrows, the brilliant Canadian TV dramedy whose three seasons each tracked a season of on– and offstage drama at a Stratford-like festival. Playwright Shawn Pfautsch's snapshot of a season at the fictional Bad Settlement Theatre Company follows the foibles of producing theater on a much smaller budget. Yet Pfautsch's piece also does double duty as a kind of mirror of the season's final production. Which means it's a stage adaptation of Moby-Dick in the form of a comedy about a theater doing a stage adaptation of Moby-Dick. Got that?

Don't worry, it's easy enough to follow. Our way in is an unnamed narrator—don't call him Ishmael—who gets hired as assistant stage manager for the season despite being a total theater noob. Through his voyage, as relatably embodied by actor Ty Olwin with fresh-faced enthusiasm, we vicariously experience the highs and lows of creating theater and meet an assortment of loose Melville analogues as backstage types as the company embarks on productions of The Great Gatsby and Balm in Gilead. Using his characters as stylized archetypes the way Melville employed the crew of the Pequod, Pfautsch playfully, and largely successfully, conveys the joys of discovery in rehearsal and the adrenaline-fueled thrill of real-time backstage problem-solving.

Maggie Kettering is dead-on as the level-headed, put-upon stage manager Starbuck—er, Day Starr. Marika Mashburn and Andy Lutz are terrific as the ship's mates, distinctive directors of their respective shows-within-the-show, and the introduction of Sean Sinitski as the critic whose judgment is awaited with bated breath is a brilliantly staged surprise. (That there's only the one critic who matters suggests that Bad Settlement isn't a Chicago-based company, clearly.)

The piece's Ahab is artistic director Ben Adonna (Thomas J. Cox), monomaniacally obsessed with his season-concluding adaptation of Moby-Dick. In the early scenes he'll phone into production meetings from his writing room, or blow in like a hurricane through another director's rehearsal. As his show gets nearer, he alienates and annoys everyone in the company, cannibalizing resources from other productions to pay for his own. Pfautsch's metaphor falters a bit with the third-act reveal of the true nature of Ben's white whale. Or perhaps not, illustrating as it does that Ben has lost all perspective, forgetting why he set sail in the first place.