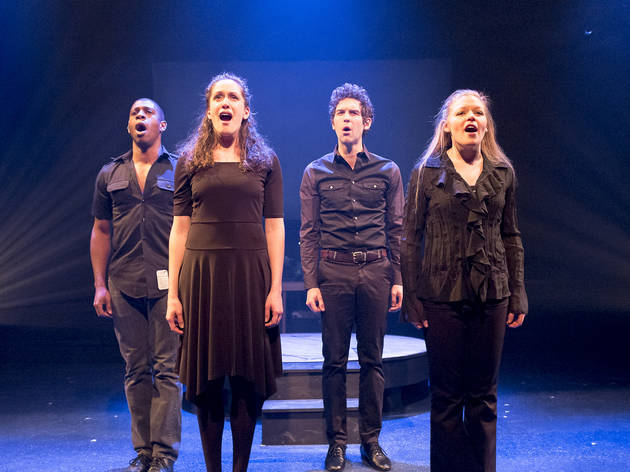 1/6
Photograph: Drew Peterson
Curtis Bannister, Kyrie Anderson, Nathan Gardner and Mary Margaret Roberts in Songs for a New World at NightBlue Performing Arts Company
2/6
Photograph: Drew Peterson
Kyrie Anderson in Songs for a New World at NightBlue Performing Arts Company
3/6
Photograph: Drew Peterson
Curtis Bannister in Songs for a New World at NightBlue Performing Arts Company
4/6
Photograph: Drew Peterson
Nathan Gardner in Songs for a New World at NightBlue Performing Arts Company
5/6
Photograph: Drew Peterson
Kyrie Anderson in Songs for a New World at NightBlue Performing Arts Company
6/6
Photograph: Drew Peterson
Curtis Bannister, Mary Margaret Roberts, Kyrie Anderson and Nathan Gardner in Songs for a New World at NightBlue Performing Arts Company
NightBlue Performing Arts Company at Stage 773. By Jason Robert Brown. Directed by David Walters. With Curtis Bannister, Nathan Gardner, Mary Margaret Roberts, Kyrie Anderson. 2hrs; one intermission.
Theater review by Gwen Purdom
If you were to collect only the most emotionally-charged, starry-eyed, belt-it-out ballads from a random selection of Broadway shows and siphon that diverse, climactic energy into one concentrated concoction, the result would be something like Songs for a New World. NightBlue Performing Arts Company's production of Jason Robert Brown's 1995 "theatrical song cycle," now playing at Stage 773, makes the most of the charming work, which trims the bulk of standard dramatic exposition and relies instead on the pure storytelling power of song.

Songs is made up of 16 musical numbers woven loosely together by occasional repeated refrains and the sometimes too vague concept of transition—anonymous characters facing a cross section of life's new frontiers. The soundtrack ranges from soulful spirituals to all-out infectious pop, and the talented four-person cast here embraces it with passion.

Mary Margaret Roberts, armed with a clear, sweet soprano, delivers some of the show's dreamiest arias, a glowing everyheroine able to convey a surprising amount with her voice. Radiating with slowly simmering energy, Curtis Bannister proves his enviable control several times over. Nathan Gardner, too, throws himself headfirst into each moment though with a vocal grip a touch shakier than his castmates—a disparity that could stem from his simply drawing the shorter song-selection straw. Rounding out the singers, Kyrie Anderson's times in the spotlight are fierier than Roberts's, most notably in her heartfelt rendition of the bittersweet "Stars and the Moon," which has become an understandable favorite of stage sirens.

Without the cohesive story progression and character development of a more traditional musical, the audience is left to draw its own conclusions as to how and why each character has arrived at their respective crossroads—with some of the more specific numbers requiring slightly more imaginative stretch. But even if its connections are at times fuzzy, Songs gives one's almost-guilty musical-loving itch a deeply satisfying scratch.