The Caretaker at Writers' Theatre | Theater review
Writers' revival of Pinter's 1960 work is thoughtful and well-acted, but feels out of balance.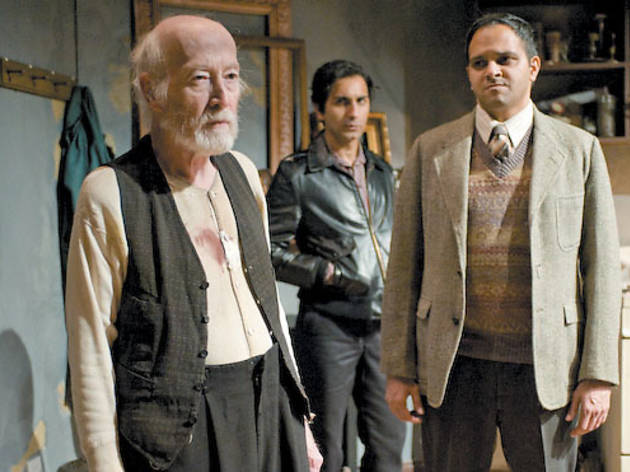 Jazz legend Miles Davis's famous aphorism describing the importance of notes left unplayed could easily double as a guide to performing the beats in a Harold Pinter play. This 1960 drama showcases the Nobel Prize–winning author's masterful sense of musicality, using each water droplet, footstep and offstage door slam to build suspense among flat owner Mick (Kareem Bandealy), his brother Aston (Anish Jethmalani) and Davies (William J. Norris), an unwitting tramp Aston invites off the streets to stay in their claustrophobic home, functionally designed by Jack Magaw. As Mick stops in and discovers the frail, bumbling vagabond, his brother's altruism—along with the homeless man's history—comes into question.
Writers' production, directed by Ron OJ Parson, is a well-acted, beautifully designed, carefully paced oddity; without hitting a single false note, Parson manages to stage a capable production without creating the esoteric dread The Caretaker hinges upon. The staccato back-and-forth between head-game-playing Mick and his simple-minded target is here, but the sense of urgency isn't. Aston feels like the missing component. Jethmalani's performance is so subtle that it reads onstage as underdeveloped, pulling down the drama's triangular power-grab into a flat line between his wild-card sibling and his helpless, hopeless guest.