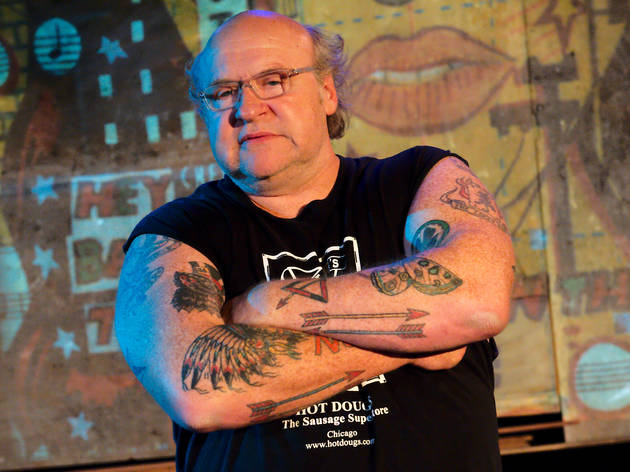 1/6
Photograph: Anthony Aicardi
Tony Fitzpatrick's The Midnight City
2/6
Photograph: Anthony Aicardi
Tony Fitzpatrick's The Midnight City
3/6
Photograph: Anthony Aicardi
Tony Fitzpatrick's The Midnight City
4/6
Photograph: Anthony Aicardi
Tony Fitzpatrick's The Midnight City
5/6
Photograph: Anthony Aicardi
Tony Fitzpatrick's The Midnight City
6/6
Photograph: Anthony Aicardi
Tony Fitzpatrick's The Midnight City
Firecat Projects at the Steppenwolf Garage. By Tony Fitzpatrick with Stan Klein. Directed by Ann Filmer. With Fitzpatrick, Klein, Anna Fermin, John Rice. Running time: 1hr 45mins; one intermission.
Theater review by Megan Powell
"I'd rather have a memory than a dream," goes the classic Sarah Vaughan track that's sung near the end of The Midnight City, but this theater piece suggests that Chicago artist/raconteur/provocateur Tony Fitzpatrick would rather have both. The Lombard-born, longtime Ukrainian Village resident and internationally-known visual artist (and writer, actor, radio personality) is moving to New Orleans, where he wants to just "draw birds and be warm."
Despite that post–polar vortex declaration (and that he's "done with dibs"), Fitzpatrick's laments, rants and memories about a changing city, "a city that people made," he declares his fierce love of Chicago still flourishes. Fitzpatrick's longtime sidekick Stan Klein, who's billed as a "smart traveler in the world of the arts," thinks Tony should stay put. In steamy New Orleans, Klein tells him, "all your paper's gonna curl."

Stein's not just Fitzpatrick's onstage foil, he's his business partner in Firecat Projects, their Bucktown-based art project, and collaborator in this, their fourth stage show. It's a fitting coda to follow the trilogy of pieces also staged at Steppenwolf and created with the same collaborators. As before, Midnight City takes the shape of a 90 or so minute, multi-arts storytelling night, with monologues and dialogues based on Fitzpatrick's writing (this time drawn from his weekly column in Newcity, "Dime Stories") intersecting with Klein's own musings on life in the city and on art-making, Kristin Reeves's video art, music director John Rice's subtle arrangements and guitar accompaniment, and Filmer's steadying collation of it all. Singer Anna Fermin joins them for a second time, providing exquisite vocal interludes to balance the pair's stories and sparring, which unfold on a set that recreates Tony's studio, down to his beloved bird sculptures.

We are drawn into that studio by Fitzpatrick's outsized personality, which fills the expanse of the Steppenwolf Garage space as much as tattoos fill his arms, exposed by his sleeveless Hot Doug's t-shirt. And, yes, that's another reason that he's leaving; now that Chicago's hallowed purveyor of encased meats is closing up, it's time for him to go, too. Gentrification picturesquely described in the form of double-wide stroller-pusher behavior and signage ignominies caused by Donald Trump and his "piss-colored pompadour" also have him packing—and he's got some choice words for Rahm, too, don't you worry.
Fitzpatrick ranges across the stage into tangents about sparring with snooty bird watchers, gut-busting suburban burger chains, his disdain for the climbers of the art world "scrotum pole," and heartfelt memories of his friend, Lou Reed. Just when it starts to sprawl, Midnight City is grounded by the drily observant Klein, who muses on the antics of his alter-egos in the Friendly Confines and in the art world.

The Stan/multiple personality motif isn't entirely clear, particularly if you're meeting these guys for the first time, and there are some audibility and timing issues, but none of that really matters. This isn't a glossy representation of Tony and Stan's lives in and ruminations on Chicago—it isn't a show, but rather an exhibition of experiences in the dark and light places here.
"It's a city of immense grandeur and unparalleled cruelty," Fitzpatrick told the Sun-Times a few years ago. We feel that authentic pride and repulsion in almost every word and visual here, balanced by Fitzpatrick's earnest reflections about his lifelong love of birds and the beauty and awfulness of life itself, especially when it's lived in the Midnight City.