The Unveiling and Dozens of Cousins at Trap Door Theatre | Theater review
A pair of insubstantial shorts by Václav Havel has Trap Door's aesthetic but feels unusually aimless.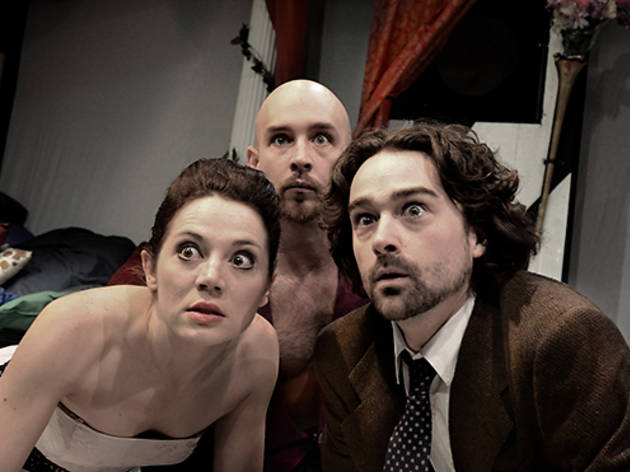 Czech playwright and president (see, doubtful fine-arts students? It is possible) Václav Havel wrote these two short absurdist pieces centering on the same political dissident 35 years apart: He penned the first within the restraints of Communism, the second in the vacuum of its collapse. Visiting two metropolitan friends for a housewarming, simpleton Ferdinand Vanek (Michael Doonan) contends with condescension-laced party favors in The Unveiling. Eager to earn the approval and envy of their disengaged friend, Vera (Tiffany Bedwell) and Michael (Kevin Cox)—foodies, antique connoisseurs and married sex fiends—usher Vanek through a day in the lives of favorites of the state.
Dozens of Cousins—more a coda or a punch line than a sequel—revisits the couple after they've been worn down by three decades of affluenza, with the addition of a single-child-gone-wrong (Ryan Czerwonko). Neither works are particularly substantial shorts, and Trap Door Theatre artistic director Beata Pilch's provocative energy is notably absent in this by-the-numbers, obvious production. Even the set by Mike Mroch, whose ornate design in last year's The Word Progress on My Mother's Lips Doesn't Ring True, another play dealing in Eastern European politics, could have doubled as a respectable installation piece, looks cobbled, cheap and frayed around the edges. Trap Door's ambience is here, but the essence lacks.