The Whole World Is Watching at Dog & Pony Theatre Company | Theater review
The tensions surrounding the 1968 Democratic convention get an experiential treatment in Dog & Pony's play with music.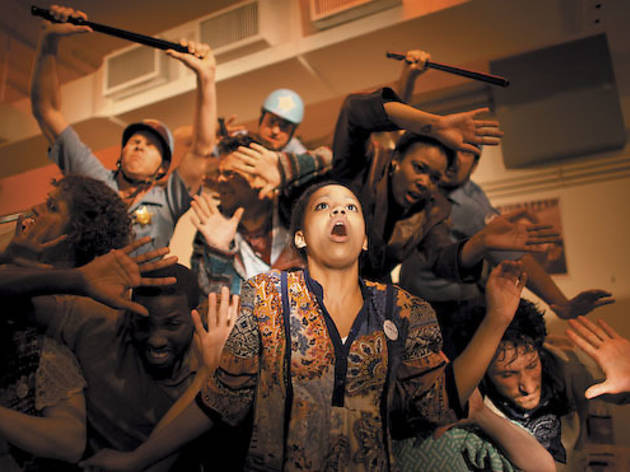 As Chicago gears up for the NATO conference and the protests expected to accompany it, Dog & Pony's look back at the heated atmosphere surrounding the 1968 Democratic National Convention feels especially timely. Devon de Mayo and Stephen Ptacek's experiential piece, staged promenade style in an upstairs rehearsal room at Victory Gardens Biograph Theater, surrounds us with signs of the times, including campaign posters for Hubert Humphrey and banks of TVs showing images evoking the fraught political environment. Before the show, actors pass out programs disguised as Eugene McCarthy pamphlets or Black Panthers literature, while others dressed as cops warily roam the crowd.
The collage-like text shows the buildup to the Grant Park riot from the perspectives of hippies, Yippies, reporters and cops, with the 13 ensemble members each playing a number of nameless characters via simple costume changes. Though a number of historical figures are name-dropped, from Tom Hayden to Bobby Seale to Mayor Richard J. Daley, none are portrayed. Ptacek's songs, given haunting vocal arrangements by Dan Mohr, suggest prayers of activism, with lyrics referencing "the blues that keep us up at night" and "the price of admission to the democratic conversation." The fluid, stand-up staging puts us always in the middle of the action, which builds steam toward a climactic, chaotic re-creation of the clash in front of the Hilton, given chilling first-person narration by performer Paige Collins.