Charleston, SC
Take in the sights-and smells-of this charming Southern city.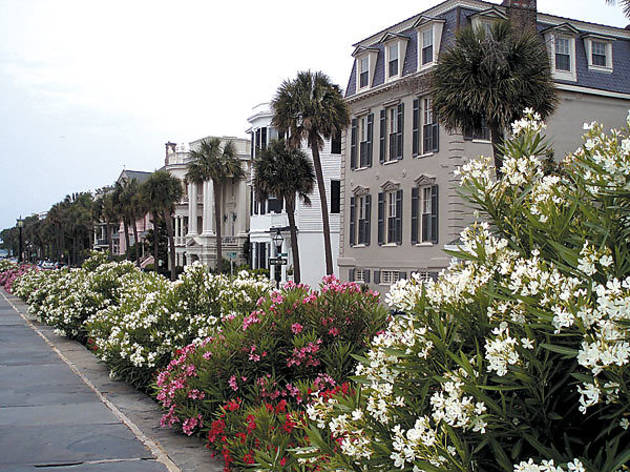 While riding a horse-drawn carriage through Charleston's Historic District, you'll be struck by an overwhelming smell. It isn't manure; the town's carriage horses wear diapers. It isn't exhaust from the BMWs and Mercedes waiting obediently beside the stunning, beautifully preserved antebellum homes and churches that your carriage rolls past. And it isn't the Southern-cuisine smells wafting from the surprising number of restaurants (or the morning-after aroma from the many bars) that pack this charming Deep South town—a small, mostly walkable peninsula surrounded by the Ashley and Cooper Rivers.
Instead, it's the ubiquitous scent of flowers (pictured above); when we visited, jasmine was in full bloom—or, as our carriage-tour guide informed us, Confederate jasmine ("?'star jasmine' is what Northerners call it"). The mighty Belgian draft horses of Old South Carriage (14 Anson St, 843-723-9712, $219) provide a delightful hour-long introduction to the city. And don't worry about obstructed views: Few Charleston buildings stand higher than the church steeples, such as the brilliantly white one of the 18th-century St. Michael's Episcopal Church (71 Broad St, 843-723-0603, free).
After the tour, take a closer look at two houses in particular. The Edmondston-Alston House (21 E Battery St, 843-722-7171, $25) features the town's typical multilevel porches (built facing south or west so the original inhabitants could catch a summertime breeze). And the Nathaniel Russell House (51 Meeting St, 843-724-8481, $10) sports an impressive free-flying spiral staircase. For added diversion, note how often the tour guides, almost invariably elderly women, use "servant" in lieu of "slave." That hut out back? "Servant quarters."
Of course, no exploration of historic Charleston would be complete without a ferry excursion to the island of Fort Sumter (340 Concord St, 800-789-3678, $16), where, in 1861, the Civil War's first shots were fired at the Yankee soldiers huddled inside. The guide gives such a spirited, vivid history lesson, you'd swear he was there himself.
For a return to the present day, indulge in some 21st-century capitalism along the shopping strip of King Street north of Broad Street. Then reward your credit-card swiping hand by picking up a drink at Juanita Greenberg's Nacho Royale (439 King St, 843-723-6224). Head to the back of the nondescript burrito joint for an unexpected oasis off busy King Street: the tree-covered beer garden in back. For locally made knickknacks, such as hand-woven sweetgrass baskets, stroll through the open-air Old City Market (Market St between Bay St and Meeting St).
After all that pavement-stomping, rest your gams at the cozy Vendue Inn (19 Vendue Range, 843-577-7970, $125 and up). With a friendly, welcoming staff, this intimate three-floor inn offers an inclusive Southern breakfast (with biscuits and gravy). And don't miss the Vendue's Library Restaurant, which has found a genuine talent in chef Charles Arena; standouts included a scallop ceviche with pickled watermelon and the flavorful fresh shrimp and grits. It's also at the Vendue that you'll find a nightlife peak—literally. At the casual Rooftop Bar, locals and tourists happily, drunkenly mix. At night, the line for this place stretches around the corner, but just flash your room key to skip to the front.
Nearby, the Market Pavilion Hotel (225 E Bay St, 877-440-2250) boasts another rooftop bar; a swankier spot with a swankier clientele, the Pavilion Bar features a small swimming pool and a lovely sunset view. More at home with the less-moneyed set? Head to the Griffon bar (18 Vendue Range, 843-723-1700)—here the cash doesn't flow conspicuously from the patrons; instead, it sticks to the walls, where customers have taped hundreds of dollar bills. "No good story behind it, man," the laid-back manager says. "Just graffiti."
For a fine example of Low Country cuisine, try longtime local favorite Magnolias (185 E Bay St, 843-577-7771), which offers great heaping plates of delicious, vacation-calories food. The tender, juicy fried chicken comes with collard greens, mashed potatoes and corn—oh, and biscuits and gravy, too. A more casual spot, A.W. Shucks (70 State St, 843-723-1151), serves up superfresh oysters. And for the Charleston staple, she-crab soup, go to chic Anson (12 Anson St, 843-577-0551).
After all that Southern food, you'll be too full to propel yourself, so pay someone else to: Everywhere you look, young guys on open-air pedicabs charge just a few bucks per person. So sit back and breathe in that sweet Charleston air.
For more information, visit charlestoncity.info.